💃🏻 Views of the MOULIN ROUGE ~ Paris, France 🇫🇷
Hi all 👋🏻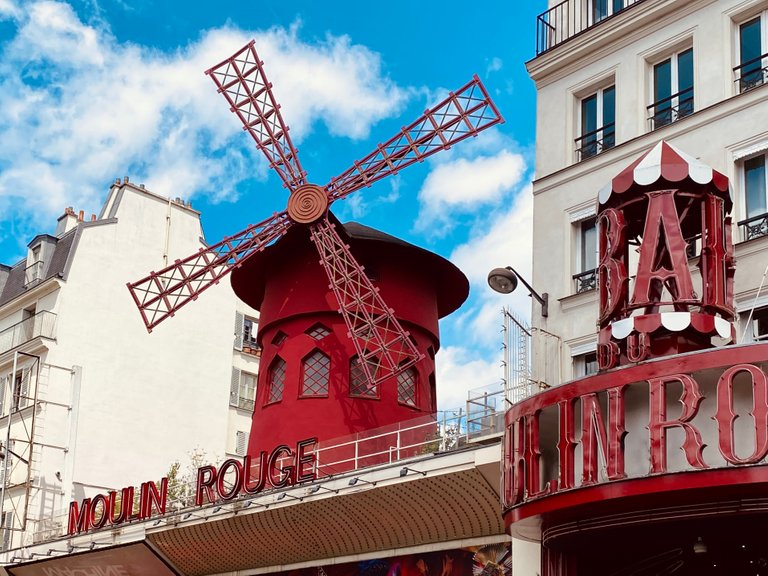 Today I want to share with you the views of the famous MOULIN ROUGE in Paris ~ France. 🤩
Through a selection of 10 #photographs 😎 that are taken with my #iPhone on 3 July 2022. When I traveled a long weekend to Paris not that long ago.
Location of the Moulin Rouge on Google maps, see the yellow star ⭐️: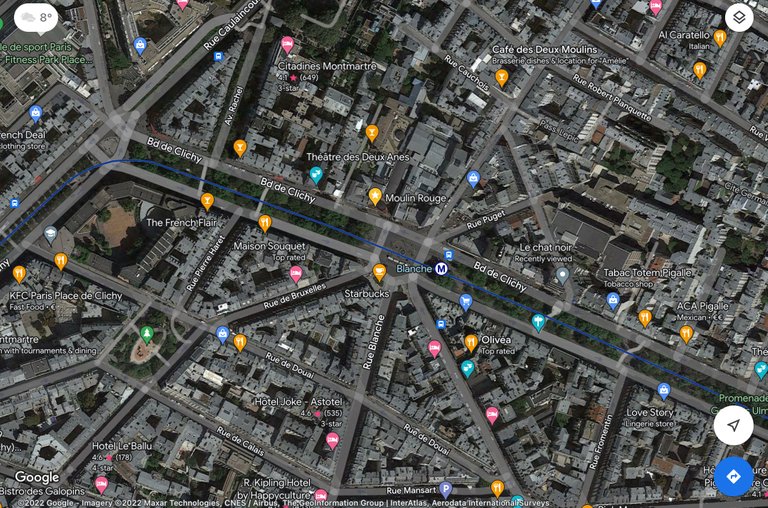 The official website of Moulin rouge
In the following website: of Wikipedia about the Moulin Rouge.we find more information.
It states:
"Moulin Rouge is a cabaret in Paris, on Boulevard de Clichy, at Place Blanche, the intersection of, and terminus of Rue Blanche.
In 1889, the Moulin Rouge was co-founded by Charles Zidler and Joseph Oller, who also owned the Paris Olympia. The original venue was destroyed by fire in 1915. Moulin Rouge is north of Montmartre, in the Paris district of Pigalle on Boulevard de Clichy in the 18th arrondissement.
Moulin Rouge is best known as the birthplace of the modern form of the can-can dance. 💃🏻💃🏻 Originally introduced as a seductive dance by the courtesans who operated from the site, the can-can dance revue evolved into a form of entertainment of its own and led to the introduction of cabarets across Europe. Today, the Moulin Rouge is a tourist attraction, offering predominantly musical dance entertainment for visitors from around the world. The club's decor still contains much of the romance of fin de siècle France."
Let me show you it's exterior as I walk by:
In the distance we see the red of the building popping up amongst the lighter colours and blue sky.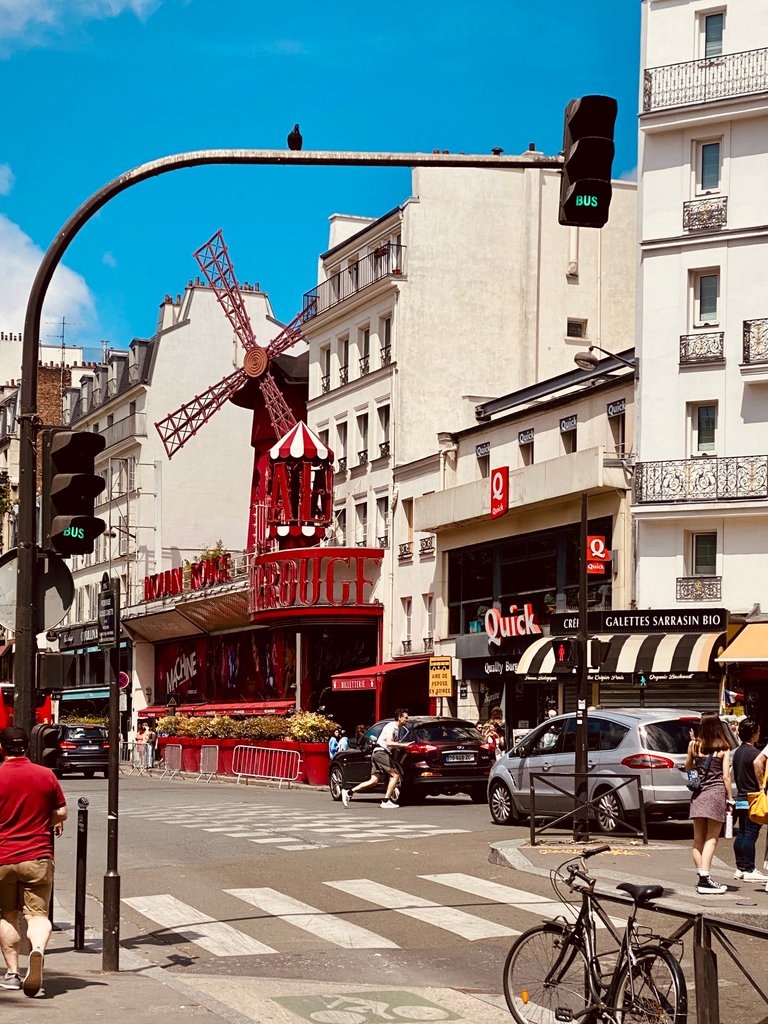 I'm walking here in the middle of two roads where a boulevard is created. Everybody that visits Paris, does go and visits this area. And this building is high on the list to photograph. So I thought… let's do a little bit "touristy things" and capture it too for a change. Hahaha 🤣 as you might know, I try to avoid touristy things, always 😄 so it's funny I did capture this touristy icon 😎
At the crossing I saw these #retro touristy motorcycles that give tours around the city centre. How could I not take an impression of that. 😎😊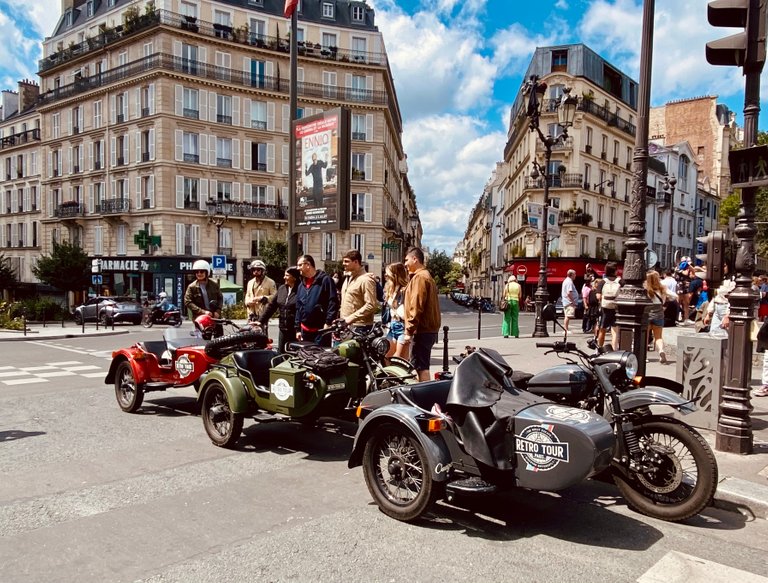 Crossing the road we see the whole of the façade of the MOULIN ROUGE, also it's windmill 😎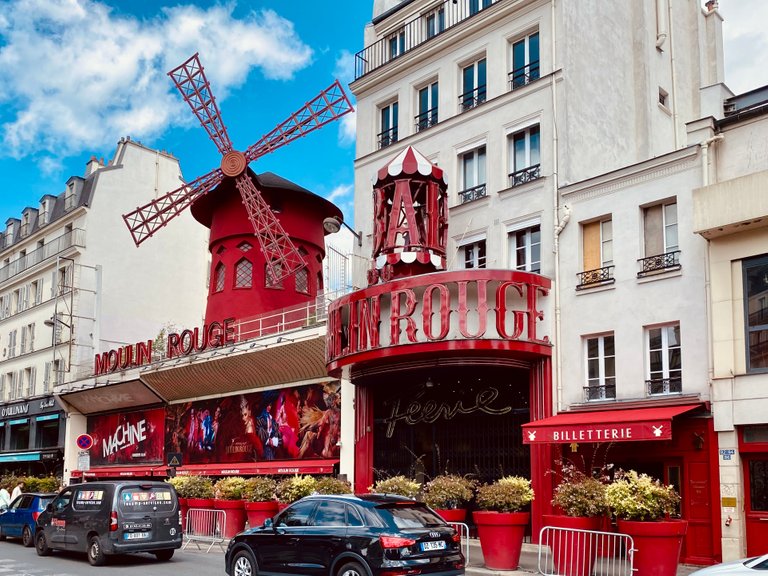 After waiting a little, so that cars would disappear, I could capture this image. 😊 it is always busy in this area…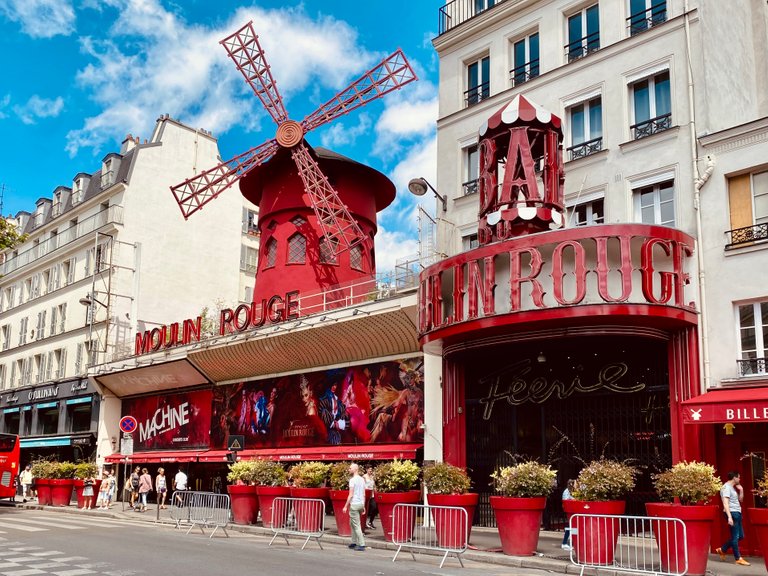 Zooming in on the mill 🤓 Imagine when the lights would be on and it is dark.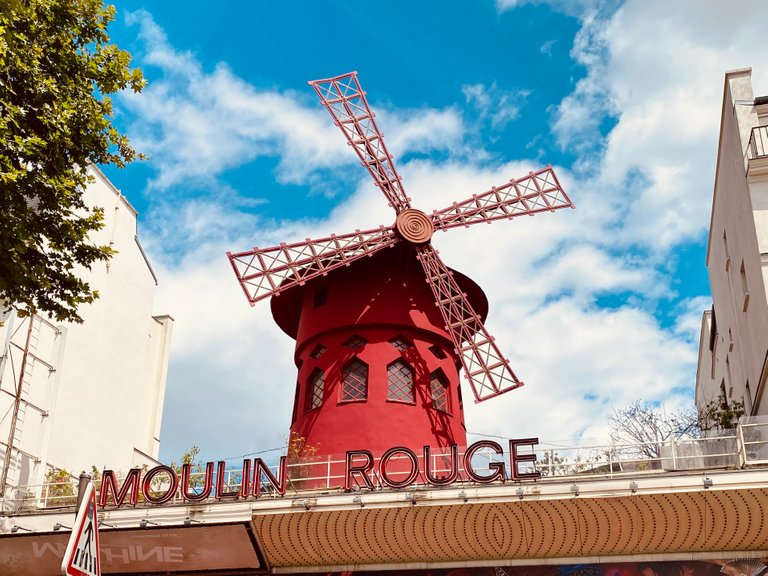 Nope, I didn't visit this area in the evening, so I haven't seen it with the lights on. 😇 Maybe another time…
Walking a bit further…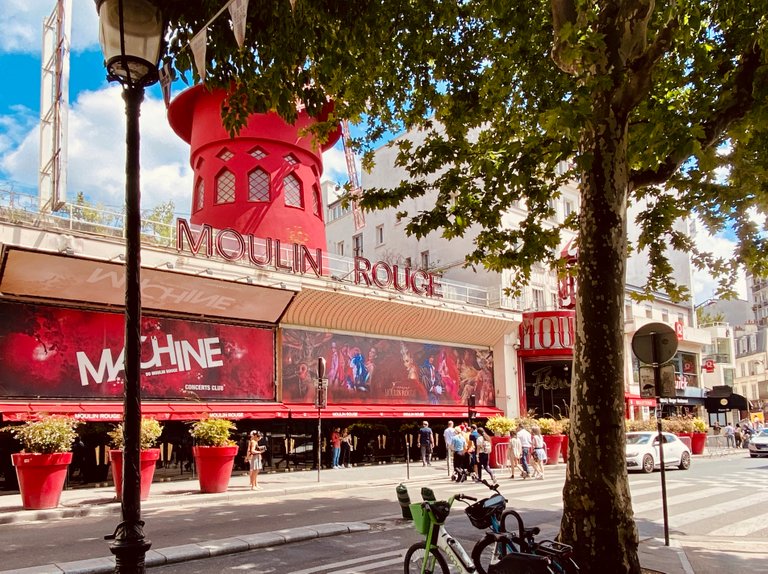 And capturing the windmill from another angle 😁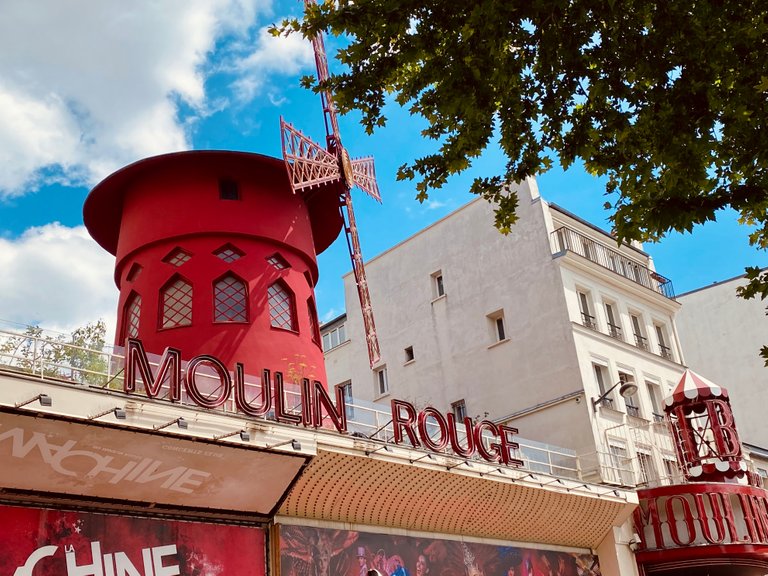 Zooming out to see the whole façade.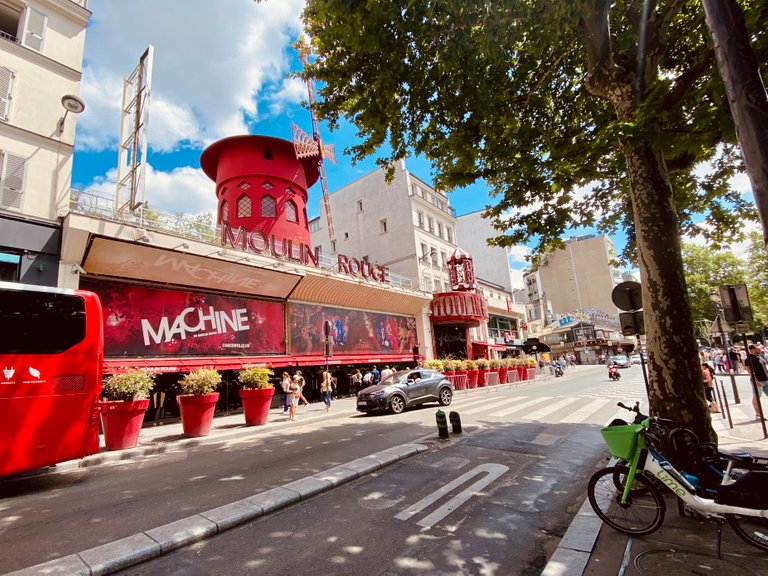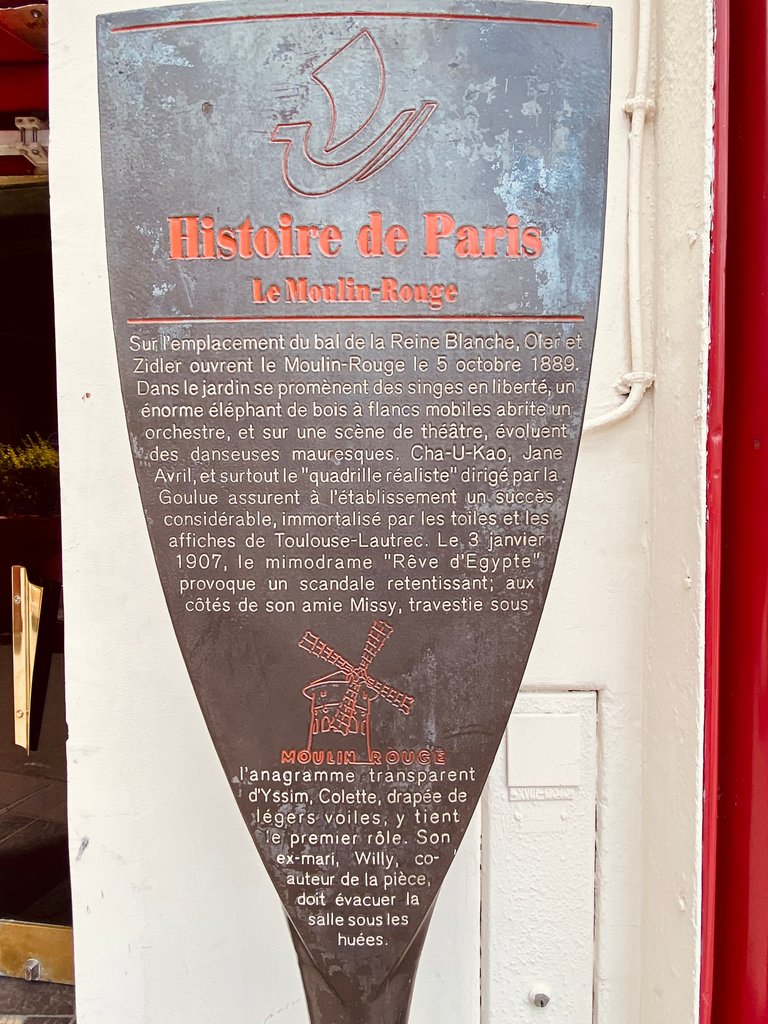 We find this sign in French next to it.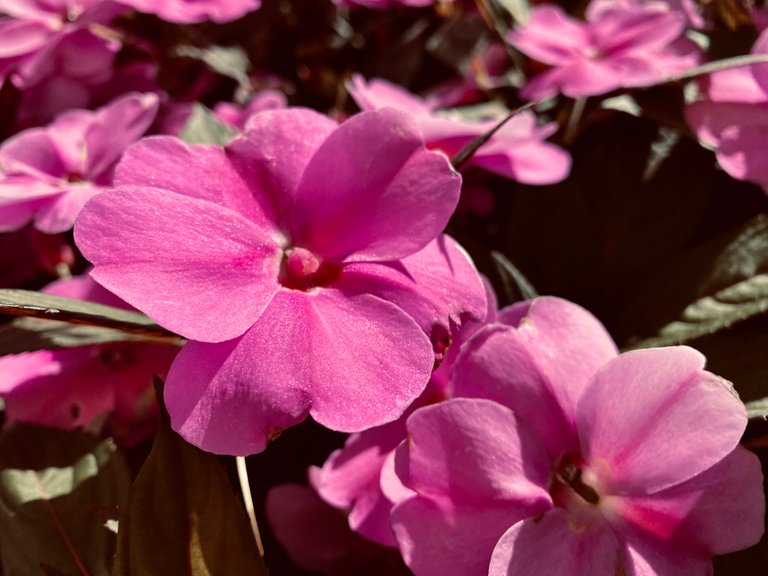 #alwaysaflower 🥰
And with these beautiful flowers 🌸 as a bonus I say; that's all for today's post my friends, join me next time for more #adventures, #stories and #photographs 😎👋🏻 Even some #artworks once in a while will come by 🎨
Thank you so much for looking, and reading. And if you liked my post, an upvote or re-blog is always welcome 🙏🏻
Hope you enjoyed my photos and seeing the things through my eyes.
Any questions or comments, let me know. Always happy to help.
Have a great day all 😎
Grtz Jackie
The divider is Created by SilverFish / @ mondoshawan
Unless stated otherwise: All art and photos used in my posts are taken, created and owned by me. If you wish to use any of my photographs, please contact me first. As I have used some commercially myself. We don't want that you or somebody else gets into trouble 😉 So please don't use them without my consent.
🖼 My PRINTSHOP: for the purchase of all kind of prints in many sizes from my Artworks 🎨 and Photography 📸 Which come on different objects too. Have a look in My Prints Shop!
!pinmapple 48.88428 lat 2.33227 long 💃🏻 Views of the MOULIN ROUGE ~ Paris, France 🇫🇷 d3scr
---
---