Part(e)3, #31. Will you pull the lever to divert the runaway trolley onto the side track? // tiras de la palanca para desviar el carro fuera de control hacia la vía lateral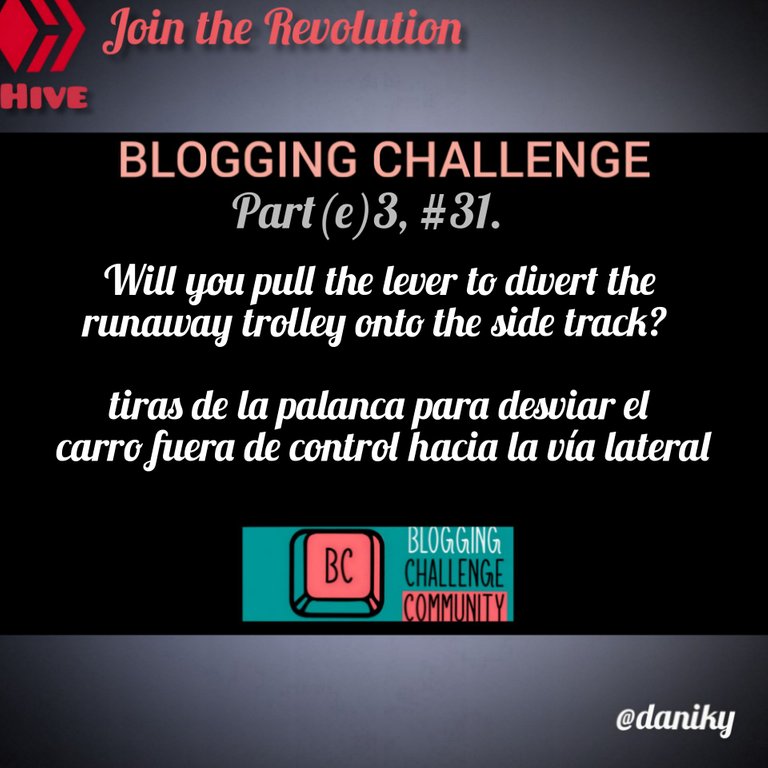 Hello and welcome to my page. This is the day 31 of part 3 of my entry to the blogging challenge community, an initiative of @cwow2 and the #bloggingchallenge team. This above questions is the 31st question of the series asked by @cwow2. So, I'll be sharing my idea on this.
Hola y bienvenido a mi página. Este es el día 31 de la parte 3 de mi entrada a la comunidad del desafío de blogs, una iniciativa de @ cwow2 y el equipo de #bloggingchallenge. Esta pregunta anterior es la pregunta número 31 de la serie formulada por @ cwow2. Entonces, compartiré mi idea sobre esto.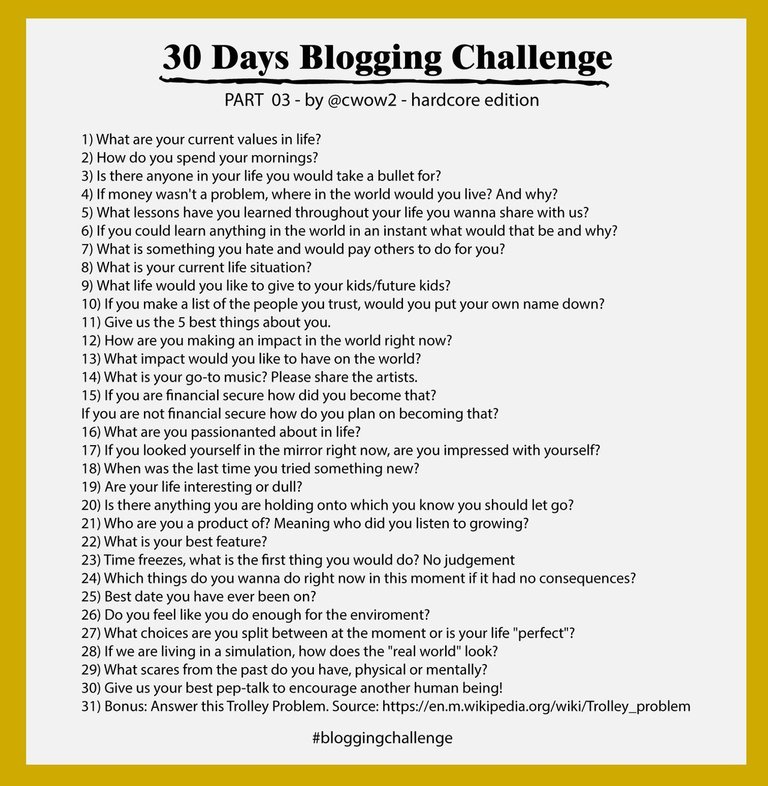 This is a very sensitive issue and besides, we all know the penalty for murderers which state that "who ever kills another person shall be prosecuted and killed in return. So why should i decide to hit my car on the five people and spare 1 or otherwise. No one prays for this, but it's better one sacrifice his/her life than kill another person. So this is my stand. I will keep the emergency light on to keep those on the road sides alert and prepared to escape for their life, then I'll pull the lever to divert the runaway trolley onto the side track. By this i believe it won't result into a fatal accident though my incur minor injury. So this is my take about this.
Este es un tema muy delicado y, además, todos conocemos la pena para los asesinos que establece que "quien alguna vez mate a otra persona será procesado y asesinado a cambio. Entonces, ¿por qué debería decidir golpear mi auto contra las cinco personas y perdonar a 1 o de lo contrario. Nadie reza por esto, pero es mejor sacrificar su vida que matar a otra persona. Así que este es mi puesto. Mantendré la luz de emergencia encendida para mantener alerta a los que están a los lados de la carretera y preparados para escapar por su vida. , luego tiraré de la palanca para desviar el carro fuera de control a la vía lateral. Con esto creo que no resultará en un accidente fatal aunque incurra en una lesión menor. Así que esta es mi opinión sobre esto.
This is the concluding part of part 3 of this blogging challenge. I will like to know what you think or feel about my view.
Me gustaría saber qué piensa o siente acerca de mi punto de vista.
My appreciation goes to #blogging challenge team (@cwow2, @tripode and @starstrings01) for this wonderful initiative and secondly I'll like to use this medium to invite Interested #hiveans to this #bloggingchallenge. So join the revolution and earn daily rewards. Thank you.
Me gustaría concluir esta sección del desafío de blogs de 30 días presentando mi agradecimiento al equipo del desafío de #blogging (@cwow2, @tripode y @ starstrings01) por esta maravillosa iniciativa y, en segundo lugar, me gustaría utilice este medio para invitar a #hiveans interesados a este #bloggingchallenge. Así que únete a la revolución y gana recompensas diarias. Gracias.




---

---

My Previous Days// Mis días anteriores

---

Part(e) 1

---

---

Part(e) 2

---

---

---

Thank you for your time and as well, don't forget to upvote my post. Your reblog, comment and follow up will be well appreciated.

---




Gif credited to @doze
---
---