When it comes to thinking of the ideal place to live, two type of places always come to the mind of people. The big bustling city or a small quiet town. Well for me, my ideal place to live will be the BIG QUIET BUSTLING CITY. Weird, because it's difficult to find that right? As much as I love my environment to be quiet, I also want an interesting environment to live in. The environment I want to be in, in this big quiet bustling city will have less people 😂😂 and it has to be quiet, it has to be the quiet part of the city.
Cuando se trata de pensar en el lugar ideal para vivir, dos tipos de lugares siempre vienen a la mente de las personas. La gran ciudad bulliciosa o una pequeña ciudad tranquila. Bueno, para mí, mi lugar ideal para vivir será la gran ciudad tranquila y bulliciosa. Extraño, porque es difícil encontrar eso, ¿verdad? Por mucho que me guste que mi entorno sea tranquilo, también quiero un entorno interesante para vivir. El entorno en el que quiero estar, en esta gran ciudad tranquila y bulliciosa tendrá menos gente 😂😂 y tiene que ser tranquilo, tiene ser la zona tranquila de la ciudad.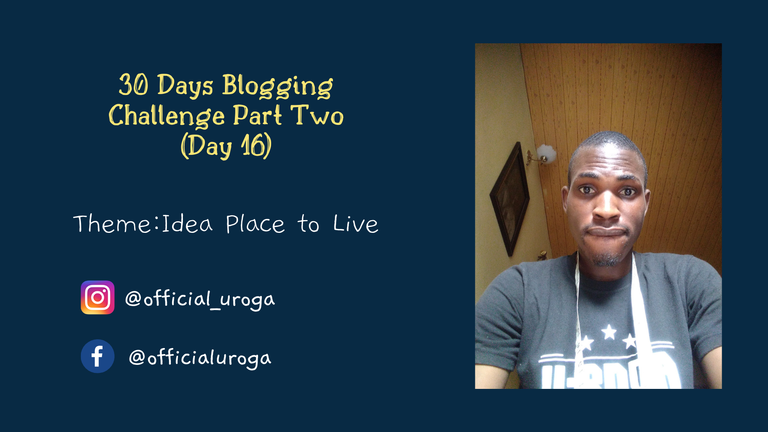 The quietness from the part I live in, in this big quiet bustling city must be something out of this world. As much as I love seeing everyday activities from people around and as much as I love to go out to have fun, I just can't stand noise all hours of the night. It has to be a place where I don't hear loud obnoxious individuals walking up and down the street causing all sort of havocs. instead, I want a peaceful place to come home to and relax after facing all the annoying sounds in the other part of the city during the day.
La tranquilidad de la parte en la que vivo, en esta gran ciudad tranquila y bulliciosa debe ser algo fuera de este mundo. Por mucho que me encanta ver las actividades cotidianas de las personas que me rodean y por mucho que me encanta salir a divertirme, no puedo soportar el ruido todas las horas de la noche. Tiene que ser un lugar donde no escuche a individuos ruidosos y desagradables caminando arriba y abajo de la calle causando todo tipo de estragos. en cambio, quiero un lugar tranquilo para volver a casa y relajarme después de enfrentar todos los ruidos molestos en la otra parte de la ciudad durante el día.
Population in a big city can be overwhelming sometimes. That's why the part of the city I will be staying in, must have very few people, that way, I can familiarise myself with folks in my environment and also know when to mind my business. 😂😂
La población de una gran ciudad a veces puede ser abrumadora. Es por eso que la parte de la ciudad en la que me quedaré debe tener muy pocas personas, de esa manera, puedo familiarizarme con la gente de mi entorno y también saber cuándo ocuparme de mis asuntos. 😂😂
Sights and sounds from environment like this are like those of a fairy tale. Like, I want to lay out in the night to look at the stars, listen to the stream as it run pass my house. Such a beautiful sight from such an environment. The ideal place to live in for me, is a place that is fun, but quiet enough when I need that quiet, have lovely sights and tranquil enough.
Las vistas y los sonidos de un entorno como este son como los de un cuento de hadas. Quiero acostarme en la noche para mirar las estrellas, escuchar la corriente mientras pasa por mi casa. Una vista tan hermosa desde un entorno así. El lugar ideal para vivir para mí es un lugar que es divertido, pero lo suficientemente tranquilo cuando lo necesito, tener vistas hermosas y lo suficientemente tranquilo.
Do you know where I can find this place? If you do, please tell me about it in the comment section.
This is the 16th Day of my 30 Days Blogging Challenge and the theme for today is "IDEAL PLACE TO LIVE". If you enjoyed this post, please don't forget to comment, re-blog and also give an upvote, it will be greatly appreciated. Thank you for reading.
¿Sabes dónde puedo encontrar este lugar? Si es así, cuéntemelo en la sección de comentarios. Este es el día 16 de mi Reto de blogs de 30 días y el tema de hoy es "LUGAR IDEAL PARA VIVIR". Si te gustó esta publicación, no olvides comentar, volver a bloguear y también dar un voto positivo, será muy apreciado. Gracias por leer.

Check Out Previous Post From My Daily Challenge / Mira la publicación anterior de Mi desafío diario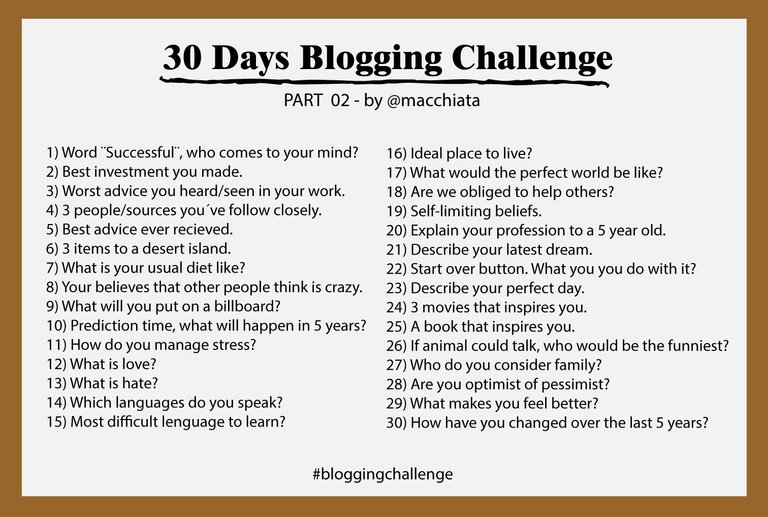 This is my Day 16 entry to the 30 Days Blogging Challenge part two. Please follow my blog for more future updates on this challenge if you love my posts. Also please support the post with your comments and also by re-blogging.
Thank you for visiting my blog!
Esta es mi entrada del día 16 a la segunda parte del Reto de blogs de 30 días. Si te encantan mis publicaciones, sigue mi blog para obtener más actualizaciones futuras sobre este desafío. También apoye la publicación con sus comentarios y también re-blogueando. ¡Gracias por visitar mi blog!


Image edited by @tripode using Adobe Illustrator
Our aim is to give more movement to the blockchain, help authors with the ¨what to write¨ and engage with each other. CLICK HERE to visit the Blogging Challenge Community
Also, check out the Discord Server Here
Nuestro objetivo es darle más movimiento a la cadena de bloques, ayudar a los autores con el "qué escribir" e interactuar entre sí. HAGA CLIC AQUÍ para visitar la Comunidad del desafío de blogs
Además, consulte el Discord Server Here