A few topics on my mind today, thrown into one post and in no particular order.
HBD
Well all has been going great for Hive's native 'stable' coin, which had been running close to a dollar for almost all of the second half of last year.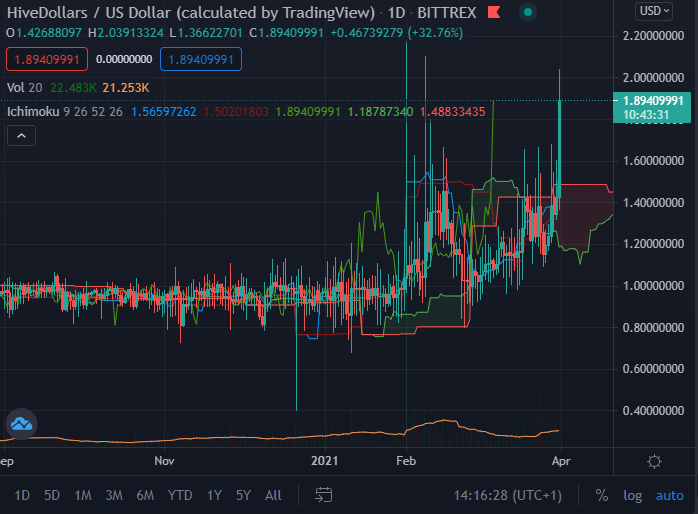 That was until HIVE started making a move. Today though, as on a couple of occasions at the beginning of the year, the price has touched $2.
Hourly attempts are being made to subdue the price, which is also reducing inflation and should help the price of HIVE in the future, but for now though it seems the speculators have HBD in their sights and I expect it to go higher in the near future.
In the last Steem bull run, the best plan was to stack SBD, buy 10 STEEM for 1 SBD, and wait for STEEM to move. I wonder if we will see something similar, without HBD reaching $20+ like SBD did.
---
I was a fairly recent delegator to @dlux-io, but I've cancelled this today as I noticed that there has been no daily update for 3 weeks now.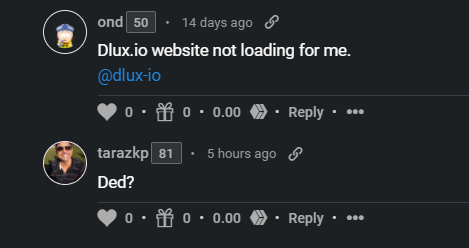 Anyone home?
The project looked interesting and so if it is 'ded', that is a bit of a shame. The timing is quite strange I think - you would expect the bear to kill off these projects and not the (start of a) bull market. Oh well, no funds lost directly, the beauty of HP delegation.
---
Aureal
I was pinged from the blue (https://chat.hive.blue/) last night with regards to a proposal currently looking for support. I don't mind receiving these notifications, especially when it concerns something that looks interesting that I have completely missed.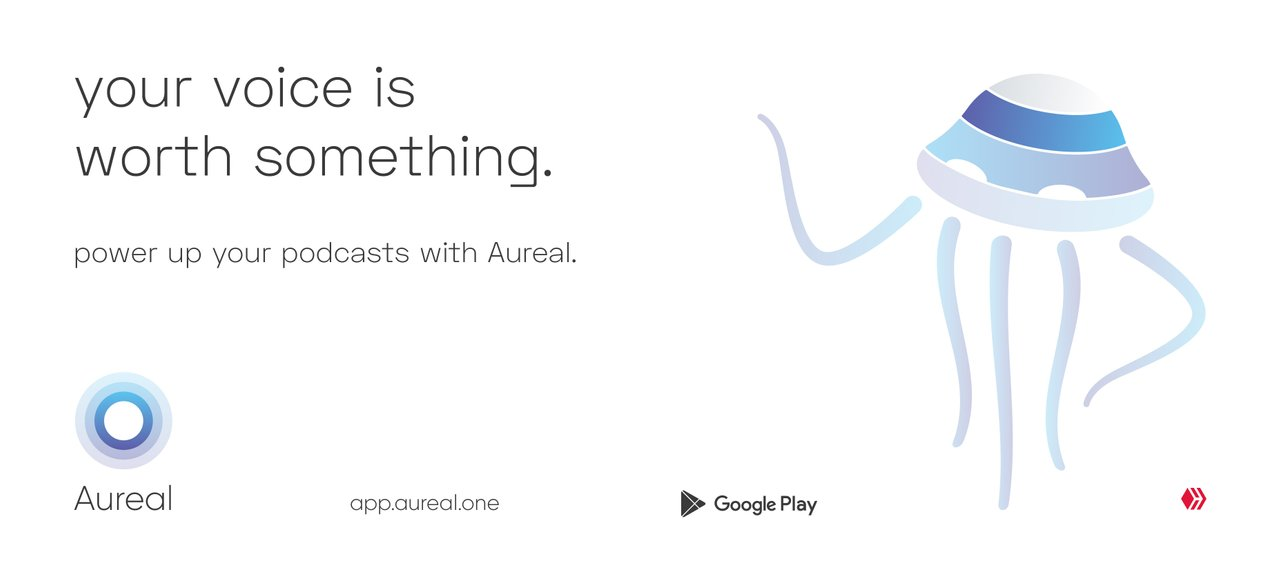 Aureal is a decentralized podcast directory on the Hive that connects traditional podcasters and their listeners to Hive.
The proposal is well written (bar the last paragraph which speaks of tired devs. in need of sleep), and judging by the number of comments on the post, it seems to have been largely missed.
https://peakd.com/hive/@blockanarchist1/aureal-continued-development-marketing-and
blocktrades didn't miss it though, and was first in with questions regarding the code being open source.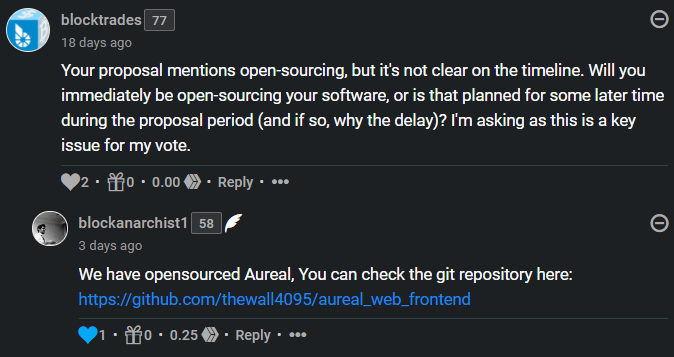 They gave reasons as to why and have now provided the code, and got a vote from BT. Have a read, I think it's quite an interesting proposal:
https://peakd.com/me/proposals/163
---
CubFinance
Last but not least, how are your CUBs doing? And that question goes out especially to the chap I spent around two hours in total with a couple of weekends ago :)
When CubFinance was launched, I and many others flocked to the LeoFinance Discord to have questions answered and get involved in the hype. I noticed a couple of kind souls offering help and tokens to get people set up and farming away, and so when I saw a name I recognized asking for assistance, I thought it was my turn.
I may have stayed quiet if I realised how long it was going to take though!
This chap was trying to get going on a phone, something I'd tried on my android with more than one Browser, and failed. He was using a Browser I hasn't tried and so I thought let's give it a go - no luck.
During this process, and the sharing of many screenshots, I noticed their balance was around .5 CUB. And so, as others have done, I purchased (from H-E while they were still legit) some CUB and sent them, along with a little BNB over to their MetaMask.
After we'd tried and failed with the phone, the next evening the desktop was powered up. Their default Browser here was Opera, and after setting MetaMask up (again), it wouldn't connect to CubFinance.
And so for the 3rd time, MetaMask was set up (Chrome this time), the Binance Smart Chain added, and the custom tokens added too. This time everything worked, and the CUB made its way safely to the Den.
What I love about this is that the guy, bless him, isn't aware that I sent extra CUB and some BNB fuel to transact. It wasn't much, probably what I'll get when this post pays out. Anyway, it made me feel good :)
As I'm writing, CUB is at $3.8 and there is $17.3 million value locked. Looking good, or as my friend in need would say, 'shibby'.
---
Cheers all, have a good day
Ash
Posted Using LeoFinance Beta