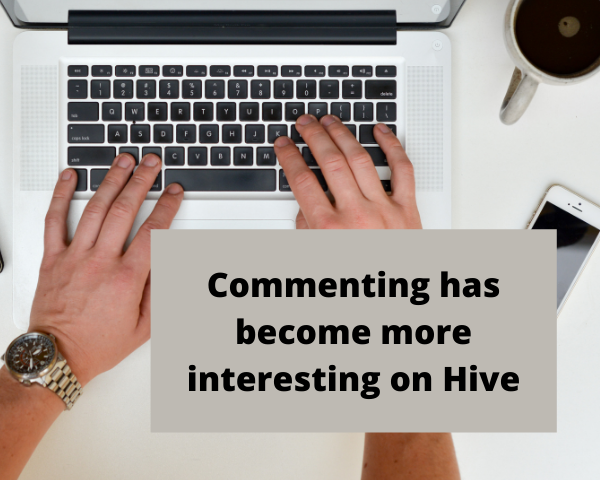 For a lot of people on the hive blockchain, writing posts with more than 400 words is a real challenge. Not everybody likes or manages to generated such content. Of course people could do videos but for videos you also need to overcome your inhibitions and know how to actually produce them.
Especially for people who are starting out on the blockchain, the alternative is to engage with other people's posts by leaving comments.
This is a great option to build relationships, get used to writing and also to earn some coins on the way.
Comment and earn Hive-Engine tokens
When you leave comments, they are actually treated the same way as posts by the blockchain. This means that every upvote that you get on a comment can lead to a payout after 7 days.
Because of the dust threshold of about 0.02 $, upvotes in Hive often don't generate enough to reach a payout. If all votes combined don't reach 0.02$, then there will be no payout after 7 days. This makes it quite difficult to earn Hive while commenting. People tend not to upvote comments because their own vote will be kind of lost if the threshold is not reached. In such cases, they won't get curation rewards.
Things are totally different for Hive-Engine tokens. The dust threshold for most Hive-engine tokens is much lower than for hive. Some tribes even have linear reward curves which allows to upvote comments without loosing any curation rewards. Thanks to tribes, it is definitely possible to earn tokens through commenting.
A new project that makes commenting even more interesting
My friend @amr008 has created a project that will reward people for commenting. It's a great add on and will provide an additional income source for people who like commenting and engaging.
How does it work?
The program will check all your commenting activity of the previous day. It will look at how many comments you have written and also at the quality of them. All authors are ranked by an algorithm. According to this ranking, 25 upvotes with different weights will be distributed. The upvotes are given by specific accounts that hold a certain amount of tribe tokens.
For people who want to support this project, it's possible to simply delegate tokens to these accounts (check how you can delegate to the project).
There is such a program for these hive-engine tribes:
How do you take part?
The only thing that you have to do is to comment. However it is very important that you comment from the specific front-ends of these tribes. Only the comments are counted that are given through:
If you are commenting through these front-ends, you will actually help these tribes to get more traffic to ttheir sites. This means more income from ads and therefore it can have a positive effect on the token price.
Check your engagement statistics
Together with this project, there is also a tool where you can check your engagement statistics of the last 30 days: https://hivecommunity-stats.herokuapp.com/.
It's nice to track your engagement like that and to see whether you are reaching your goals.
Image source: www.canva.com
---
Let's connect ! You can find me on these platforms:
Posted Using LeoFinance Beta