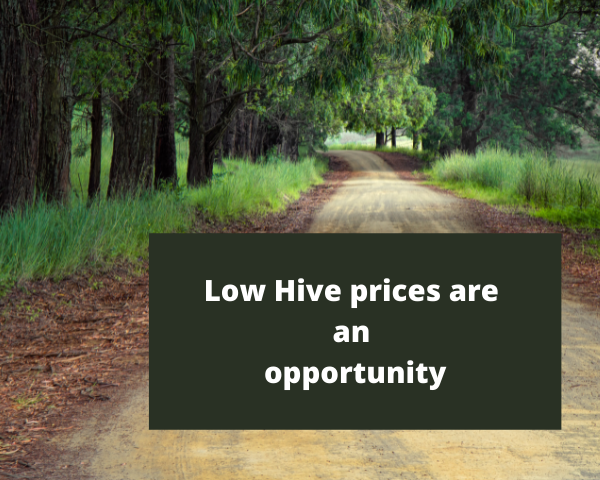 During the last couple of weeks, I realized that the quantity of posts in my feed has been decreasing quite sensibly. In addition to that, I had the subjective feeling that it was mainly the posts that I liked to read that were more difficult to find.
This feeling was reinforced by the fact that I struggled to use my voting power. It was often close to or at 100%.
Since feelings can often be misleading, I wanted to have a more in dept look at what was happening. For that I looked at the amazing stats that are regularly presented by @penguinpablo. In his latest post, I can't help to notice that the evolution of the number of posts in decreasing.
In the graph below, you can see that we had a peak in number of posts in the first weeks of April and since then, the number of posts (excluding comments) is continually decreasing. Since April it's about 20% less posts per day!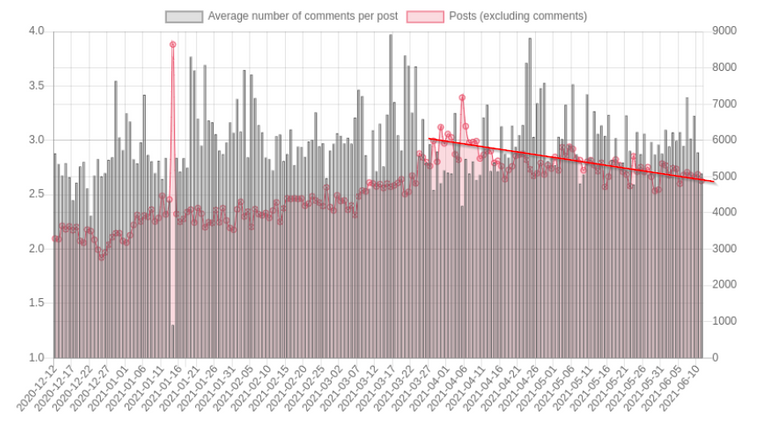 So what is the reason for seeing less posts and less creativity on the blockchain? Is it the nicer weather or the end of lockdowns in many countries?
I believe that the main reasons are to be found in the financial realm. If I look at the hive / usd price, the evolution of the number of posts follows quite well the price of hive.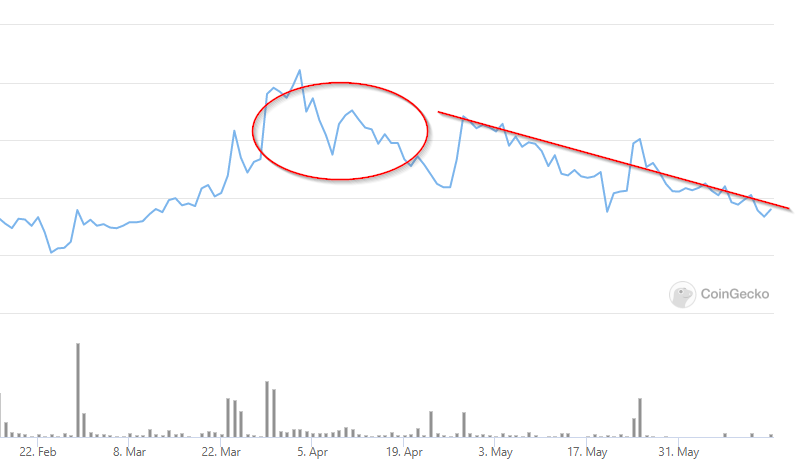 As you can see in this graph taken from Coingecko, I believe that the correlation between hive value and number of posts produced is quite significant.
The best moment to make your place on hive is now!
What people often forget is that the value that is given to our posts is expressed in $ but in the end we end up receiving Hive and HBD. The amount of hive that we receive is more or less the same whether prices are high or low. We should simply continue to create posts disregarding the value of hive.
I would say that such periods with low Hive prices are actually good to improve our situation on hive. The reward pool that is distributed in terms of Hive remains the same. If there are less posts out there, the remaining posts will get higher value. In addition to that, a lot of curators are struggling with finding good content to upvote and if you post good stuff, your chances to end up on somebody's radar are much bigger if few posts are written.
This is not only true for hive but also for all the hive-engine tribes out there. By posting in such an environment, you can get a bigger part of the pie in all these tokens as well!
It's when hive prices are low and people post less, that you can improve your situation here on hive!
---
Let's connect ! You can find me on these platforms:
Posted Using LeoFinance Beta