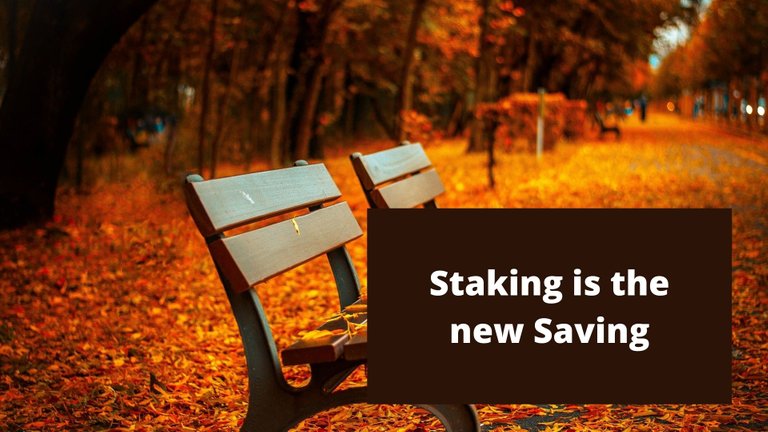 I have recieved my yearly bank account report just yesterday. This year I've recieved a total interest amount on my money of 1.5 CHF (about 1.5 USD). And no, my bank account is not empty... The reason for this is that the interest rates are very, very low in Switzerland.
The fun fact is that I've paid about 65 CHF in fees for the same account during the past year!
The idea that your money is working for you on the bank account is unfortunately far from valid today.
You have the option to buy shares that pay you dividends as an alternative but honestly when I look at the economical situation worldwide, I don't think it's a wise idea to invest in overpriced shares today.
Fortunately we have crypto!
Tokens like Hive or Leo are both stakable. This means that you can kind of freeze these tokens and in return get an income. It's not much different from a bank account. You deposit your funds and you get interests. What is different from the bank account is that you get a whole lot of interests with crypto.
Just by staking Hive you get 3.47% on your money. Just for staking it. No strings attached. Your stake is growing every second.
Then you have several additional options to increase your income. You can delegate your tokens and get something between 10 and 16% return on dlease.io, @leo.voter, @ctpsb, ....
You can also use this stake to curate content and get curation rewards.
Whatever you choose to do with your stake, making something between 15 and 20% return on your tokens is not so far fetched.
Earning several times over
There are some great combos that allow you to multiply your income. If you are on hive you can stake Hive, Leo and all the array of hive-engine tokens and earn from these stakes. You have the option to see several stakes grow at the same time.
Staking is the new Saving
By staking your tokens you are building your fortune of tomorrow. It's not possible to know how the prices of these tokens will evolve but I believe it's always better to have a lot of tokens than few of these tokens:-). By building your stake, you build a fortune that remains yours and that works for you every day, every night. With the amazing interest levels that this staking activity allows, your fortune will grow fast.
---
Let's connect on Hive, Lbry or on Publish0x
My free e-mail course: The 100'000 satoshis a week strategy

Posted Using LeoFinance Beta