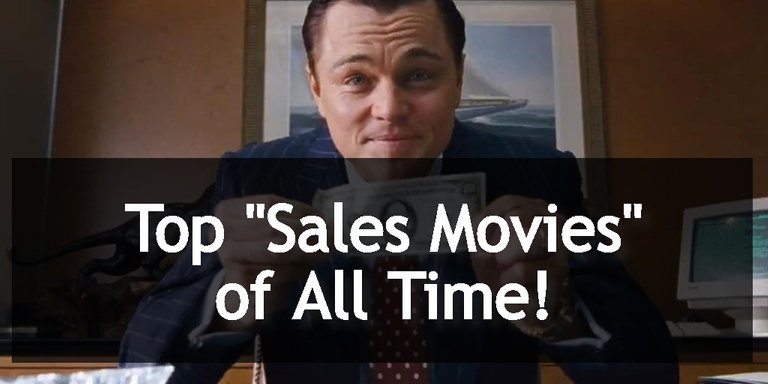 Here is a list of the best sales movies for everyone to know. If you are into business at all, sales are a major part of it. Being a master of sales or marketing, you can be in any business and do well once you know the industry insides.
Being a marketer myself, I know the importance of sales, and I love watching sale movies. They always seem to inspire and motivate me to work on my business after watching them! That is why I have put together a list of the best sales movies ever. If you like sales movies, all of these are winners that I recommend you check out if you have never seen before!
With all this being said, I still would love to hear what your favorite sales & business based movie is??? Please leave a comment and I will put the results in the post after 2 days!
Here is a list of the best "Sales Movies" of all time with a little about each:
Wall Street – Wall Street is the most classic and well known "Sales Movie". Made in 1987 there was also a remake made in 2010 both featuring the most iconic "Greedy Business Man" ever portrayed and played by Michael Douglas. A must-see if you haven't already seen, with the first featuring Charlie Sheen!
Boiler Room – Boiler Room is another classic "Sales Movie" featuring Giovanni Ribisi, Vin Diesel, and Ben Affleck. Classic "Sales Movie" that will always be ranked among the top of "Sales Movies" of all time.
Wolf of Wall Street - This has become my favorite sales movie of all time, and one of my top 3 favorite movies of all time. This movie has everything from Ferraris & Boats to Midgets & Strippers. It is the classic corrupt & heartless "Sales Man" during the beginning of the 2000s who would take anyone's money as it didn't matter. It's a must-see movie featuring Leo Decraprio in his prime!
Glengarry Glen Ross - Glengarry Glen Ross is a 1992 American drama film featuring real estate salesmen where 2 will be fired after a "motivational" session with a trainer. Adapted by David Mamet from his 1984 Pulitzer Prize-winning play of the same name, this movie features HUGE name actors Al Pacino, Kevin Spacy, and Alec Baldwin!
Sorry to Bother You – A 2018 Movie about a black man who adopts a white man's voice for a telemarketing job and must choose between profit and joining his activist friends.
Margin Call – Margin Call features Kevin Spacey as an investment banker at a major wall street firm during the beginning of the 2007-08 financial crisis.
Thank You for Smoking - Thank You for Smoking is a classic movie about an American Lobbyist who lobbies for Big Tobacco.
Tin Men - Tin Men is a 1987 American Comedy about Door Salesmen featuring The Legend, Danny DiVito.
Matchstick Men - Matchstick Men is a 2003 American Comedy directed by Ridley Scott and features Nick Cage and Sam Rockwell.
The Pursuit of Happyness – The Pursuit of Happyness is an amazing movie featuring Will Smith and his Son Jayden Smith who play father and son in the movie, as a man living on the street who puts in the hard work to become a millionaire. Very powerful movie.
Tommy Boy – One of Chris Farley's funniest movies featuring David Spade. It is stupid, but oh so funny!
Jerry Maguire – Tom Cruise stars as an agent who is just starting his own company after being fired, and features Cuba Gooding Jr. who won an Academy Award for supporting actor.
Trading Places - is a 1983 American comedy directed by John Landis and starring Dan Aykroyd and Eddie Murphy. It is an American classic & must-see if you haven't!
So which is your favorite "Sales Movie"? If theirs one that isn't on the list please let us know!
---
One Luv,
Adam DaBeast
Thanks For Visiting Adam DaBeast's Blog!
I Love That You Came to Visit, and Look Forward to Connecting With You & Talking Business, Finance, Crypto, Gaming, Life, and So Much More!
Join All The Amazing Action Over at Hive Today Using My Referral Link:
Join Hive Now!
Join All The Amazing Action at Splinterlands while earning Crypto and Prizes through my referral link to get the best cards:
Join Splinterlands Now!
Posted Using LeoFinance