CUBdefi.com milestone reached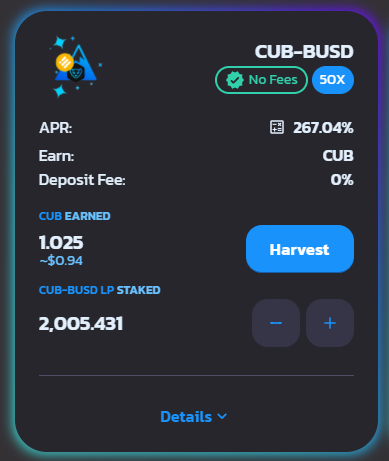 Hi,
you've might have read that I'm real enthusiastic about CUBdefi.com, as it was my first DeFi project. I know that it does not deliver the huge returns as other DeFi projects, but for a normal sane person the return of 200%+ shall be amazing.
Yes, we have a decline in price, but I think this will recover or at least I hope this. I've bought CUB at $4, so at the moment I'm at a loss if I would sell today.

I'm not selling, on the contrary, I'm buying more every day, adding to the stash of the staked coins. I've reached 2000+ CUB-BUSD LP staked, which is a major thing as I've started with some hundreds lower.
Now, I will want to diversify and will increase some other liquidity pools stakes and the CUB Den.
On the pools, I'm putting my LEO to work on the LEO-BNB liquidity pool.

The CUBdefi.com project is to be seen as a mid-long term plan. As some valuable member is saying, just let it grow for a couple of years, what I'm doing right now. The plan is to keep it at least till 2025, of course, if there are no changes in the project that would force me to sell.
With the new additions coming in, it will just increase in value, or at least this is my point of view on this matter.

Do you use CUBdefi.com? If yes, how long do you plan to stay in?
Posted Using LeoFinance Beta
---
---