I started my DeFi journey with CubDeFi just on the next day of its launch. I had received airdrop of approximately 6 CUB tokens that I stayed in dance and that time if you are was more than 1000%. This APR was amazing I must say because I saw this kind of apr before but later on when more people joined this is reduced and these days it is about 157% which is also not bad at all but there is a much better option than these on the same platform so I thought of switching.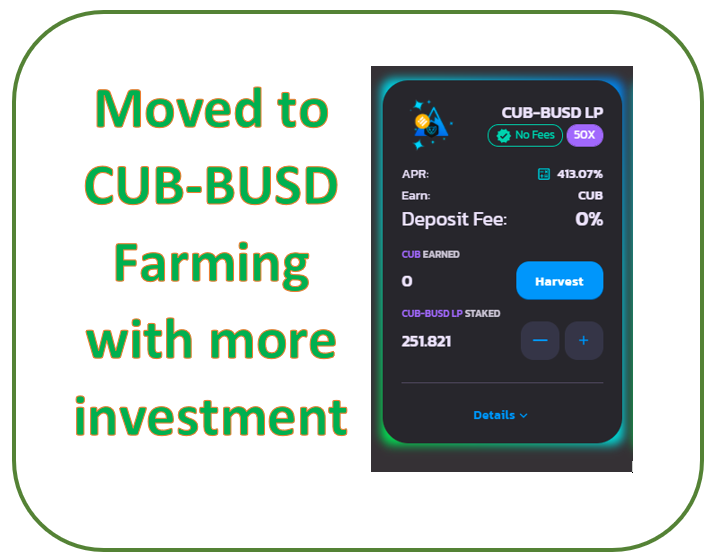 As I mentioned that I had approximately 6 tokens and in a month time it was doubled that made me have approximately 12 tokens staked. I did buy over 100 CUB and put it on dense initially. I wanted to join farming but did not have BUSD so thought of putting my CUB in Dens for a while in the meantime I could arrange BUSD. It took about 2 days for me to arrange BUSD worth 500$ and now I finally staked all my CUB in the farming pair of CUB>USD pair.
Here I am sharing the steps I followed-
there are two pairs for CUB along with BUSD and BNS so because I had BNB only so selected the first pool with 50x and good thing is that there is no charge with CUB pools.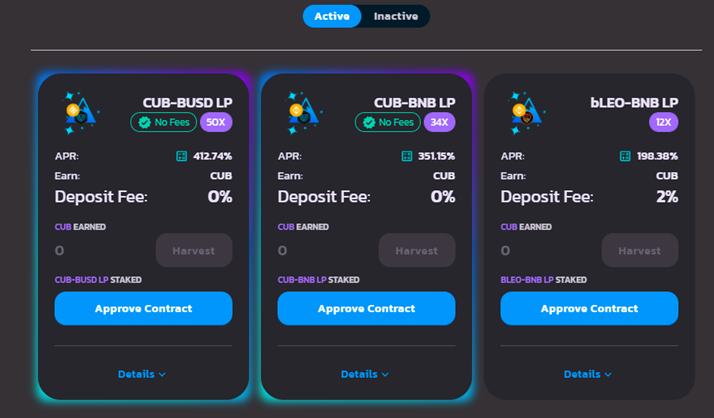 I needed to approve the contract for the first time I did it using the Binance Smart Chain wallet. It cost me a very little amount of BNB and this the best part of BSC.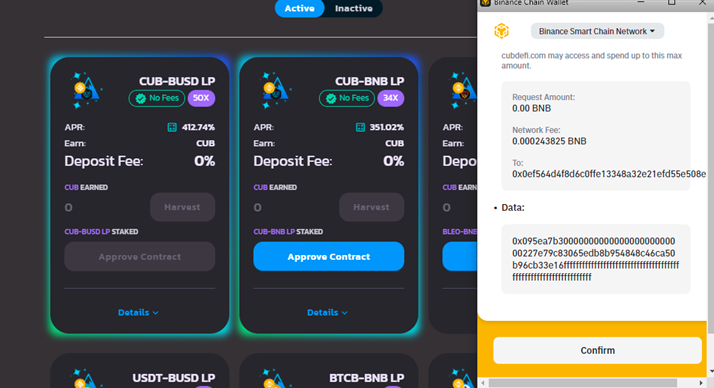 I went to the liquidity option and I had 137 CUB along with 491 BUSD so I utilized the maximum option with CUB and it allowed me to have 480.70 BUSD. I approve this transaction to proceed further.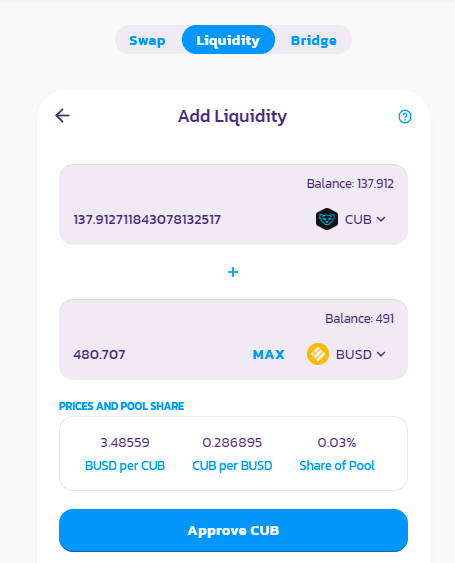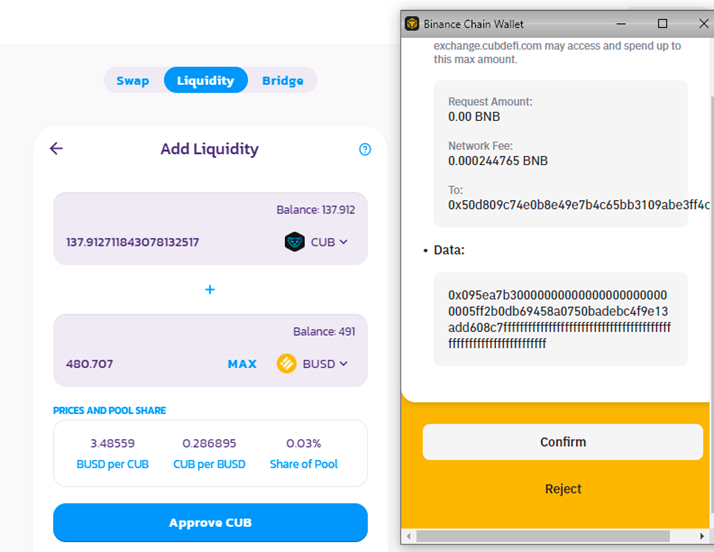 Here is the confirmation message that I am getting a 251.82 pool token after this much of CUB and BUSD.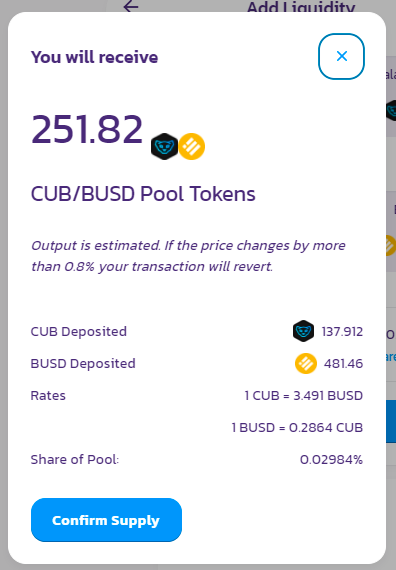 I went ahead and confirmed the transaction for this pool.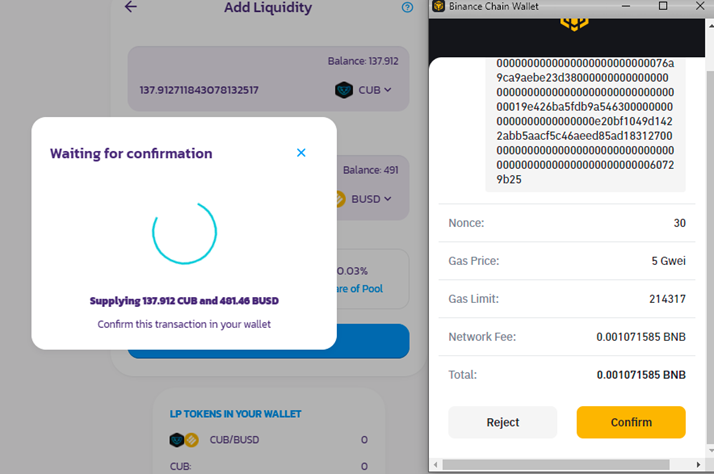 Once I have LP available the next step was to go on the pool and stake my LP tokens. So I had 251.82 LP and I staked it all in the pool and verified the transaction that hardly took 10 seconds.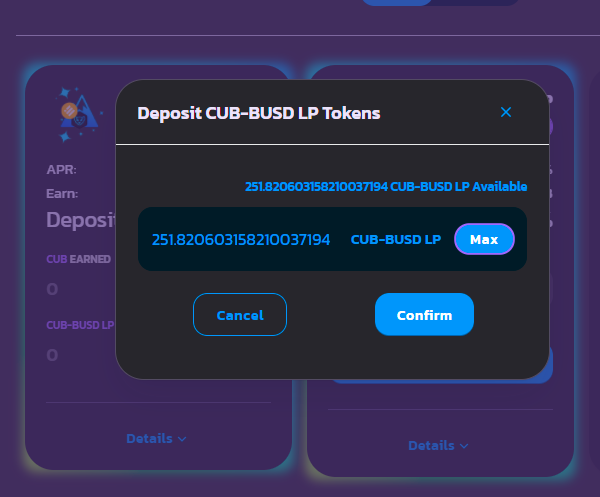 This is how my stake is looking like now and I am getting the apr od 413.07% on my LP stake of 251.821 so I am not sure how it will earn for so I will keep a close tab on this.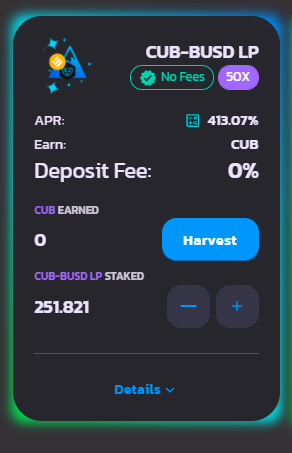 I can say that APR of over 400% is huge and I am not sure how long it will sustain because if more people join then it will go down but I expect it to b approx 400% since LTV is quite high on the project and still its over 400%. I will share about my earnings from his farming later. whatever CUB I earn, I will be re-investing to get even more CUB as I want to have 1000 CUB and right now I am pretty close to having 150 only. So I am like 85% approx away from my goal. I am quite sure that I will move ahead closer to have 1000 CUB because I am focused on it.
Thank you so much.
(I have taken the images from https://cubdefi.com/ for this post purpose only)
Posted Using LeoFinance Beta