With the increased demand for cryptocurrencies and growing prices, it is expected that we are going to have much more innovation in this space. The use of cryptocurrencies using our mobile is not just easy but also quite convenient and we would be able to perform transactions easily because the laptop is not always accessible. We keep our mobile phone with us almost all the time so having cryptocurrency support on mobile is very much helpful for most of us.

Now Samsung is taking one step forward and has added support for blockchain through their Galaxy devices for a hardware wallet. The company is also working to make it easy to use on their devices and a hardware wallet so that more people can access their digital money on their phones.
Users can now manage and trade virtual assets from third-party wallets on Samsung Galaxy smartphones. The update makes it easier for blockchain users to access and process transactions by importing virtual assets stored on select cold hardware wallets to the Samsung Blockchain Wallet available on most Galaxy smartphones.

So far Samsung is the first company that has entered this segment and making things easy to use for their users and I hope many other companies will follow the trend because ultimately we know that Blockchain is going to get more attention in the coming years. There is no update that other leading companies like Apple or OnePlus are also going to join hands but for sure Samsung has taken a great initiative that is going to help millions and billions of users worldwide.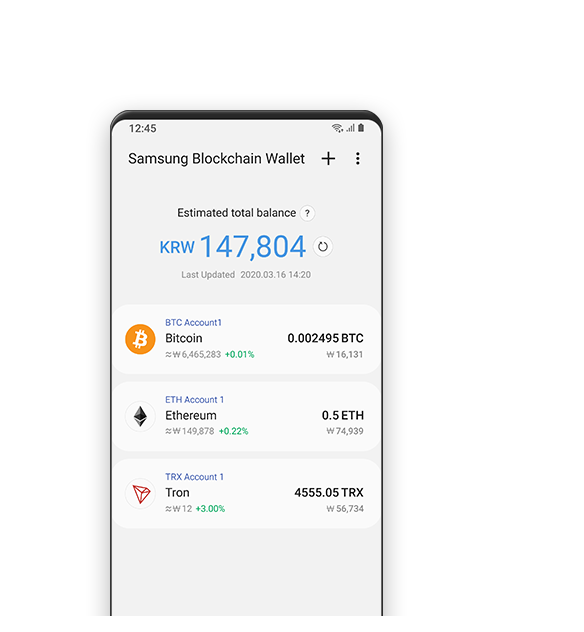 src
I am not a Samsung user but now since Samsung has made things easy with Blockchain so I might be buying a Samsung device so that I can perform my crypto transactions with my mobile itself and my dependency on the laptop will reduce. It's not possible to stay in front of the laptop all the time because sometimes I am outside or busy with something but mobile is a device that I always carry with me within the house and outside as well.
I hope that the situation is almost the same for many of us where we are not able to spend many hours with the laptop but yes we spend the entire day with the phone so we know that using the phone for blockchain and crypto transactions is quite easy provided it must be easy to use. With the recent announcement by Samsung, it seems things are going to be easy and convenient for us and we will be able to access or perform transactions with our digital holding with ease.
Samsung Blockchain Wallet has grown to support some of the most popular cryptocurrencies including Bitcoin, Ethereum, ERC tokens, Tron (TRX), and TRC tokens
I did some research on it and found that Samsung had been supporting few major points already on their devices and now they are going to make it easier and this support is also extending to some other coins as well. As far as I know, then hardware or wallet also supports leading coins and not all the coins so with this we can expect Samsung to add quite a good number of coins on their devices which will make it easy to use.

Those who already own Samsung devices and also in the crypto segment will be happy to see this update because now they will be able to perform transactions using their phone and this will make things easy for them.
Would you like to use a Samsung phone for all your crypto needs?
Thank you so much
Posted Using LeoFinance Beta