Good evening to everyone . 10 days ago I made a post about INDEX showing what it holds and how much the tokens are worth .
It has been 10 days and let us see the changes that has taken place.
Official website of INDEX - https://he-index.io/
Data Source for the following charts - HiveSQL .
INDEX HOLDINGS - 23rd DEC vs 1st JAN
23rd DECEMBER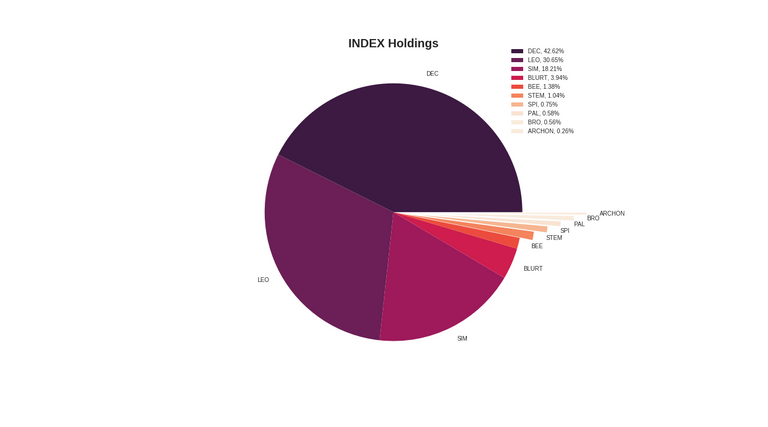 1st JANUARY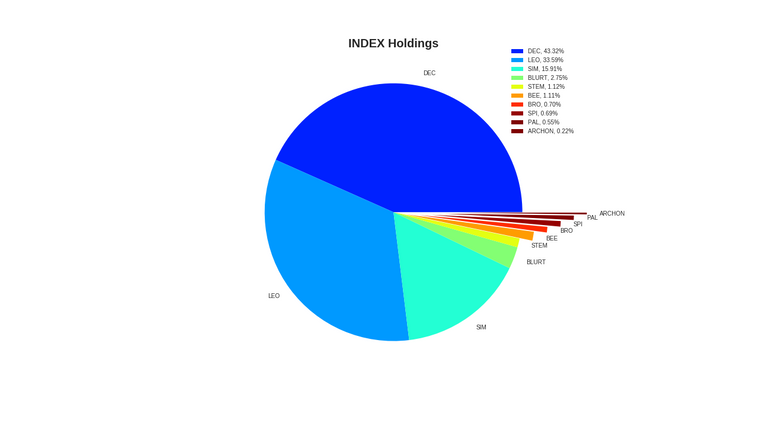 We can see that there are some huge changes within INDEX when it comes to holdings of token -
LEO has overtaken SIM to occupy 2nd place ( obvious because of the rise in value )
STEM has overtaken BEE .
BRO has overtaken SPI and PAL .
Note : There are three other tokens within INDEX - SPORTS , CTP , STARBITS which hasn't been represented here since the sum of all these tokens gives less than 0.1% holdings . Once it goes beyond 1% I will include it in the graph - Here is the table as of 2nd JAN

The last column represents % of holdings which as you can see right now is minuscule .
TOKEN VALUE in $ ( 23rd DEC vs 1st JAN )
This is where you can see the real value of INDEX , this is why I hold INDEX and buy INDEX .
23rd DECEMBER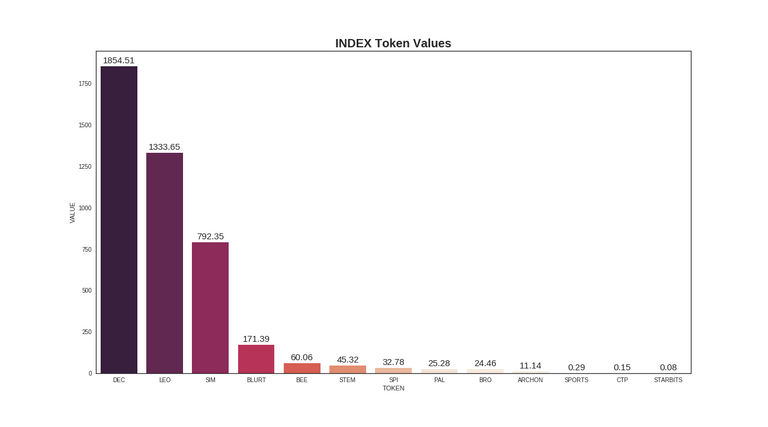 1st JANUARY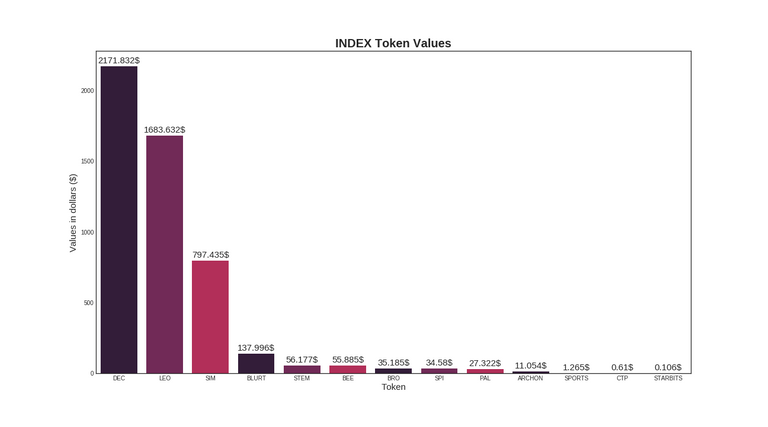 Pay keen attention here , do you note something ? All the tokens has increased in terms of $ value and that means INDEX continues to grow .I will make a separate post on ** What is the real value of INDEX** soon .
On 23rd DEC when I posted the first DATA report - total value of INDEX tokens in $ was around 4400$ , now it is around 5300 $ . Even though 1 token within INDEX drops in value other makes up for it , that is why I love INDEX.
TYPES OF TOKENS ( 23rd Dec 2020 vs 1st JAN )
This hasn't changed from last week . The number of tokens and types of tokens has remained same.
INDEX not only holds native tokens like LEO , STEM but also holds gaming tokens like DEC , SIM and along with it, it also has Dividend yielding tokens like SPI , BRO too . So if you are lazy to find out which gaming token is best to invest , you can just buy INDEX since it holds all types of tokens . Diversification at its best.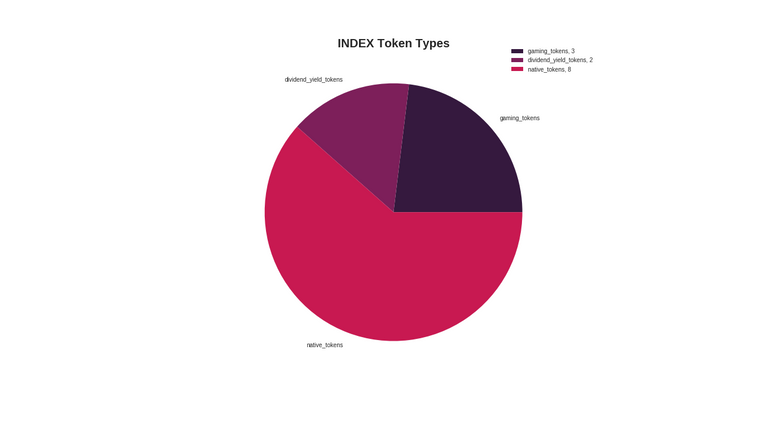 Right now , the number of Native tokens is bigger than Dividend yielding tokens and Gaming tokens.
Note: By dividend yielding token , I mean those tokens which in turn invests in other tokens to give you dividends daily , weekly or monthly
TOP 25 HOLDERS of INDEX (23rd DEC vs 1st JAN )
23rd DECEMBER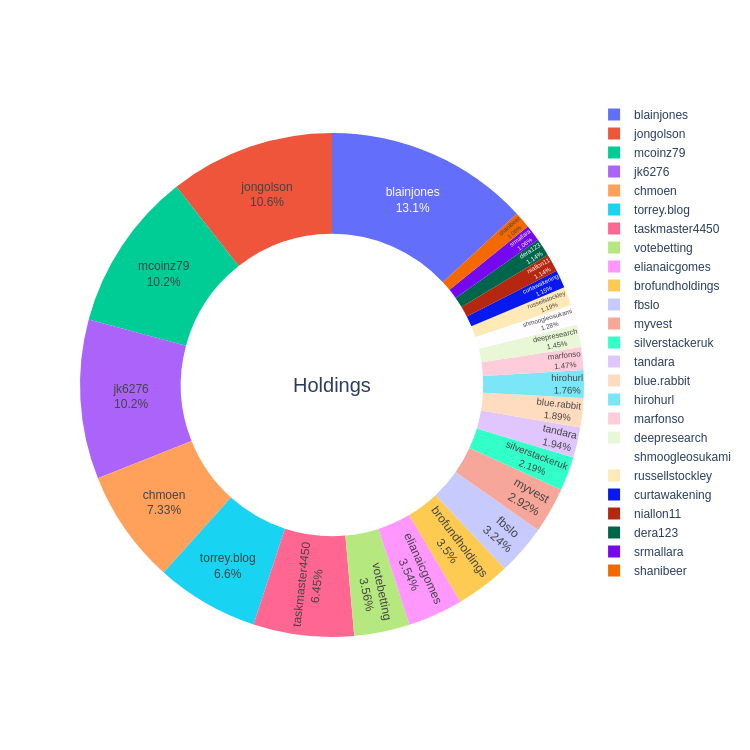 1st JAN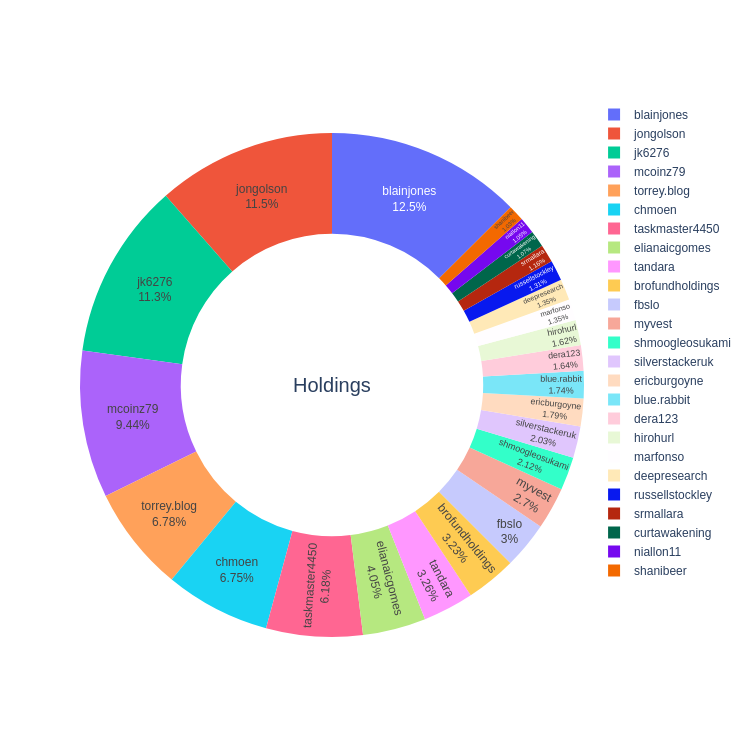 The remaining 19 - @torrey.blog , @taskmaster4450 , @elianaicgomes , @tandara , @brofundholdings , @fbslo , @myvest , @shmoogleosukami , @silverstackeruk , @blue.rabbit , @dera123 , @hirohurl , @marfonso , @deepresearch , @russellstockley , @srmallara , @curtawakening , @niallon11 , @shanibeer continue to be in top 25 but there are major shifts in their positions .
I will include another table next time to show positional shift .
I hope you got some insight into INDEX token because of this post . None of this is financial advice of any sort . If you want to invest , please DO YOUR OWN RESEARCH .
---
I will post about
@lbi-token
in the next post :) Till then you can read my last post about
@lbi-token
here -
https://leofinance.io/@amr008/lbi-data-and-charts-200k-by-jan-1st
---
Regards ,
MR
Posted Using LeoFinance Beta