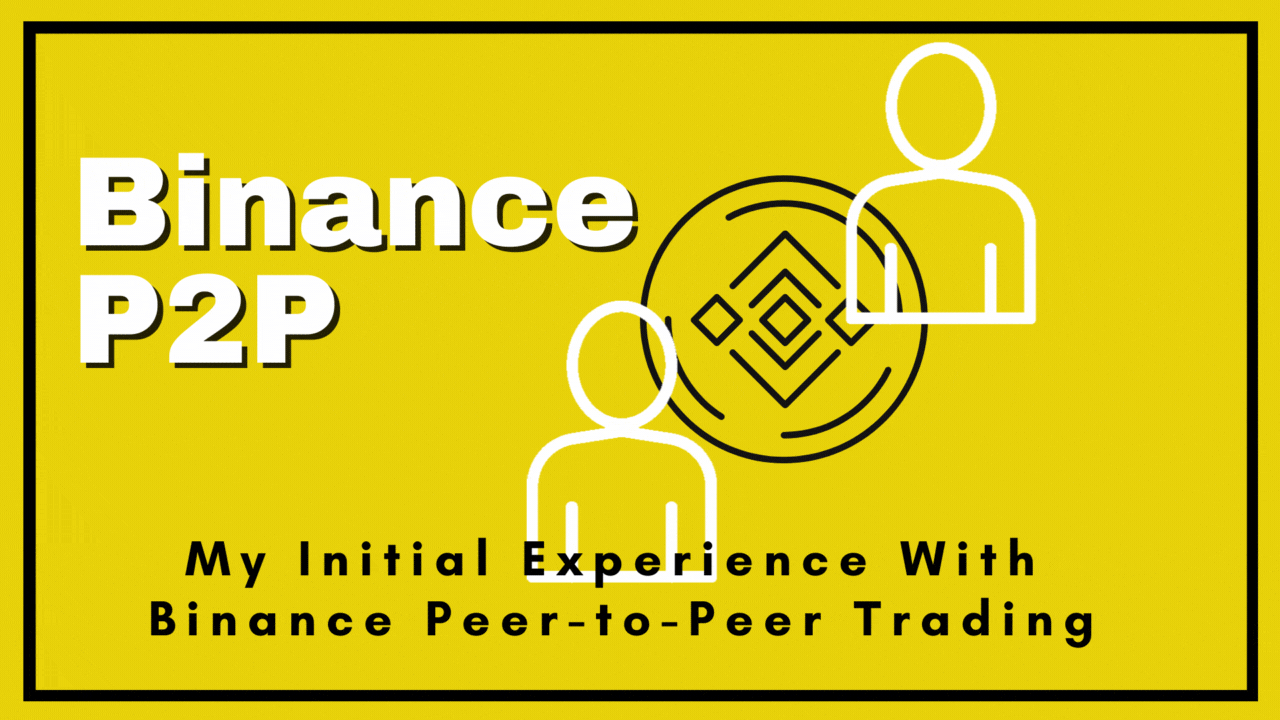 Crypto To Fiat Conversion
Withdrawing crypto into fiat here in the UAE is still a big challenge for me. I still withdraw through my Philippine bank account until now. Earlier, I shared a post comparing Bit Oasis and Abra withdrawals, and since then have only made PHP (Philippine Peso) withdrawals via Abra. The charge in Bit Oasis is a crippling AED 200 ($54.38) per withdrawal which takes 7 working days before it reaches my bank account. Lame.
Right now, I believe withdrawing crypto via Abra to my Philippine bank account is more reasonable than using Bitoasis
Then I learned about Binance P2P trades.
P2P or peer-to-peer exchange is a marketplace in Binance exchange where people can trade crypto directly with each other on their own terms, in virtually any country.
It is my answer to the transaction fees issue, and with flexible payment methods, I can finally withdraw in UAE Dirham. Yey!

https://p2p.binance.com/en
However, I never really had the chance to try the platform. Or should I say, I am skeptical about it.
Successful First P2P Transaction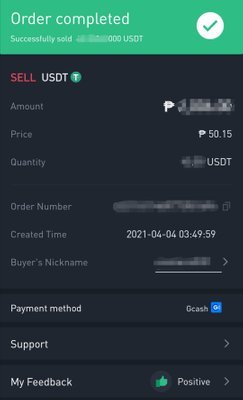 I finally had the chance to try it yesterday! My sister asked if I had some liquid USDT and the conversation led to me sending her my USDT to her GCash (e-wallet) account through me performing a P2P exchange in Binance.
Take note of the time stamp - 3:49am and she even wanted me to have a video call with her! Lol.
Anyway, it was a very quick transaction, once I have already transferred my funds to the P2P wallet.
I only had to add her electronic wallet (mobile number) as a payment method and the money was in her account in a matter of minutes.
Quick, easy, and hasstle free. Attractive rates even.
I was so surprised I had to ask her a couple of times if she really did receive the funds in her account so that I can complete the transaction from my end. She sent me the SMS confirmation that the funds had hit her account. It was so quick, I think I just blinked my eyes once.
Now if only I can have the same confidence with AED transactions...
The thing is, bank-to-bank transactions here in the UAE can still take 1 working day to complete (though within the same banks can be instant) and we do not have here the same e-wallet options like G-Cash that we used for my PHP transaction as above.
Scanning through the P2P listings here in the UAE, some have terms where you still have to directly contact the other party through mobile/whatsapp before opening a trade. I even saw one listing where "cash in person anywhere in the UAE - meeting only at public place..." is available. Too shady if you'd ask me. LOL.
Anyway, while I am here, let me share a quick tutorial on how to perform Peer-to-Peer trade on Binance.
---
Quick Tutorial - Binance P2P
First and foremost, one should have a verified account, meaning you have to submit your KYC (know your customer) documents for verification. The process only takes a few minutes after you upload your proof of identification.
This platform is available on both web and mobile application, in any currency you prefer.
On the web, just go to https://p2p.binance.com/en
Choose the transaction you wish to perform (Buy or Sell).
Choose the preferred currency.

It would look like this on the mobile app:
3 - To perform a P2P trade, you have to transfer your crypto from your SPOT to P2P wallet.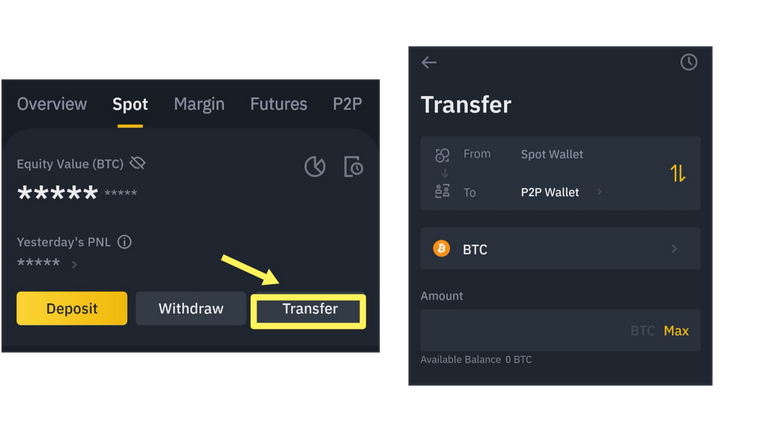 4- You can now check the offers listed. Be mindful of the terms and conditions that the other party may have indicated on their offer. It would also be helpful to check the feedbacks to get an idea of their completion rates and release/pay times.
5 - Perform the trade. If you want fiat, then choose "Sell" to sell your crypto holding.
You can add the preferred payment method as you are doing the trade, or you can do this prior by clicking the 3 dots at the upper right hand corner of the P2P screen.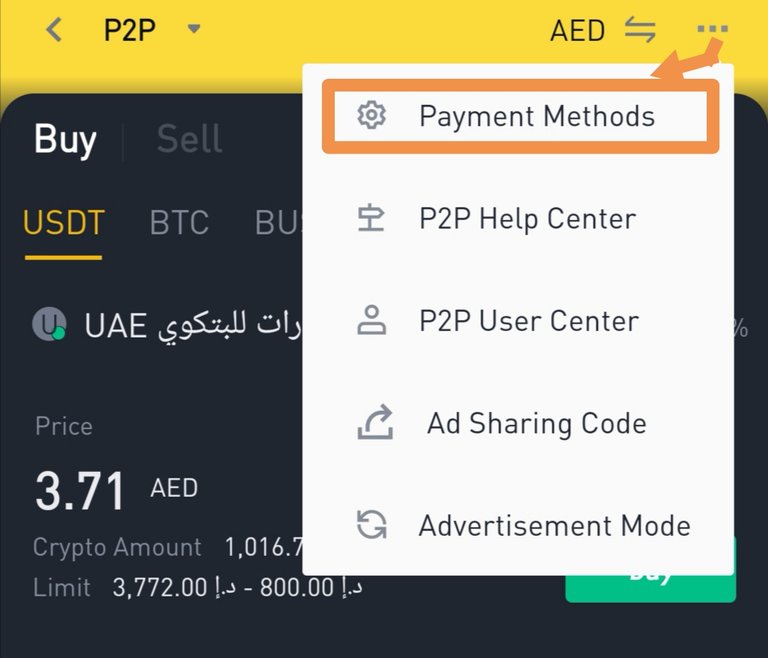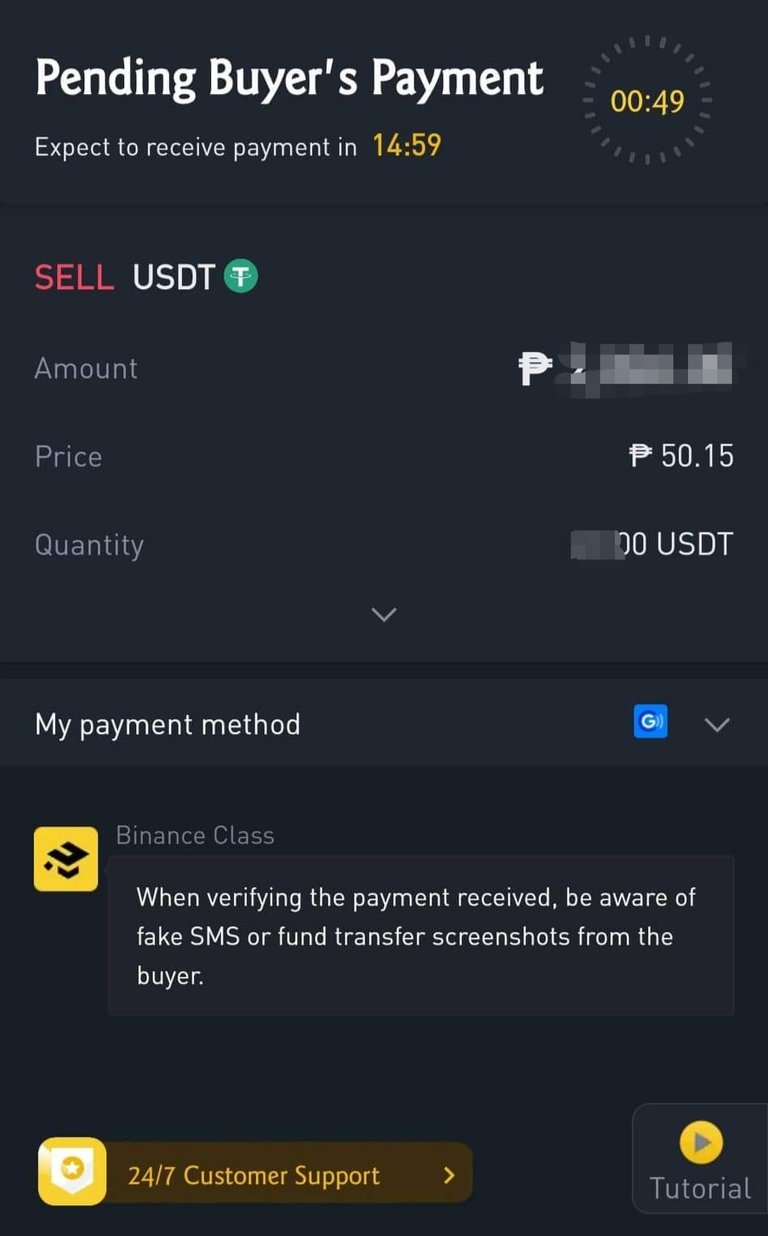 When you click sell, the buyer will now initiate the payment.This is timed and should be completed within the given window.
Once you receive the payment, you just need to click on "confirm" and that's it. The trade is done!
The P2P exchange is protected by escrow, which means that the funds are held in the seller's P2P wallet until the payment is confirmed. More information can be found here - Binance P2P trading FAQ.
---
Conclusion
Anything related to crypto transactions almost always whacks my brain. They are most of the time daunting and really need utmost care and attention, else you risk losing your funds. I have tried to stay away from withdrawing into fiat, but in cases like these, it is also good to experience and learn in the process.
I am now more confident to try this again in the near future, although I might stick to PHP transactions still for the time being.
As usual, we have to be discerning of any possible scams that can lead to loss of funds. Always be vigilant when performing transactions online.
Have you also tried using the P2P exchange on Binance? How was your experience? Did I miss anything? Please feel free to add in the comments!
Don't have Binance account yet? Feel free to register using my referral link - https://www.binance.cc/en/register?ref=UZGAML7L

---
Cover Image: Canva. Screenshots from Binance.com
Posted Using LeoFinance Beta