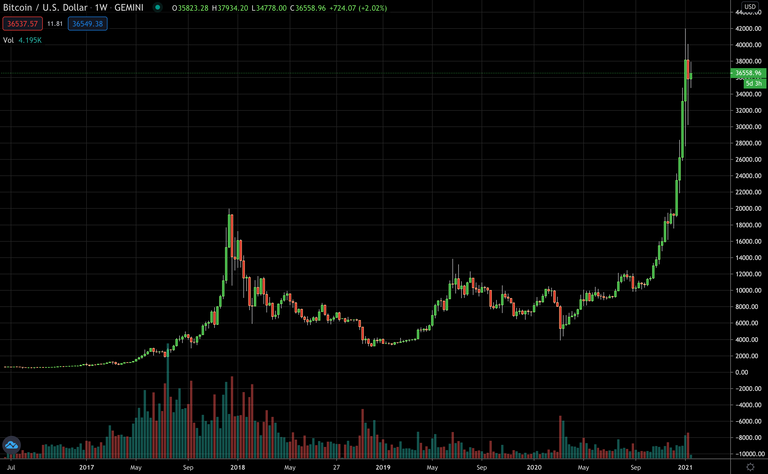 When you look at Bitcoin in a long-term context - as I am doing here with the weekly BTC chart going back to 2016 - it shows a clear story.
Bitcoin is trending up.
This is obvious. Unless you've been living under a rock, you know that Bitcoin has been skyrocketing throughout 2020 and now as we continue through early 2021.
Tulip Mania?
Tulip mania is what the bears refer to when it comes to Bitcoin.
In 2017, we saw a massive run and then subsequent stepping off.
You can see that in the first 1/3 of the above chart.
But now we're seeing another massive run. It does look quite a lot like the 2017 run from this weekly, long-term chart perspective.
Are we running a tulip 2.0 operation?
This Time is Different... Maybe
I like to think that this time is different. Having been around for the last run and now being present for this run, I feel like it is different.
Institutions are buying
USD is being printed to hell
People are stuck at home and forced to learn economics
The world has changed and it is easier than ever to buy Bitcoin. It's entirely possible that this time is truly different but it is equally possibly (my opinion) that this time is exactly the same and we will return down to set higher lows for Bitcoin just like 2017.
Posted Using LeoFinance Beta