Where is value at?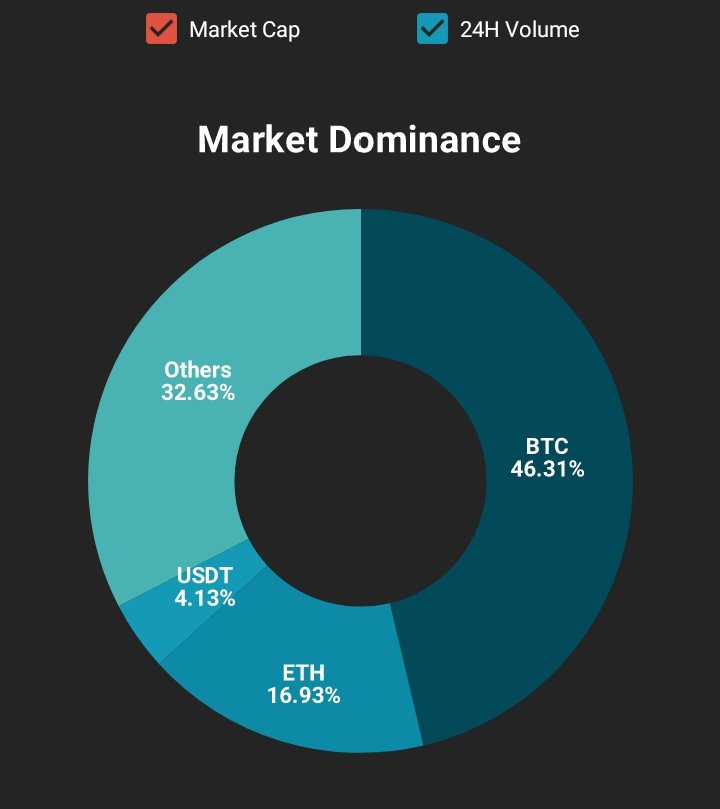 A few days ago, July 25th precisely, I took a screenshot of the entire crypto market dominance pie chart, but I couldn't make use of it due to a choked up schedule. However, this is from today after bitcoin took a ride up to $40k, then back to $36k. 2 days ago I sense a slightly bullish atmosphere, but I wasn't quite sure, because looking at a monthly chart it pointed at a new rally up having been on a downward trend for quite some time, while on the other hand, a few of us were interested in seeing the market crumble even more.
Though there wasn't any exciting news to back it up, well except visa bitcoin card issuance, and all NFTs shits, but that's how it's supposed to be, it's an independent market and should always act as one. Most times historical metrics fail and it records a new direction, much like what has been going on for the past months.
Two days ago, Bitcoin market dominance was at 44.68% Ethereum was 17.45% USDT was 4.29% and others were 33.58%. Today after a big move up, the market share has changed as you can see on the image above, BTC added a few percent, while others lost.
I recently read an article about Singapore's cryptocurrency atmosphere. Wide spread as a wildfire, Cryptocurrency Is becoming more popular as the day goes by. In Singapore, 93% are familiar with cryptocurrency. Now that's a whole lot of people. Imagine 93% of the world being aware, that's an exposure the crypto industry still awaits. Undeniably, Bitcoin has been widely considered as the most trusted cryptocurrency, maybe because of its design, or maybe because it's the first ever cryptocurrency, but ain't we just glad the first ever project didn't screw up?
There's been a bit of conversations on what bitcoin really brings to the system and how crypto changes the financial system. One of the two questions has already been answered however, crypto has changed the way people invest their money and regenerate income, in the long term or short term depending on individual investment set up.
But then, what bitcoin really offers is still up for debate. Is it a store of value? Is it an investment class? Or is it just money?
The confusion gets even bigger as time goes on, with hopefully some answers to how it really is. Here's what I see it as. The data above is from the poll of Singapore where 39% see bitcoin as an investment asset, 29% see it as a store of value and 12% see it as money.
Bigger question, what is money?
Money isn't just a trade mechanism because if it ain't backed by something, suitable volume couldn't be determined.
For something to be termed valuable, it has to be that it is worth a ton, being worth a lot means it is costly, so worth a lot of "money". Also, what is a store of value? That defines something similar to a bank, but in the case of bitcoin, it is digital and decentralized, meaning that you and only you determine what amount you put and what you remove. It is called a store of value because "value" is placed in it. Investment asset, still in the same route. It is an investment asset because value can be placed in it and value can equally be taken from it. So what is the value then? Money is a the value! Everything boils down to money. Bitcoin is a store of value because it is worth a lot of "money". It is called an investment class because money can be put in it and equally taken out of it. It is at the end called money because it determines the value of sub-assets.
The market will rebound whenever we decide to throw money back into it. Right now there are a lot of things we can call money, BTC isn't the only existing one. Just as native currencies are traded for a much stronger pair, any crypto can be traded for others. So it's actually clear that crypto is the money for the future generations, the decentralized money precisely.
Posted Using LeoFinance Beta
---
---