Jupiter Project has been around for a while but I only heard about them about three weeks ago. Maybe even less. At that time, one JUP was worth about $0.01 and in less than two weeks it went bananas and achieved a new all-time high of $0.124 which is 12 times more than when I first saw people talking about JUP on Twitter.
When I saw that Jupiter already has a working product and there is an actual hard-working team behind it, I was hooked. Then I saw an announcement that there is bwJUP which is JUP token wrapped on the Binance Smart Chain, and that liquidity providers will get a share of JUP airdropped to their wallets. I went in and bought JUP when it was about $0.015 and added a bwJUP/BNB liquidity in the Pancakeswap pool.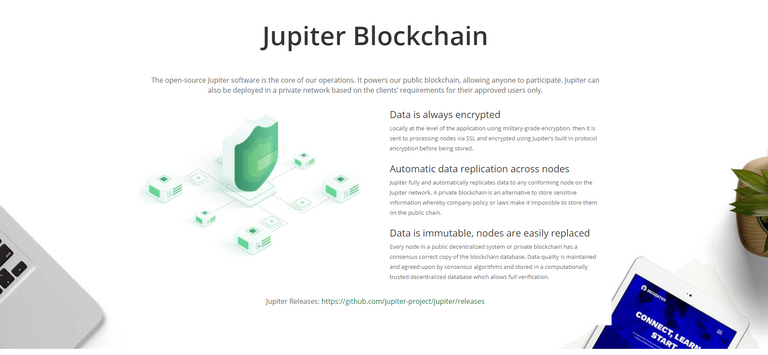 Skip forward to today. Not only do I have more JUP airdropped to my wallet than I initially bought, but the price also is up which means I have gained a nice amount of additional crypto. As for the project itself - Jupiter already has a Metis app which is an encrypted messaging app where you can have multiple chatrooms and conversations with others without sharing your data. Today, Metis can only be used from your computer but pretty soon, both iOS and Android versions will be available to download.

The iOS version was planned to be released on March 17th but they had a small set-back. You can read about it on their official blog. In short - one of the requirements for a social app to be released on the Apple Store is an option to block other users. Once devs sort this out and add it to the app, we will probably see more people talking about Jupiter.
I almost forgot one thing - Jupiter has its own blockchain!
The Metis app and the upcoming NFT marketplace are all built on their own blockchain. Find more information about the blockchain on the page - Jupiter Toolkit. As you can see, the price is now down to 7 cents, probably because of the set-back for the app. But there are more things in the work!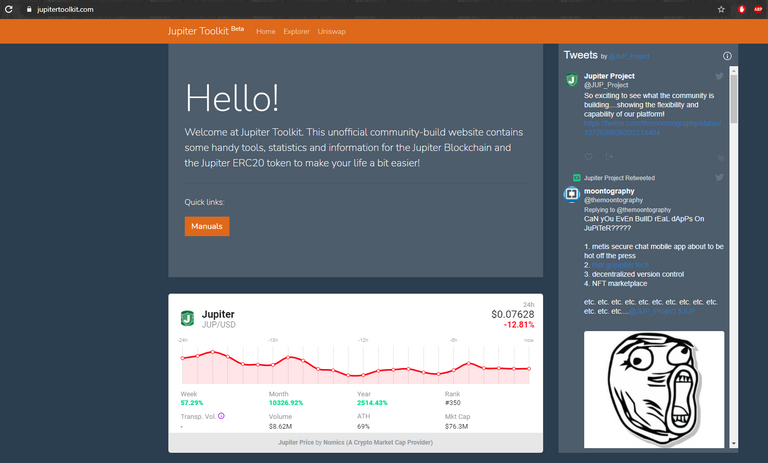 NFT's - Marketplace and Storing NFTs on the Blockchain
As you can see in the tweet below, JUP developed a technology to save some NFT's as binary data and then turn it into artwork without any loss! Beautiful! If they allow storing NFT's this way on Jupiter blockchain, their project could run wild when it comes out.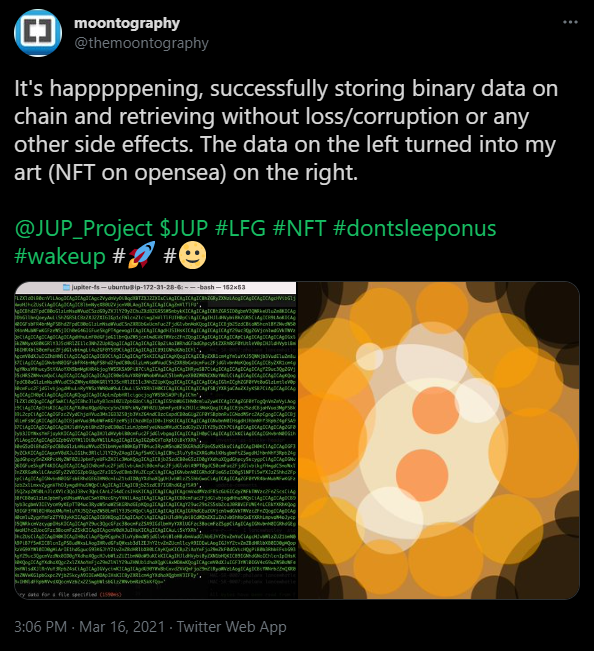 ---
Staking bwJUP on ValueDeFi
When I published this article, I shared it with Jupiter's community on Telegram and I got a suggestion to add this ValueDeFi link where you can stake your bwJUP (JUP wrapped on the Binance Smart Chain). The APR is pretty good, especially if you're a holder that's not planning to sell tomorrow.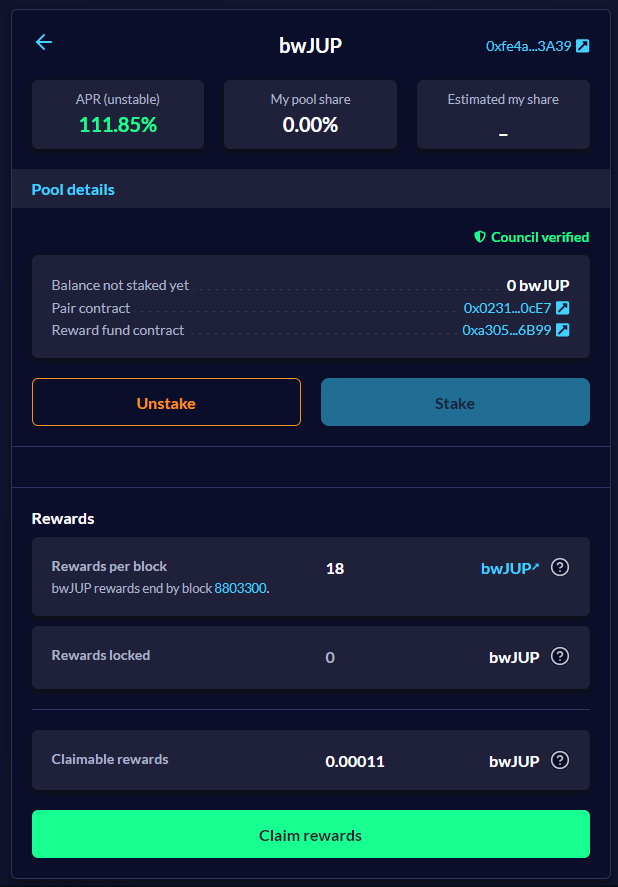 Even though it's the first time I'm hearing about ValueDeFi, it looks like they are legit and they already have more than 200 million locked across all chains. In the screenshot, you can see that I have already staked my bwJUP. I did it a few minutes ago as I updated this article. I'm not planning to sell my JUP anytime soon therefore staking is a great option. And I'm only staking the JUP that I got from airdrops. The rest is in the bwJUP/BNB pool on the PancakeSwap.
---
Conclusion
Jupiter is definitely an interesting project to keep an eye on. As more censorship and data sharing comes to big apps like Whatsapp and Messenger, people will switch to more private ones. As I was talking about in yesterday's article, decentralization will continue no matter what is happening in the market. Jupiter is delivering a product that many will want to try. If it's good and the team keeps delivering, many great things can happen. And gains!
---
Useful Links:
---
Thank you for reading!
---
Read some of my other stuff:
Cub Finance - DeFi to Rule Them All
Social Media Platform that Connects Blockchain People and Projects Together - Torum Review
Top Crypto Accounts You Must Follow - Crypto Twitter Top
Must Read - 33 Reasons Why You Should Be Using HIVE Blockchain!
Crypto Faucets That Really Pay - Browse Here
SwissBorg Lottery With a Guaranteed Bitcoin Prize - Look Here
---
Press on the banner below and browse Crypto Bag's website.