There are six hours left until ISNO for Torum Defi goes live. We will be able to buy NFTs for Torum Finance which is their own DeFi product. NFTs are limited which means if you want to get your hands on one, you'll have to be fast.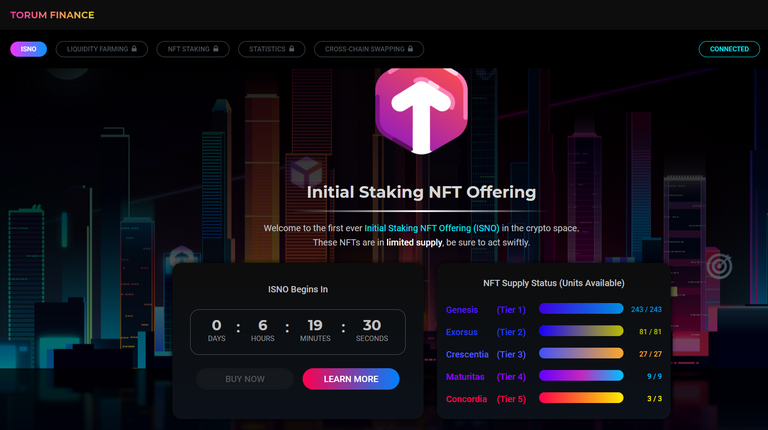 To check out the site yourself, visit defi.torum.com and take a look around. As you can see in the images, there are 5 tiers for NFTs starting from the cheapest called Genesis to the one called Concordia that costs almost 27 BNB and there are only three of them.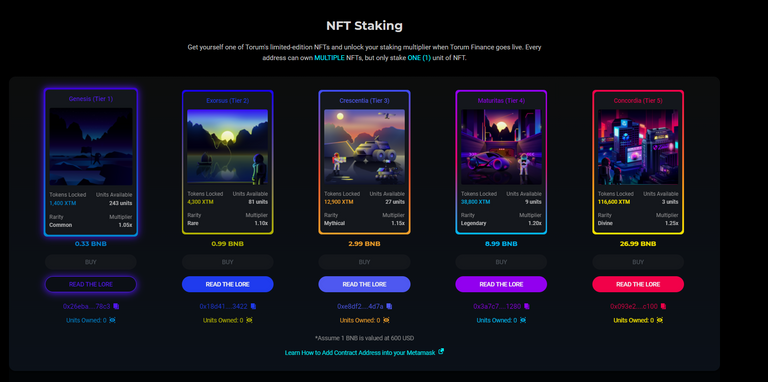 The cheapest NFT called Genesis costs 0.33 BNB and there are 243 units of it. What these NFT's will do in the DeFi product is that they will multiply our liquidity provider stake. The better our NFT is, the bigger the multiplier. Cool, isn't it?

In addition to all that, these NFTs will be tradeable. I can only guess but I'm pretty sure that after the sale, the price will be much higher if someone decides to sell their NFTs. If I'll manage to get my hands on one, I'll wait for the DeFi product to come out because I love multipliers!
---
Genesis Lore
Each NFT has its own story. Here's the one about the Genesis NFT. It's the most common one and probably will be the one I'll buy.

When the First Men landed, Torum was simply nothing but a barren planet. Uneven mountains stretched across horizons; sand and gravel cover most parts of the ground that were found on the planet. Waves of dust continuously circled around the swamp, extinguishing every flickering existence of living creatures. Not only that the supply of water was found to be scarce and sporadic, but there were also hardly any viable resources to cling on for life forms to dwell.
The entire place appeared dark and gloomy, like a vision in the mist with no sense of hope.
Yet, something was remarkably unusual. As if there was a tremendous force, so powerful that it managed to hold and unite every matter that was meant to be split from its intended form.
And the First Men felt it, which galvanized them to persevere and have faith on Torum planet.
With an unwavering resolve, they settled down to build a new civilization and named themselves Landers.
Thus, begins the age of void - Genesis.
---
In my opinion, the story matters, and I love this one!
---
Conclusion
Torum is working hard to deliver. They recently announced partnerships with MantraDAO and Kylin Network which is a huge step towards building a great ecosystem. Next few months are going to rock with XTM listing and all the new product releases. I'm bullish. And I'm participating in the ISNO. Peace!
---
Thank you for reading and have an awesome day/night ahead!
Other articles
33 Reasons Why You Should Be Using HIVE Blockchain!
Crypto Social Media Platform - Torum Review
Top Crypto Twitter Accounts to Follow
SwissBorg App and a Bitcoin Lottery with a Guaranteed Win
Find me on other platforms:
And feel free to explore my personal website:
Posted Using LeoFinance Beta