Torum is a social media network focused primarily on crypto content. For some time, there was an on-going pre-sale of XTM token which is the native currency of Torum. The pre-sale has just ended reaching the hard cap of $500,000. The token itself is not yet tradeable but one can earn a nice amount of XTM by being active on the platform. Starting from daily and weekly missions to getting rewards from other users, and inviting friends.
In the coming months, XTM will get listed on both, centralized and decentralized exchanges (CEX and DEX) and it will probably increase Torum's popularity by quite a lot. Right now, the only thing you can do with XTM is - reward other users but soon - many new additions will be added to the ecosystem. I've been on Torum for more than half a year now and it's beautiful to see it grow. I forgot to tell you that Torum is still in the private beta. It's really early.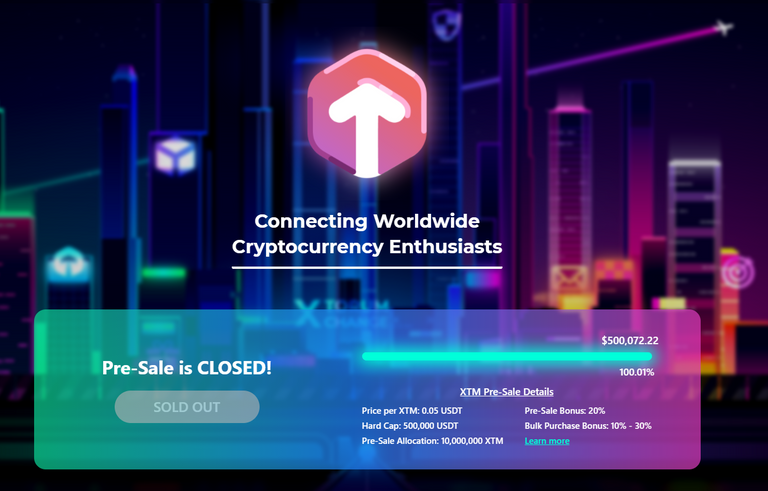 In the image below, you can see how your Torum feed looks like. It's similar to Facebook which makes it easier for newbies to switch. But the best thing about it - you can connect with similar-minded people and earn XTM for that. There are also many missions to complete each day. Be sure to check them out when you register an account. For example - by logging in each day of the week, you'll receive 45 XTM reward because you're consistent. And there are more!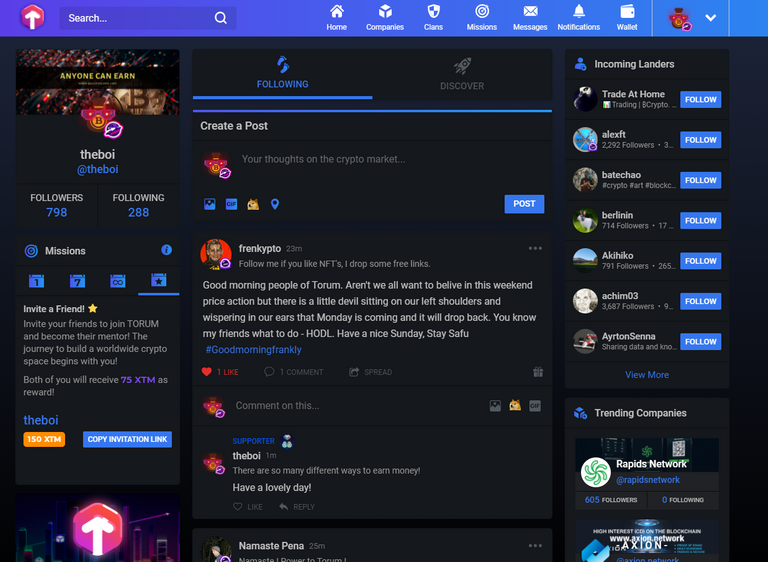 The next image is taken from LEO Lions clan that I created in November. At the moment of writing this article, there are already 640 clan members, which I think is a lot for a platform that is still in beta. I believe that once the token comes to the market, Torum will take off big-time but that is only my own humble opinion.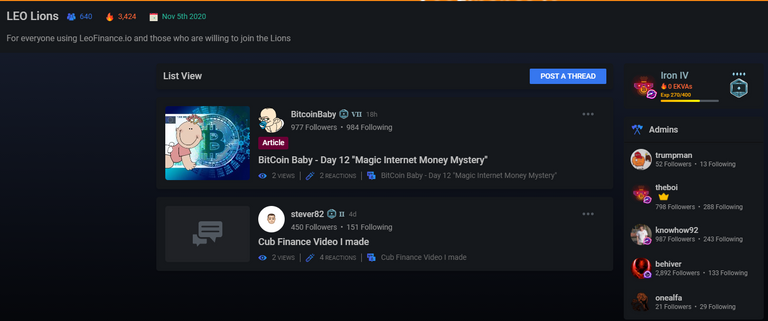 Yes, they have to sort out some technical issues but the team is hard-working and constantly keeps on delivering, and what's more important, the team regularly communicates with their community.
Here's a message from one of the founders of Torum: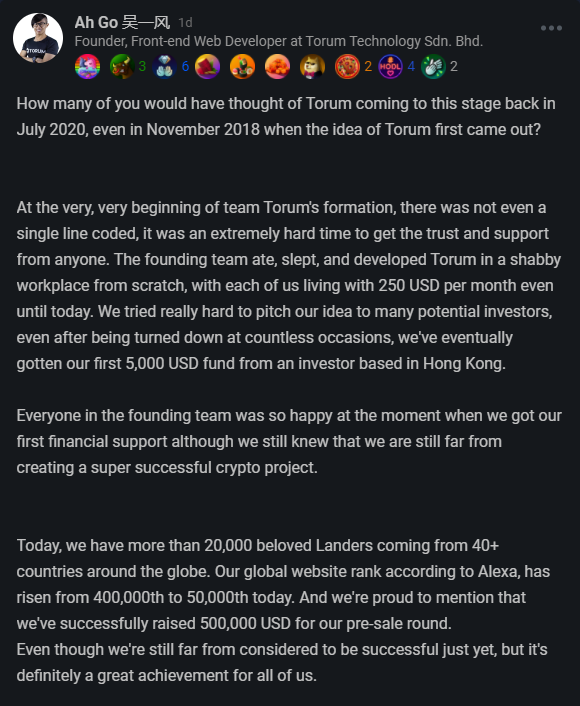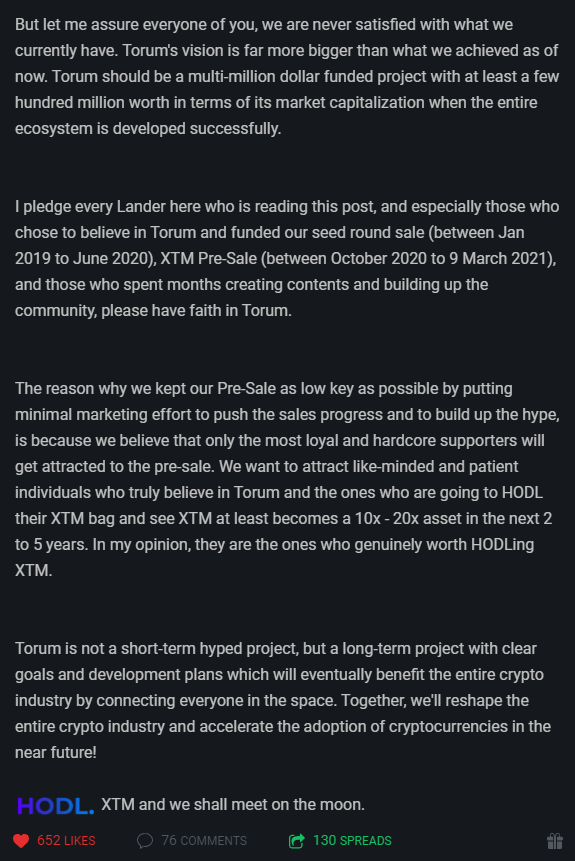 I approve of this message! Torum is a long-term project that has the potential to attract millions of users in the years to come. As long as the team keeps on working hard behind the scenes, everything is possible. One thing I know for sure - the crypto industry is changing the world as we know it. Those who are early enough to adapt to new things are often rewarded in the best way possible.
---
Every time I write about Torum, I look at the Alexa Ranking. This week, we have almost breached the top 50 thousand sites in the whole world. Not bad for a platform that's still in the private beta, right?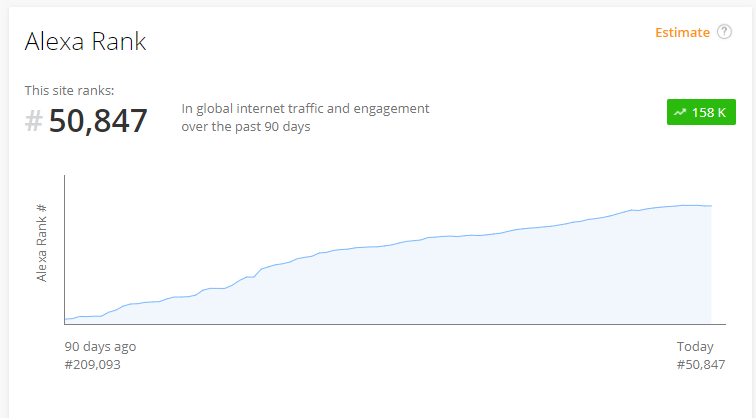 ---
If you didn't it already, I'm also a Torum Ambassador. For writing content about Torum, I'm receiving some additional rewards. It's a win-win situation because I would write about Torum anyway. Not only am I getting LEO and other hive-engine tokens, I'm rewarded on Torum! And the exposure to my posts is only getting bigger. I already have almost 800 followers and whenever I share my Leo article, a part of them will click and read it.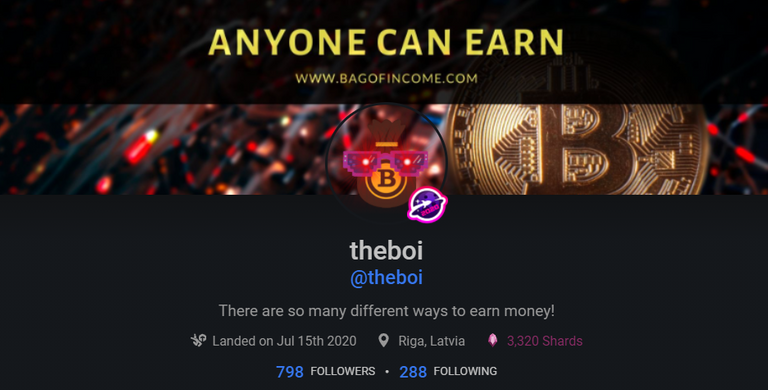 ---
In the image below, you can see my referral dashboard. I have already invited 43 verified Torum users. Each invited user gets both of us 75 XTM. If we multiply it by 43, we get 3225 XTM for referral invites only. To add - the price of XTM in the pre-sale was $0.05 per XTM (3225 x 0.05 = $161.25 for inviting my readers). And these calculations are with the pre-sale price. If the platform succeeds, which I believe it will, the price will go higher than that.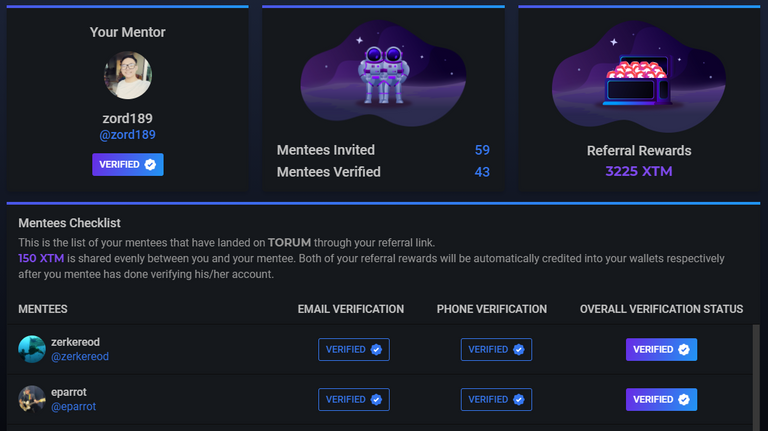 ---
Here you can see my wallet. I have finally made it past 10K XTM tokens! Once again, if we calculate them with the pre-sale price of $0.05, it would be about $500! I'll keep accumulating these tokens as much as I can. Why wouldn't I? All it takes for me to share my Leo article is copying a link on my feed because Torum has a nice embedding function (similar to Facebook).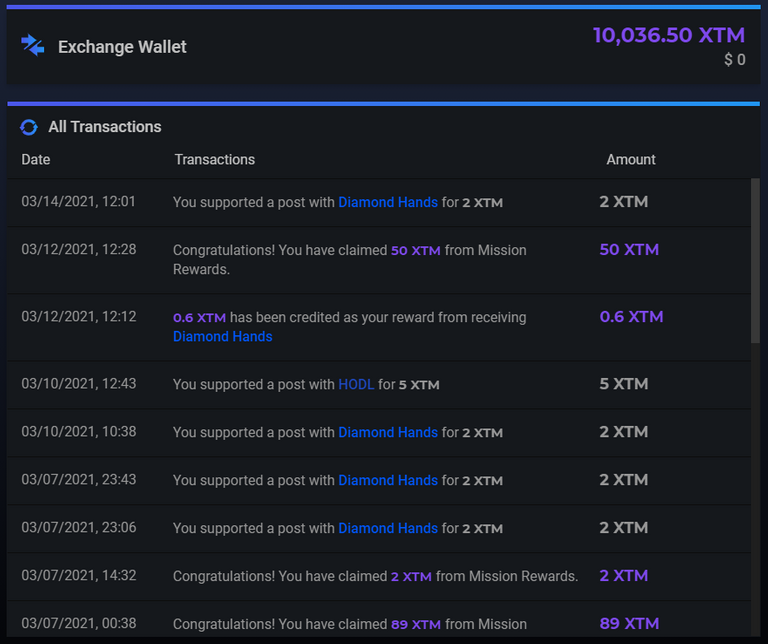 Thank you for reading! If you want to read more about Torum, here's my Torum Review.
If you want to stop reading and join the front-line action, press here or on the banner below to sign-up using my invitation link. Once you verify that you're a real person, we'll both receive 75 XTM in our wallets. You can verify yourself in Torum's Official Telegram chat.
Have a wonderful day! See you on Torum!
---
Read some of my other stuff:
Cub Finance - DeFi to Rule Them All
Social Media Platform that Connects Blockchain People and Projects Together - Torum Review
Top Crypto Accounts You Must Follow - Crypto Twitter Top
Must Read - 33 Reasons Why You Should Be Using HIVE Blockchain!
Crypto Faucets That Really Pay - Browse Here
SwissBorg Lottery With a Guaranteed Bitcoin Prize - Look Here
---
Press on the banner below and browse Crypto Bag's website.