I bet you saw it already - you can now buy Tesla with Bitcoin. Elon just tweeted about it. And the pump began. As I'm writing this article, Bitcoin is moving up and the whole market is pretty green. For how long it will continue? I don't know. It's the futures expiration week and volatility is there so the best option, in my opinion, is simply hodling your crypto.
I have a question, though.
Would you spend your Bitcoin on a Tesla?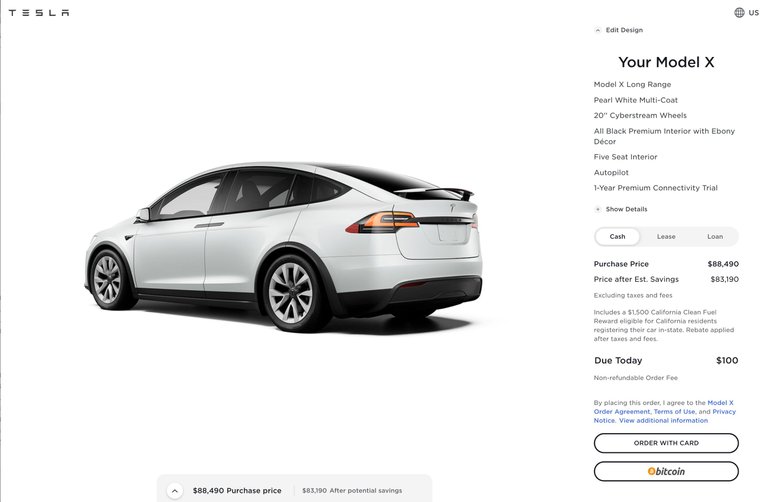 Yes, it sounds appealing for many people out there but is it actually a good idea to spend your precious crypto on a car? I mean, ten years from now you will be able to buy ten cars for the same amount of Bitcoin so why would you spend it now?
Of course, if you're a whale with a huge bag, then maybe you can afford it but for the average person, I think it's not the best idea to spend their BTC on a car. Even if it's Tesla. It could be any car in the world and I still wouldn't spend my crypto life-savings on it. But I guess it's personal for each and every one of us.
The Source
The source of this information was Twitter. Again. I opened the tweet to look at the comments and saw that there are more tweets. It turns out, Tesla is operating Bitcoin nodes directly and the Bitcoin that they will get from selling Teslas won't be converted to fiat currency. I like that! It makes me think that the bull run is far from over.
The other thing - for now, this option is available only for US residents but later this year - they'll expand outside the US. It's going to be interesting to watch how many people will actually buy Tesla with Bitcoin. Then the next question will come - which car company is next to include BTC as a way to pay for the product?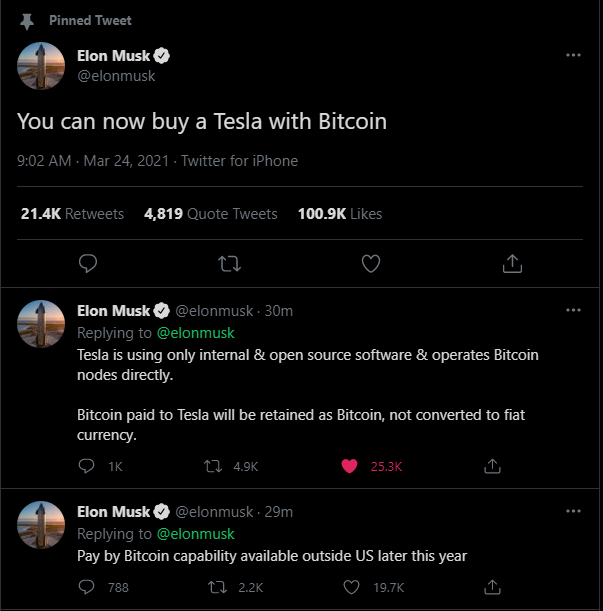 ---
Conclusion
Crypto is changing the world as we know it. It is as clear as a day. More and more people are empowered by this rapidly growing industry. Anyone with some spare time on their hands can get involved with crypto. All it takes is doing it. Read, learn, practice, and grow. In my opinion, that's how we evolve. °
Tesla running their own Bitcoin node and keeping the BTC from car sells is a sign that we are yet to see some real fireworks in the cryptoverse. Truly exciting times to be alive, especially if you're in crypto yourself.
---
Thank you for reading!
---
Read some of my other stuff:
Cub Finance - DeFi to Rule Them All
Social Media Platform that Connects Blockchain People and Projects Together - Torum Review
Top Crypto Accounts You Must Follow - Crypto Twitter Top
Must Read - 33 Reasons Why You Should Be Using HIVE Blockchain!
Crypto Faucets That Really Pay - Browse Here
SwissBorg Lottery With a Guaranteed Bitcoin Prize - Look Here
---
Press on the banner below and browse Crypto Bag's website.