My Hive Goals - Weekly progress report
Every week I usually share my Hive goals progress report. Last week was also pretty good and I guess there was decent progress. I wish I can increase my stake in Hive as much as possible as long as the price of Hive stays below 1$. I strongly believe that there is a high possibility for the price to go above 1 dollar anytime soon.
I'm also very glad that there are many different opportunities on Hive right now from where we can start getting passive income. There are a few passive income projects like BRO, UTOPIS, DHEDGE, etc on which we can invest and enjoy the returns. I'm also constantly looking at more ways to earn more by investing more in this platform. As I said, I want to do it before the price of Hive breaks 1$.
25,000 Hive Power
Just one more week and I'm completing this goal. I have already reached my goal. I also have enough liquid hive to power up and complete this but I'm taking it slow and wanted it to happen gradually. I earn at the rate of 100 Hive per week. Considering that, I guess it will be an easily achievable target. But considering the price of Hive it appears that last week, I was not able to make 100 Hive in total from the author rewards. But maybe combining author rewards and curation rewards gives that value.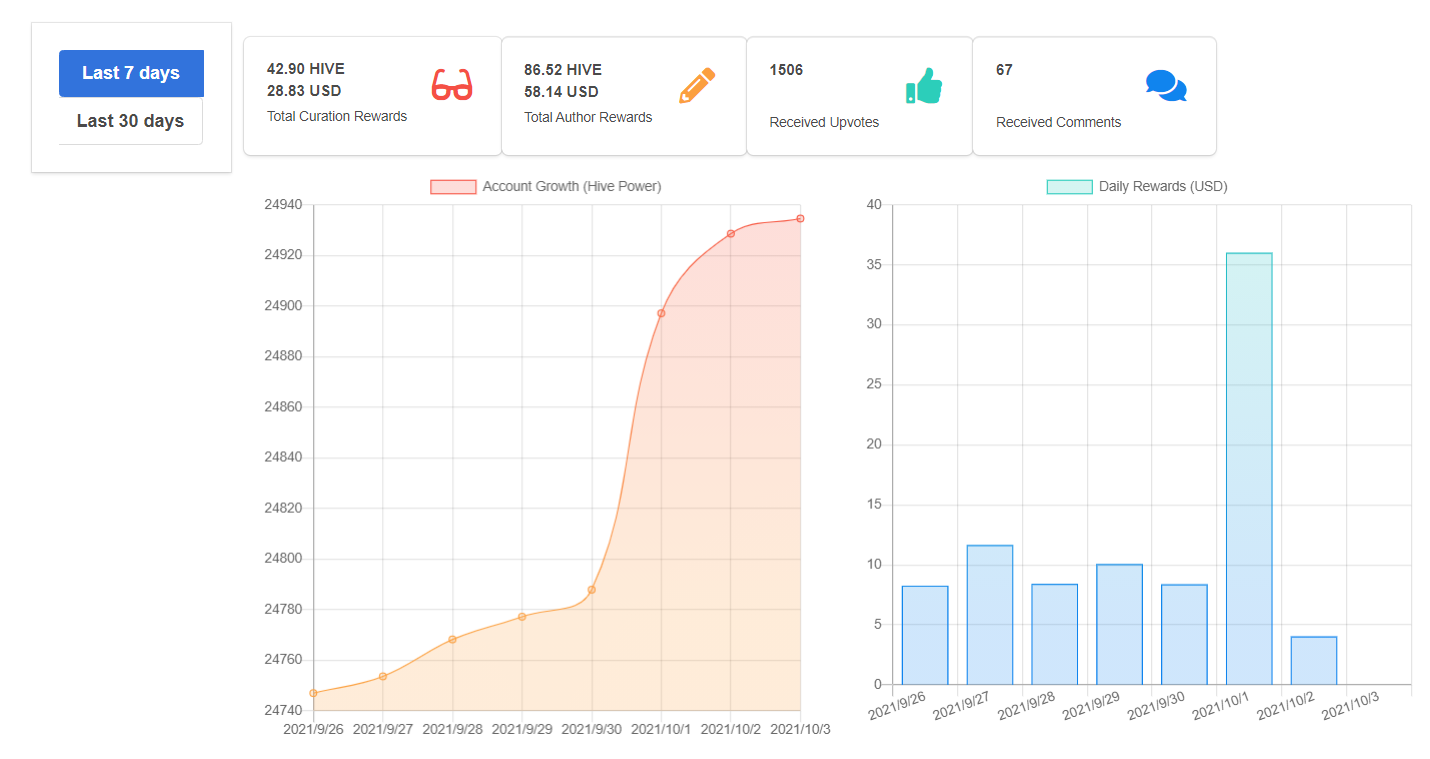 The rewards were also issued in the form of Hive instead of HBD. This reduced my HBD earnings a little bit. But in a way, I consider it as good because I was able to easily allocate some Hive for Hive Power up day that happened a few days back. After I complete this goal of reaching 25k Hive Power, I still have some more plans to increase my stake in Hive. My next obvious target would be to reach 30k but I'm planning to go for 50k before the end of next year. Let's talk about that later.
2500 STEM Power, 2500 CTP Power, 500 CUB, 12k SPS and 1000 POB stake
These goals are also having some nice progress. I guess the first goal that would get completed is the 500 CUB goal which can happen soon. After that, I will focus a bit on STEM and then on the other two. Considering the new upgrades and interesting things that Marky is bringing, I'm having a FOMO on STEM. I might consider contributing articles in the community with an exclusive account soon. Mostly it will be tech blogs.
It is already a week since my CUB - BUSD LP got finished on CUB finance. I haven't planned anything yet. I'm mostly thinking of withdrawing all the funds from that and reach my CUB goal and cash out the remaining. I remember purchasing CUB when the price was over 4$. But now the price is close to 40 cents. I still have double thoughts on cashing out the CUB tokens. Maybe I might hold them until the price of the token recovers or it gives enough daily rewards. Let's see.
No big thoughts on SPS right now because it is a passive income that is going to be coming my way. I don't have to do much on that for now. I'm glad that I have crossed 10k SPS now and reaching 12k before the sales shouldn't be a big deal.
This week's goal status
Finally checking the goal status of the week, my current status looks like below. Looking at it, I'm glad that I'm able to get close to 1000 SPS per week and I wish this continues till the end of 365 days and the price of SPS also looks stable until then.

---
---
Posted Using LeoFinance Beta
---
---