Now is the right time to convert Hive to HBD
For people who have been waiting to invest on HBD to get a flat 10% interest for investment, I would say today is a good time to do it. The reason is because of the huge pump Hive had today. Today morning when I woke up, I noticed that Hive was almost 40 cents today. I immediately rushed to Binance to sell my Hive at 40 cents. I couldn't catch it at 40 cents so I sold it at 39 cents and I have very happy thinking that the price would again come back to 30 cents and I can buy back again. The Hive that I sold for 39 cents were the ones I bought for 30 cents when the price was low a few weeks back.
Last time too during the pump, I did the same thing like purchased it for 30 cents and sold them for 35 cents, and the price of Hive pumped to 45 cents. This time again, I missed the big opportunity and sold it low. The current price of Hive at the time of writing this article is at around 51 cents and it is almost 50% pump. I don't know if it will go further up or not but I don't have any regrets for selling low because what I was doing was risk trading and any profit from that is always good and we shouldn't be worrying too much about the missed opportunities.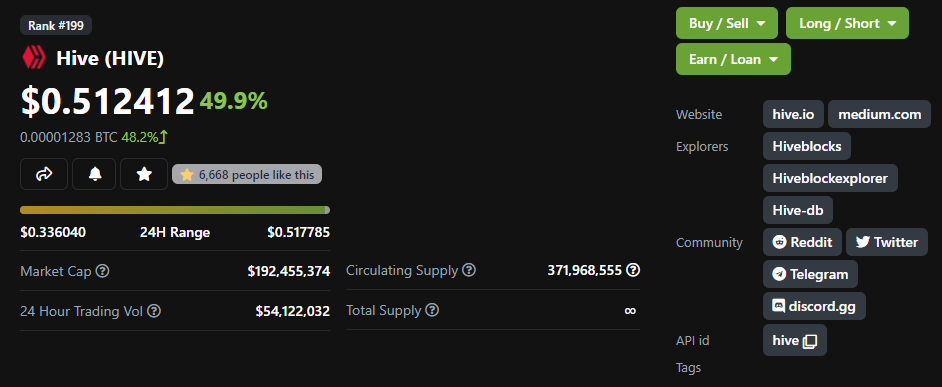 Converting HIVE to HBD for interests
HF25 on Hive introduced a great feature to get an interest for keeping HBD in the savings. The percentage has been set to 10% by the witnesses. I personally think that this is a decent percentage compared to all other staking options we have for stable coins in other exchanges. One good thing is that we have this option inside the blockchain itself so that it adds a little more security to our funds. I'm personally going to make use of this opportunity by staking a small amount of HBD in my savings and let it grow.
For people who are thinking about investing in HBD for a neat 10% interest, I think that this is the right time to convert Hive to HBD. The price of Hive was down for a long time and it was slowly showing a sign of recovery. If we had sold Hive cheaper, it would have not been a good deal.
Now that the price of Hive is higher, it is the right time to convert your liquid hive to HBD and earn 10% interest from it. I'm suggesting this option only to people who have been waiting to deposit HBD. For people who are looking for better APR, I would still suggest powering up Hive and getting 11-12% APR from curation.
No liquidity in Leodex and Beeswap
Leodex and Beeswap are usually the places we go to convert Hive to SWAP.HIVE or from SWAP.HIVE to Hive. During times when the price of Hive is pumping, there is usually no liquidity on Hive. People will not be able to convert their SWAP.HIVE to Hive through Leodex and Beeswap. There is always an option to use Hive Engine directly to convert SWAP.HIVE to Hive but there is a 1% withdrawal fee to do it.
---
---
Posted Using LeoFinance Beta
---
---