As I'm guided by never to depend on a single income source, I looked for investment opportunities for additional sources. As I had some funds deposited some time ago for a different purpose (100$), I've decided now to make that money work for me. And for this purpose I give it a try with the Flexible Savings options from Binance. And as my appetite for the risk was quite big compared with the small investment amount, I've chosen the biggest opportunity available at this point - ONT tokens with 75.63% yearly return.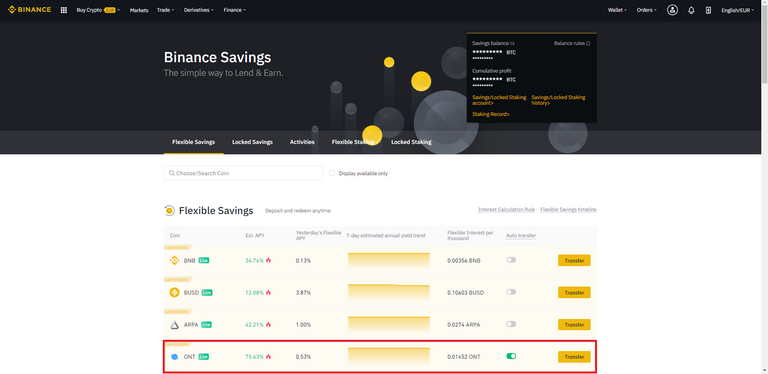 The ONT flexible saving has a 75.63% ROI compound from the following rewards:
ONT tokens with flexible saving of 0.52% ROI
WING tokens with 75.10% ROI
The rewards can be claimed daily by having them automatically released within your wallets or on demand. I have opted in for getting the rewards daily as I want to see how this works and gain some confidence for the investment.
The ONT rewards were released along with the current savings subscription investment.


The WING rewards were released in the new wallet as I had none before.


I think that is a pretty good investment option and if the markets are favorable this could add gains from the positive token growth and savings rewards. Nonetheless I was thinking that maybe also LEO ecosystem could benefit of such offerings and maybe follow up on some agreements to setup such Saving options in the future.
Posted Using LeoFinance Beta