Adding liquidity, SPS airdrop influence and more Splinterlands revenue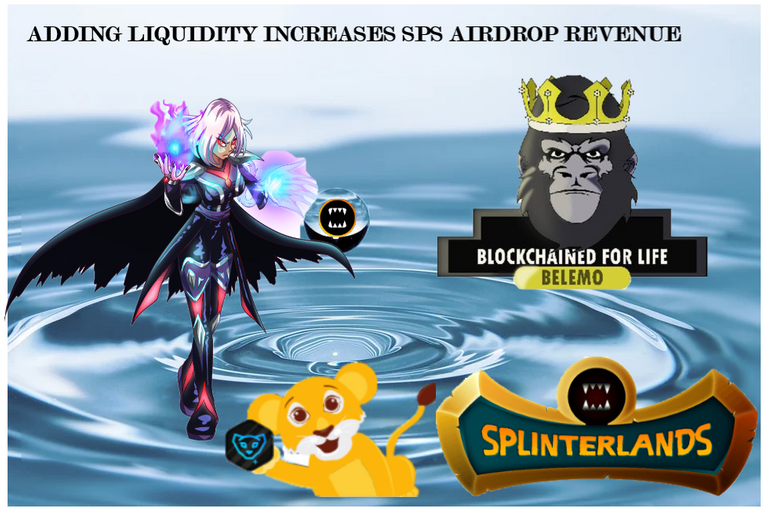 I had some DEC from card sales and decided to throw it into the DEC/BUSD pool on Cubfinance. It wasn't that much, to be honest, I think it was like 20k DEC or roughly $145 and pooled it against the equivalent amount in BUSD.
In recent times, I've been redirecting funds from my Splinterlands activities to funding my life. However, I decided to reinvest funds in a strategic way that I believe will add even extra value to my life.
Money from money
So the DEC/BUSD pool doesn't actually have a high APR. At the time I pooled, I think it was around 13% and on top of that, it has a tiny multipliers
With that said, I'm still printing Cub with that investment but the real profit comes from another angle.
Thanks to the staked LP tokens in the pool, my daily sps Airdrop increased by about 6.3 on the first day but that will be different by tomorrow. However, let's assume it stays the same throughout the course of the airdrop, then that would mean that I receive about 2,135 SPS tokens.
If I theoretically earn that amount of tokens per day, and we assume that the SPS token price trades at an average of $0.4, then my liquidity pool stake will have earned me around $854.
So, in theory, if I hold it throughout the remaining period of the airdrop, then I'd have earned nearly 4X the value of my initial investment.
Lets be optimistic for a minute
So, let's assume that SPS tokens even do better in the market, and get even closer to $1. I could have 10Xed the initial value of my LP tokens in the pool.
Also, on top of that, I'm also printing Cub tokens at a relatively slow rate but it counts for something. At the rate I'm printing, I'd probably be printing around 0.5 Cub every 24 hours.
In the general scheme of things, that's not much but since we're being optimistic in this part of the post, let's say Cub goes on a run and lands around $10. That would translate to $5 a day from my LP tokens.
Looking at the market now, this is kind of like a pipe dream, so I'm not holding my breath. However, what I can say for sure is that my money is working for me.
Back to reality
Realistically speaking, I know things will not be as smooth as my imagination wants them to be. There will be ups and downs along the way.
Also, all my assumptions about the price of the tokens could be very right or very wrong. Either way though, my money is working and that's all that matters.
I also intend to add more liquidity to the DEC/BUSD pool through the sale of some of my cards. I've had a had time just letting my DEC sit in my wallet because of my anxiety.
I know it adds to my SPS airdrop points but at the same time, my anxiety won't let me rest. Now that I can put them into a liquidity pool, I won't be bothered.
In my mind, the DEC I pool against BUSD is locked up forever because unless there's a meltdown of cataclysmic proportion, the token and the BUSD will be locked up forever.
Focused on today and tomorrow
In summary, I'm just taking steps that will enable me to grow my portfolio in any way possible. The general concept is to move money around and try to stay on the green side of the table.
I don't know if it'll work out in the future, but it sounds sensible on paper. Adding liquidity increases my SPS airdrop, opens up an extra cub income opportunity, and invariably increases the number of chaos legion packs I'll be able to get.
If it works out, good for me. However, if it doesn't, well, I'm alive, so I'll just brush myself off, pick up the pieces and try again on something else.
Please check out my Freelance gigs:
Contact & Support
Discord: belemo#9593
Twitter: https://twitter.com/belemo__
Telegram: uncleskipper
Email: belemok@yahoo.com
ETH and BSC wallet: 0xC75E34E3ee9a343041B3322E1bD97b4940Ed721d
Bitcoin Address: bc1q635vre2jj9zhde9cyvflyz4h9c0p57gg3s3yre

Posted Using LeoFinance Beta
---
---