Don't get scammed, invest in Cubfinance

Woke up to a bunch of articles discussing the sad situation with Iron.Finance and it was rather interesting. For what it's worth, this is the main reason why I stick with Cubfinance and the reason why it is important to stick with a trusted brand, rather than simply following the money.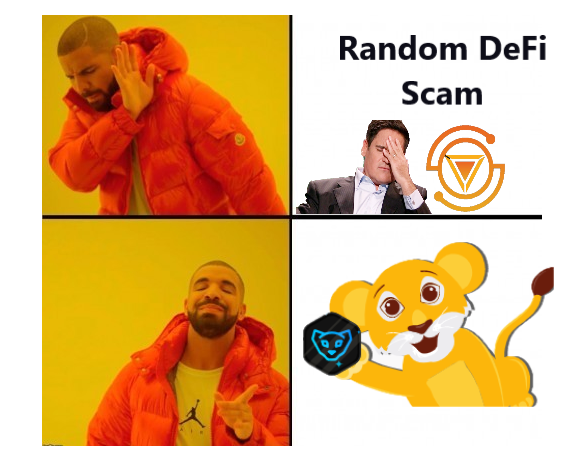 Let's face it, rug pulls will always be a risk in the DeFi scene and just like many other scams, it is often a byproduct of greed. To avoid getting rugged, it is important to invest in a trusted brand, rather than go around chasing risky APRs.
As Mark Cuban, a super-rich DeFi investor must have learned, nobody is immune to the hurt. That's one fascinating and slightly awesome feature in the crypto industry.
Don't get me wrong, I don't want anybody to get hurt and I probably hate scammers more than everybody here because of the whole "Nigerian prince" dumbass stereotype shit but it's rather refreshing to be playing on "level ground" with the elite.
Mark agreed that he made an error for not doing proper research before apeing into the project and then added something extra about regulations that's symptomatic of billionaires.
Billionaires of his ilk are very conversant with government policy "handouts" and protection that keeps their assets safe. He's not used to the entire concept of simply being one of the members and letting ONLY the money/knowledge do the talking. He wants an edge.
Cover your own ass
You don't get an edge when it comes to DeFi, and no sir, there's nobody to "bribe" or any way to use your influence. It is straight-up math and codes, so if you don't play the game right, you will in fact get rekt.
It doesn't matter who you are, and that's what makes it awesome. Now to avoid getting rekt, you could look into solid projects that offer real value, rather than investing in the hype.
The sensationalism of the market is very astounding and even some of the more renowned "serious" names are getting in the mix. Coinbase for example listed Shiba Inu or one similar pointless shitcoin but have paid a dear ear to hundreds of projects that offer solutions to real-world problems.
The fact that even "serious" entities also get sucked into the mindlessness of the market means that you should have a discerning eye and you should ensure you cover your own ass. There's no protection and you should only stick with projects that you know, or have done proper research on.
This is not the time to be dicking around with your money because you WILL lose it. You have to actually read whitepapers and get proper knowledge about the project.
When you find a trustworthy project, you should make it your base of operation and then safely look out for others. However, the most important thing is staying safe, rather than constantly looking outside.
I stopped looking outside
As the DeFi scene continues to evolve, there will be more bad players emerging. They will be characterized by zero substance and plenty of hype. However, in the midst of that, there will be gems like Cubfinance that offer the right amount of awesomeness, trust, reliability, and consistency that every investor dreams about.
Due to this solid framework and trust that was generated by the @leofinance brand, I have chosen to keep everything inside the system. Unlike many projects around here, I can genuinely say that I trust this brand and that's something that you don't hear every day.
Instead of investing in scammy hyped Defi projects, why not keep your money in a safe space that delivers on its promise? You should move over to Cubfinance where your assets are safe and you don't have to be constantly watching over your shoulder.
Please check out my Freelance gigs:
Signup for Oropcket with my referral link
Contact me

Posted Using LeoFinance Beta
---
---