Big Things Happening For The Little Cub
It's been a long time coming but CUB has a solid platform with now a solid roadmap and tomorrow is what I hope a big transition for CUB.
I really do hope the dev team, market team etc hold on target and hit this points without delay as any delay after announcment can be harmful but I have good faith they can do it.
What's to come To CubDefi?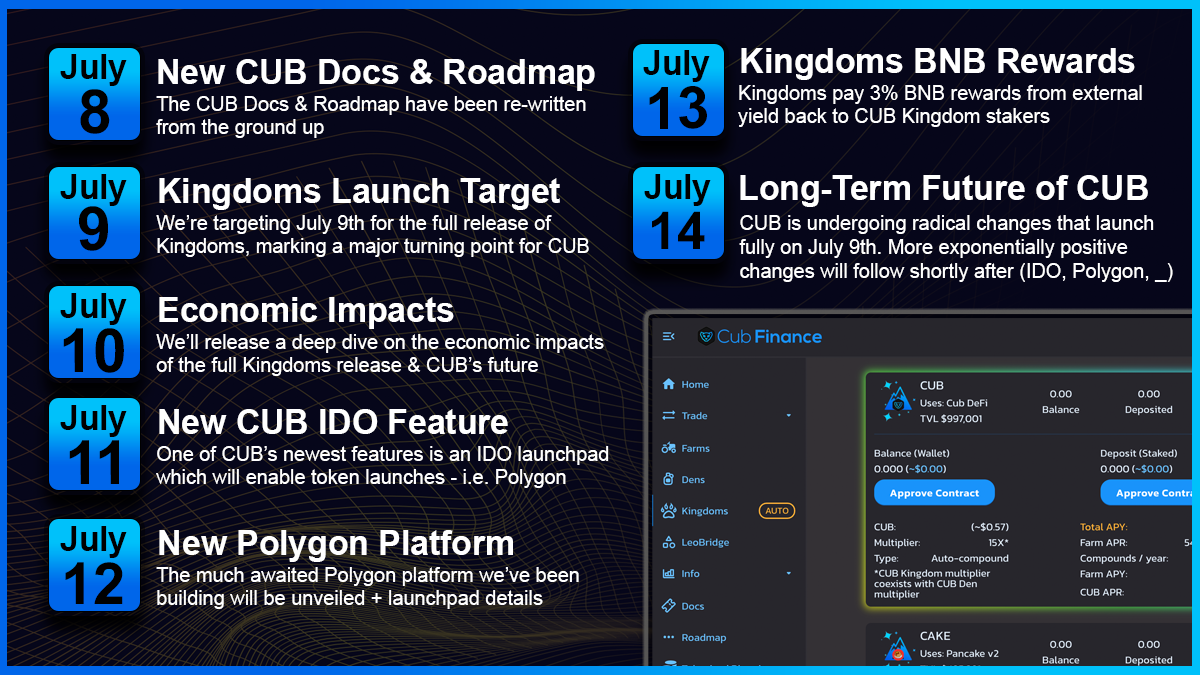 July 9th the launch of KINGDOMS in full. That means we are going to see a lot of changes quickly coming to Kingdoms and from that we should start seeing steady growth in the price of CUB because of these changes. If you believe in this project I would highly recommend stocking up on CUB tonight or ASAP to show support but also because personally I feel it would be a good investment. *Make your own decision though this is not investment advice ;)

July 12th and 13th are two dates I have marked and really looking forward to. Finally! I can earn BNB rewards and not have to constantly keep selling off some other coins to get some BNB. Instead my Cub will now earn me BNB which I can use for transaction costs and well hopefully a little stockpile as well.
Also the IDO feature and Polygon could pave away for some serious growth within CUB as Polygon has become one of the hot new programs to launch in the DeFi space as of late.
CUB is finding itself in a unique position where it actually taps into many blockchains with a good cost ration. Ethereum, Polygon, DEC/LEO/Hive, Binance and Pancake! In realities CUB is primed and has many of the pieces other platforms don't. All it's going to take is the right people talking to each other to start flooding in investors.

Another important note is soon the CUB Kingdom DEN will have it's multiplier doubled. THIS IS HUGE for those of you who have been holding on to your CUB for a while and growing it. Not only will it double but you'll now be earning BNB rewards on top of it. A huge win-win when it comes to investing IMO.
Overall I'm crazy excited again for the project and look forward to how this launch week goes and what we can expect in the future for CUB/LEO/WLEO/BLEO etc.
Posted Using LeoFinance Beta
---
---