CubDeFi Just Got A Fresh APR!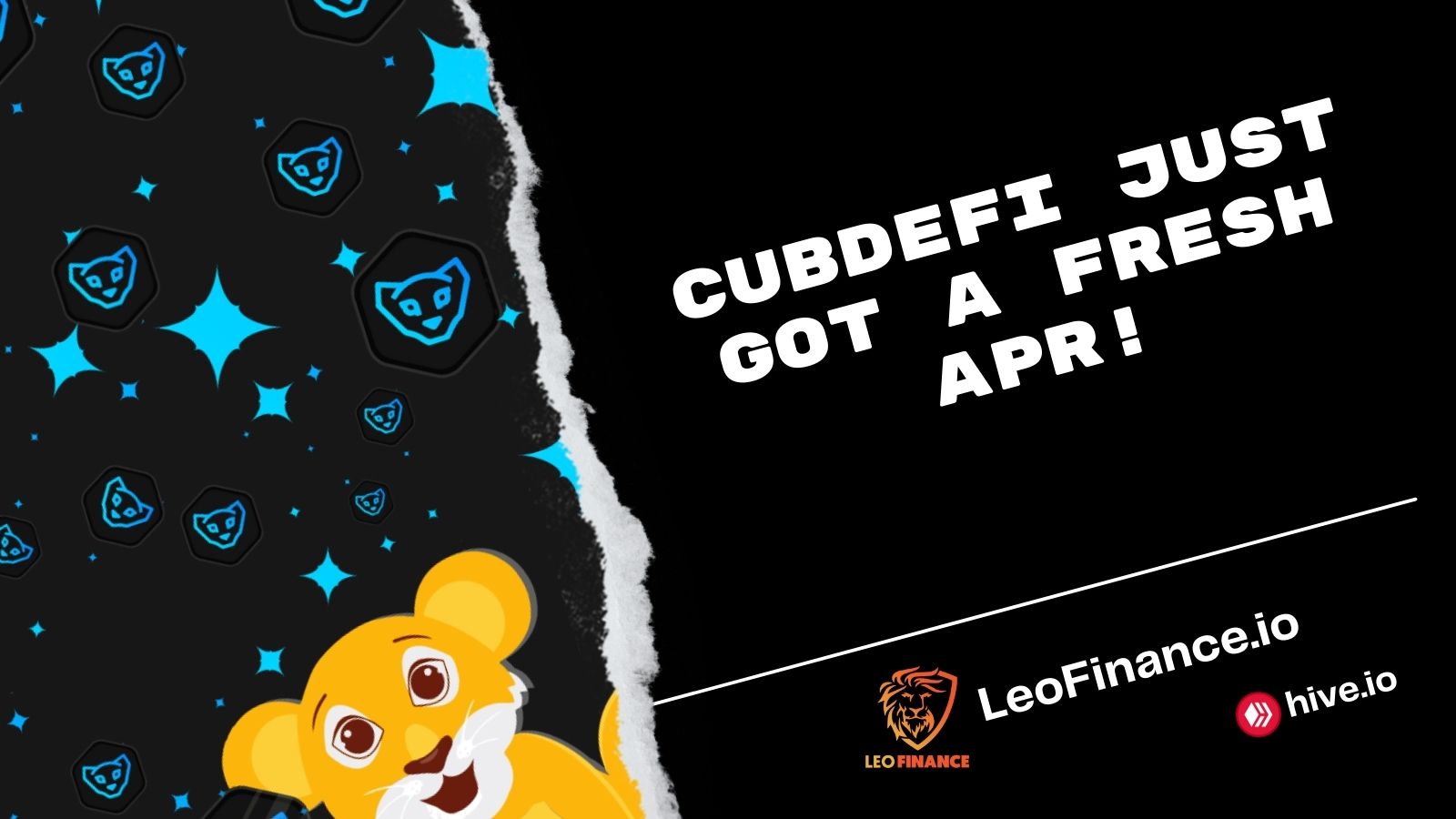 CubDeFi Just Got A Fresh APR!
If you didn't know already CubDeFi just introduced a few Hive Defi pools to their mix. They just got a little boost as well pushing the APRS a bit higher. In this article I'll over over what the new farm pools are, how to wrap your hive tokens and how to stake it in the farm to start earning Cub tokens.
New DeFi Pools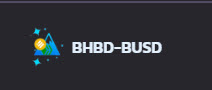 BHBD-BUSD - BHBD is a wrapped version of Hives HBD stable coin and Binance USD tokens combined.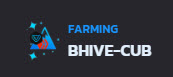 BHIVE-CUB - BHIVE is a wrapped version of the hive token combined with CUB the native token of CubDefi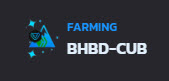 BHBD-CUB - BHBD is a wrapped version of the HBD decartelized stable coin for Hive.
All pools are currently paying out 50% or higher APRS (however this will change up and down depending on the amount staked by everyone and the amount of the emissions delegated to that pool)


How to wrap your Hive or HBD
The first thing you need is a metamask wallet that is connected to the binance smart chain and then connect that into CubDeFi.com if you haven't already. If you need help setting up your metamask wallet for binance smart chain check out this tutorial Connecting MetaMask to Binance Smart Chain
Wrapping your Hive or HBD is easy and the process is pretty much the same. The first thing you need is liquid Hive or HBD in your hive wallet (not hive-engine) For example if you wanted to wrap 500 Hive you would need 500 hive that is in your wallet not powered up. If you wanted to wrap 500 HBD you would need 500 HBD in your account not in the savings.
Next go to WLEO.io and click on either bHive or bHBD depending on the one you want to wrap hive or HBD.
Doing so will take you to a page that looks like this...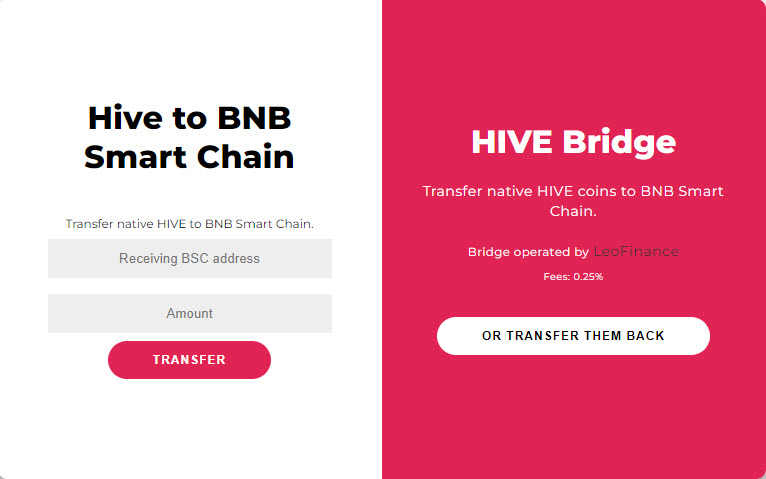 From here type in your metamask wallet address that you used to connect to CubDeFi.com in the receiving BSC address block. Then type in the amount of hive or HBD you want to wrap.
When confirmed both click on Transfer and a popup will ask you for your Hive username. Type in your hive username and approve the transaction (in most cases hive keychain will popup to confirm it if you're using it)
Give it a good minute and your Hive should now be in your metamask wallet.
In this example I'm going to use BHBD-CUB but this same thing could be applied to any.
Step 1) Go to CubDeFi.com and connect to it with your metamask wallet (top right)
Step 2) Go to DeFi Farms
Step 3) Click on BHBD-CUB to drop it down and on the right will be a button to approve the contract. Approve the contract will cost a small amount of Binance tokens so you'll need a bit of Binance in your wallet.
Step 4) Click on Get BHBD-CUB on the left hand side seen here.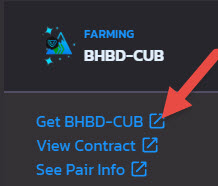 This will open Pancake Swap.
Step 5) Confirm the valid pair is selected in this case it is CUB and bHBD. If you don't have CUB you can buy it directly on Pancake swap with many tokens here
Click on Add Liquidity
Step 6) You'll now have a page that looks something like this.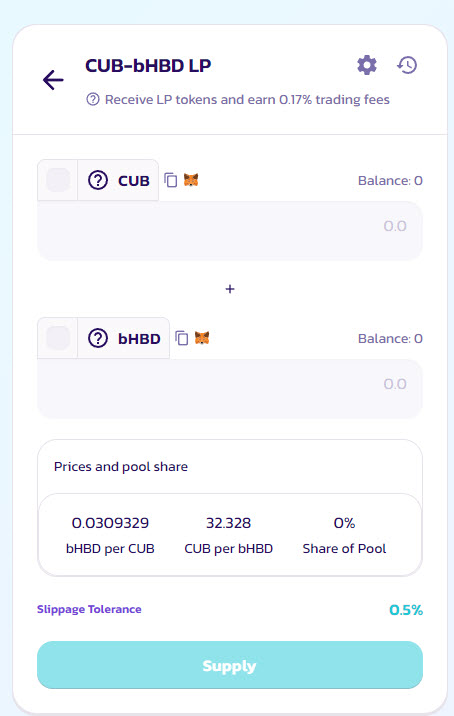 Type in the amount of CUB or bHBD and the other will populate with the current amount needed to pair them. Once set click on Supply and approve the transaction on metamask.
Step 7) Wait about a minute for the confirmation transaction on Binance. Once it's done you'll be able to click on the + button back on CubDeFi farms seen here


set the max amount if you want to stake all of your new pair you just created. Then click on Confirm. Allow another 20 seconds or so to pass for the transaction to be confirmed and shortly after you'll start earning your CUB by providing liquidity to CubDeFi!
What are the BHBD and BHIVE contract addresses?
You can use these contract addresses to add the tokens into your
BHBD Contract Address: 0x874966221020d6ac1aed0e2cfad9cbfee0ba713b
BHIVE Contract Address: 0x9faf07d1fbc130d698e227e50d1fb72657c0a342
If you have any questions please feel free to drop them in the comments and I'll be happy to help out.
Posted Using LeoFinance Beta
---
---