Will GPUs Find A New Blockchain? (ETH vs ETC)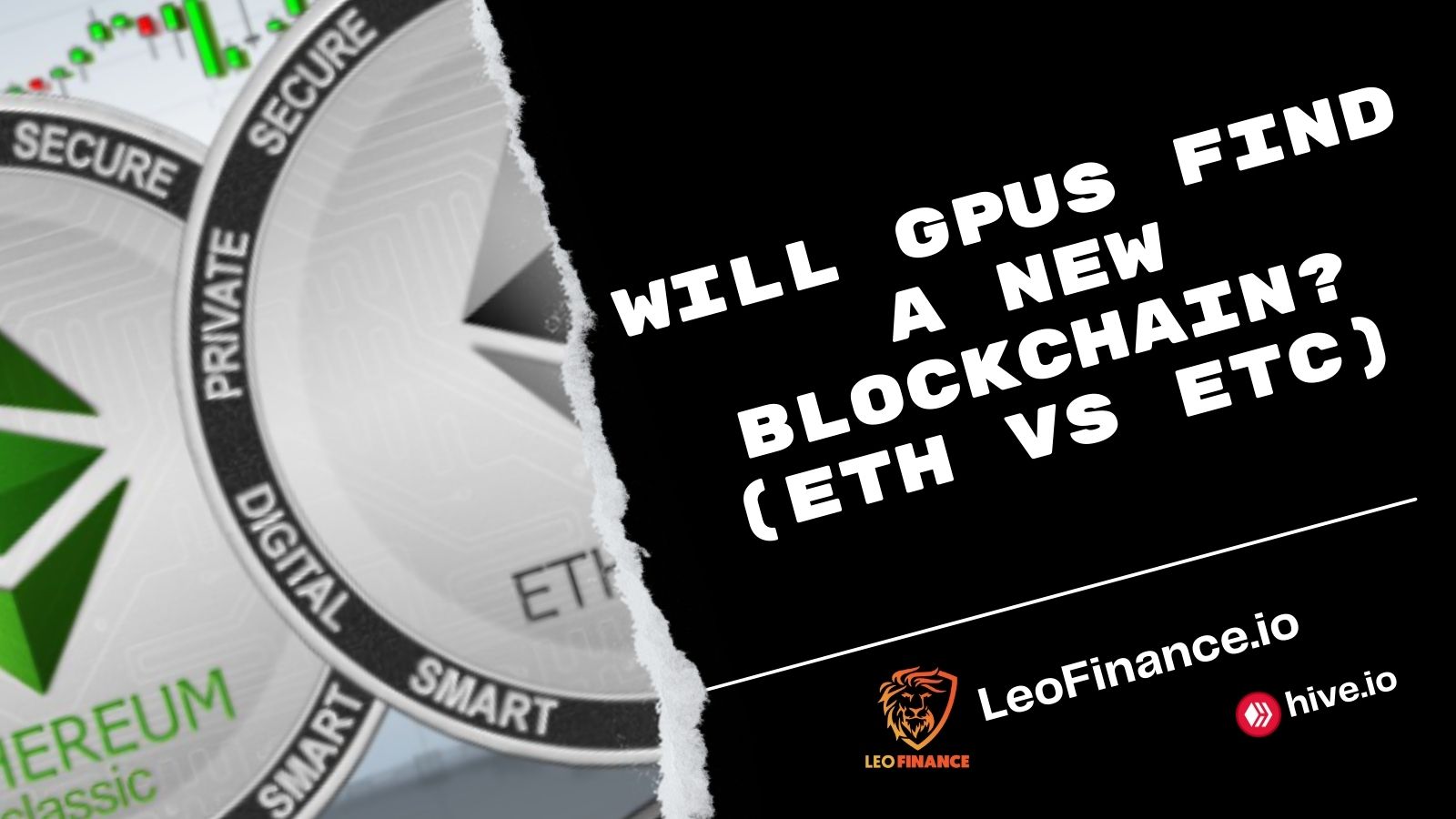 Will GPUs Find A New Blockchain? (ETH vs ETC)
Ethereum is now 7 years old as of tomorrow. It was launched July 30,2015 and it's pretty wild to think this is when I got involved with it and picked it up for an average of $13 a token. Ah how I wish I was making more disposable income back then lol. It's still paid off very well over the years and now with the new change coming there's a lot up in the air as to what will happen.
ETC vs ETH
ETC (Ethereum Classic) was born of Ethereum when it hard forked due to an error that was found. Ethereum classic kept the error as people figured a decentralized blockchain shouldn't be allowed to fork for mistakes such as this. While I get that it's also one very big critical flaw with decartelization the bad guys often win and there are a ton of mistakes that can be made over the course of a blockchains life.
Since then Ethereum has gathered the most attention while Ethereum classic sat around in the background. It's held a decent market cap and a ok amount of mining power.
GPUs
Primarily GPUs are used and have been used to mine Ethereum. Being one of the hottest cryptos for the last few years the massive increase in both sales and price of GPUs have been a direct result of miners gobbling up thousands of GPUs in warehouses to mine the crypto.
At the time for writing this if I used my 1080ti and mined with it 24 hours a day in a pool I'd earn about $1.80 in profit per day. Not the greatest so I would need hunderds if not thousands of these things in order to start making any sizeable profit. of course newer models like the 3080 could push this up a bit more to about $3 a day in profit for mining Ethereum classic right now.
However chances are you would have been mining with this thing months ago and you'd be looking at only about $1-$2 in profit. It was only two weeks ago that the price of ETC started to pump from $15 a token to now over $40 per along with a drastic increase in mining power.
ETC Mining Power Over Time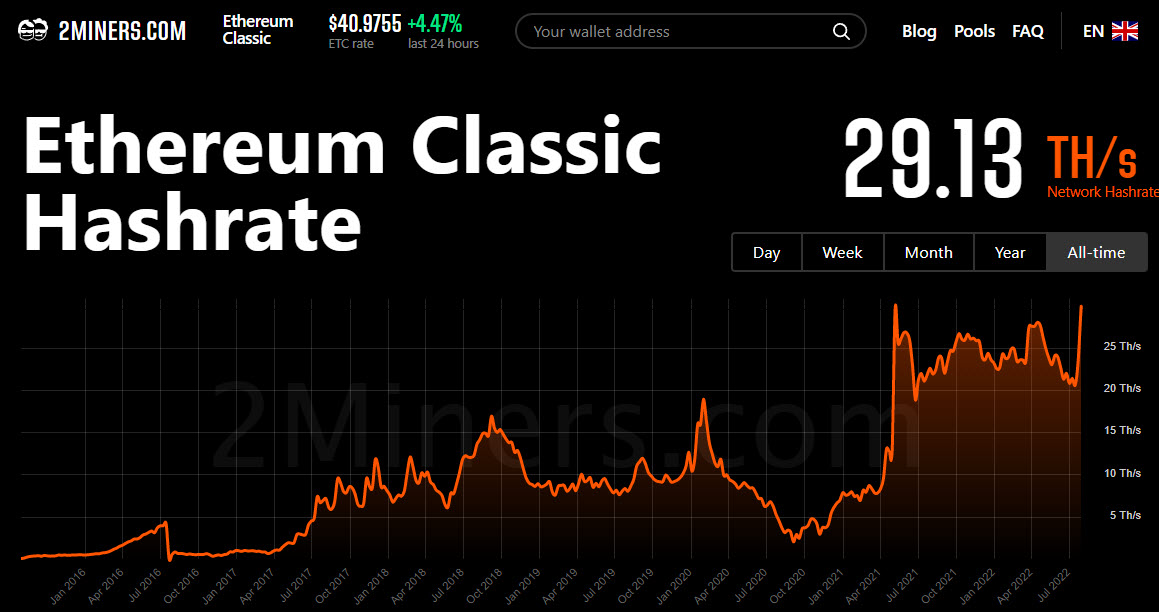 As we can see the closer that Ethereum gets to moving to Proof of Stake we are starting to see some of that mining power go to Ethereum classic which essentially is the same blockchain but will remain on proof of work instead of moving to proof of stake. This has people betting that maybe some big time errors will crash Ethereum and people will instead turn to ETC. To me that's a very far fetched answer and I believe they would instead move to bitcoin or another high end token over ETC but that's just my own personal opinion.
ETH Mining Power Over Time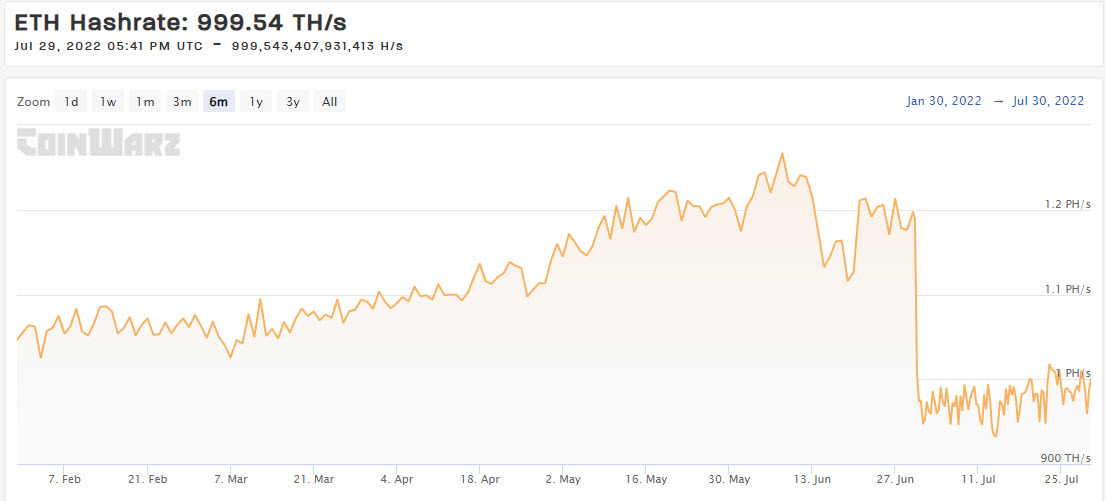 You can see a drastic shift in mining of about .2 PH/s nearly 20% of the mining power for Ethereum has left but that mining power for sure has not all gone to ETC yet only about 10% of that lost is showing up on Ethereum classic at the moment which starts to beg the question where the other 90% of that mining power has gone.
Price Jumps
Ethereum classic has held steady at about $15 per token for a long time now. However just recently the price has doubled. This came two weeks after the mining power of Ethereum left and two weeks after the Ethereum classic mining power jumped.
There's one very important thing to keep in mind. The 51% attack that effects smaller blockchains like this. If one single person controls over 51% of the mining power for that blockchain they are capable of doing whatever they want such as double spend etc. With a low has rate of Ethereum classic It wouldn't take much of the current Ethereum mining power to jump on there and take over. Will it happen? Who knows but its a very real possibility.
What do you feel will happen to ETC when Ethereum goes to Proof of Stake in mid September?
Posted Using LeoFinance Beta
---
---