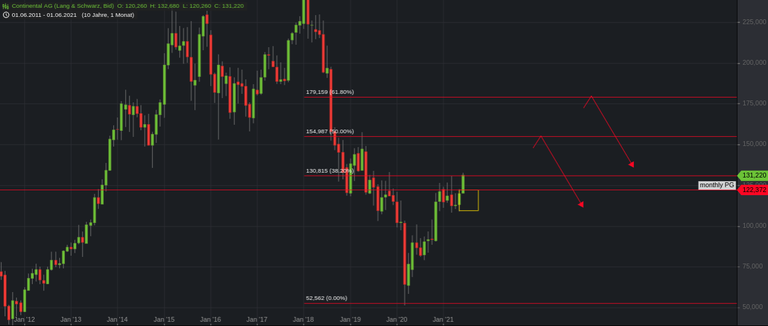 Continental und die Rally am Automarkt
Die Angst der Autobauer ist vorbei und man hat wieder viel Optimismus für die Zukunft. Die Zulieferer wie Continental freut diese Entwicklung natürlich auch, denn selbst ein E Auto benötigt Reifen.
Der Staat fördert fleißig durch Subventionen und Steuererleichterungen bei den neuen Autos. Der anfängliche Schock durch die hohen Preise der E Autos ist schnell verflogen, denn aus Firmensicht ist hier eine große Erleichterung zu sehen.
Die anfängliche Unterstützung beim Kauf des E Autos ist dabei noch das kleinere Geschenk, die neue Besteuerung für Firmenfahrzeuge ist dabei das größere Geschenk.
Beispiel: Ein E Auto oder Hybrid wird mit 0.5% des Bruttolisten Neupreises besteuert, während ein Benziner oder Diesel mit 1% besteuert wird.
Auto ohne Hybrid = 55000€ Neupreis, 1% = 550€ monatlich = 6600€ jährliche Kosten.
E Auto Hybrid = 55000€ Neupreis, 0.5% = 225€ monatlich = 3300€ jährliche Kosten.
Von Technikern im Autohaus kann man immer wieder hören, dass die Batterie eines Firmenautos manchmal nur zweimal geladen wurde, einmal bei Verkauf und einmal zum vorführen.
Fazit die Technik ist zwar da aber die Ladeinfrastruktur ist noch zu kompliziert und aufwändig, da fährt man lieber mit viel zusätzlichem Gewicht herum und tankt fossile Kraftstoffe.
Diese Steuerung des Staates durch Steuern ist das Mittel der Wahl aber es hat und wird niemals effizient funktionieren, denn meistens entstehen so nur noch größere Probleme, siehe Windkraft usw.
Zurück zum Thema der PGs in dem Chart der Continental
Auf dem Monatschart stehen wir jetzt vor einem Ausbruch eines Signals.
Der Schlusskurs auf Monatsbasis ist hier mal wieder relevat und gibt die Richtung der nächsten Zeit vor.
Der Wochenchart ist hier schon weiter, denn hier befinden wir uns schon weit in der Bewegung der PG. Vielleicht benötigen wir auch eine kleine Konsolidierung um wieder neue Kraft zu tanken aber der Monat ist ja noch nicht vorbei und es kann noch viel passieren.
Die Ziele auf der Oberseite sind hier die relevanten Retracements der letzten Abwärtsbewegung. Da es sich um eine PG auf Monatsbasis handelt, können auch neue Höchststände wieder angelaufen werden, denn das Potential ist da.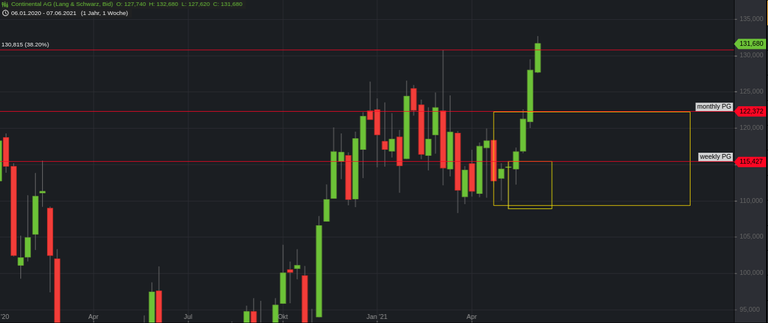 Continental and the rally on the car market
The fear of the car manufacturers is over and there is a lot of optimism for the future again. Suppliers like Continental are of course also pleased with this development, because even an e-car needs tires.
The state is diligently promoting the new cars through subsidies and tax breaks. The initial shock caused by the high prices of the e-cars quickly evaporated, because from the company's point of view there is a great relief to be seen here.
The initial support for the purchase of the E-car is still the smaller gift, the new taxation for company vehicles is the larger gift.
Example: An E car or hybrid is taxed with 0.5% of the gross list new price, while a gasoline or diesel is taxed with 1%.
Car without hybrid = 55000€ new price, 1% = 550€ monthly = 6600€ annual cost.
E car hybrid = 55000€ new price, 0.5% = 225€ monthly = 3300€ annual cost.
From technicians in the dealership you can hear again and again that the battery of a company car was sometimes charged only twice, once at sale and once for demonstration.
Conclusion the technology is there but the charging infrastructure is still too complicated and costly, so people prefer to drive around with a lot of extra weight and fill up with fossil fuels.
This control of the state through taxes is the means of choice but it has never and will never work efficiently, because mostly this only creates even bigger problems, see wind power etc.
Back to the topic of the PGs in the chart of Continental
On the monthly chart we are now facing a breakout of a signal.
The closing price on a monthly basis is once again relevant here and gives the direction of the next time.
The weekly chart is already further here, because here we are already far in the movement of the PG. Perhaps we also need a small consolidation to recharge our batteries but the month is not over yet and a lot can still happen.
The targets on the upside here are the relevant retracements of the last downward movement. Since this is a PG on a monthly basis, new highs can also be approached again, because the potential is there.
Translated with www.DeepL.com/Translator (free version)
Source/Quelle Charts: (Guidants/Godmode Trader) & JFD Broker & Binance
Für mehr Informationen rund ums Trading empfehle ich meinen
Discord Channel: https://discord.gg/j5A3CUq
Twitter: https://mobile.twitter.com/TraderOut
Gehandelt werden meist KO-Scheine, Futures und Aktien, günstige Broker habe ich hier mal verlinkt.
Werbung wegen Markennennung.
Deutscher Broker für Aktien und Derivate.
Trade Republic: https://ref.trade.re/vwxxl228
Marktplatz für Kryptowährungen mit Spot, Future und Optionsmarkt.
Binance: https://www.binance.cc/en/register?ref=QB18DEMH
Risikohinweis:
Dieser Post stellt keine Anlageberatung oder sonstige Empfehlung dar.
Die dargestellten Analysen, Techniken und Methoden dienen ausschließlich Informationszwecken
und stellen weder eine individuelle Anlageempfehlung noch ein Angebot zum Kauf oder Verkauf
von Finanzinstrumenten dar, sondern spiegeln lediglich die Meinung des Referenten wider.
Eine Haftung ist ausgeschlossen.
Legal Disclaimer:
I am not a financial advisor
nor is any content in this article presented
as financial advice. Never invest more
than what you can afford to lose.
This post is my personal opinion,
do your own research before making any investment decisions.
If you make any trades after reading this post,
it is completely in your responsibility.
I am not responsible for any of your losses.
By reading this post you acknowledge and accept that.
Posted Using LeoFinance Beta