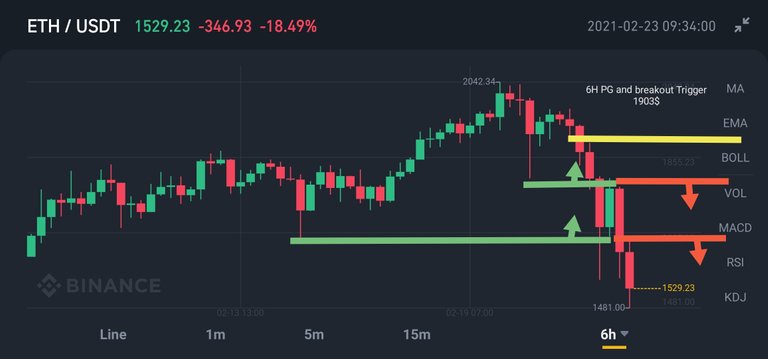 Ethereum break important supports
The consolidation goes on and in many cryptos and today we see deep red numbers. Most of my cryptos like Ethereum are far away from their old trigger points and now it's maybe the time to go back to roots. I am not bearish for the cryptos but most of the prices in some cryptos need to cool down.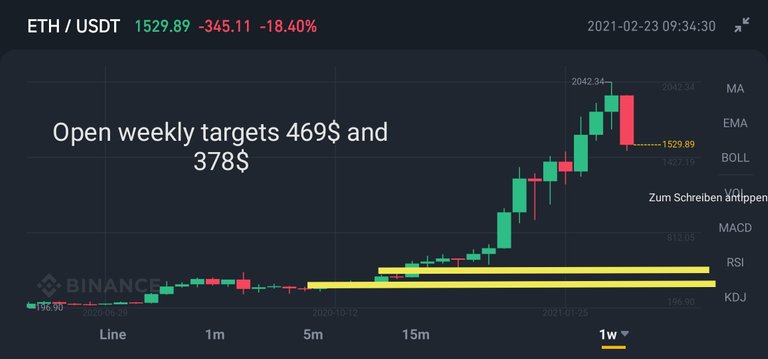 Weekly Trigger Points Ethereum
Long time ago i posted two weekly PGs in Ethereum. Now we arrived at the 2K mark after we saw a long rally. 400 - 700% Profit is a huge number for a trader and now it is the time to cash in the money. As an investor you get another chance to reload your position at some cheaper points. Maybe we will build some new big signals and the party goes on but for now i only see the open weely trigger points.
6H PG and a heavy breakout
It's like always, the charts tell you the opportunity for a movement. Some hours ago we formed a 6H PG and got a heavy breakout. For now a short position is to late but maybe we build another signal. If some big bulls are entering the market, we could see a return to the 6H Trigger at 1903$.
In general we break some important supports and the uptrend was crashed. Old supports change into new resistances. Lets wait for new signals and be cool 😎
Source: (Guidants/Godmode Trader) & JFD Broker & Binance
Discord Channel: https://discord.gg/j5A3CUq
Twitter: https://mobile.twitter.com
Legal Disclaimer:
I am not a financial advisor
nor is any content in this article presented
as financial advice. Never invest more
than what you can afford to lose.
This post is my personal opinion,
do your own research before making any investment decisions.
If you make any trades after reading this post,
it is completely in your responsibility.
I am not responsible for any of your losses.
By reading this post you acknowledge and accept that.

Posted Using LeoFinance Beta