I know a lot of people want to mine using their laptop but most people will tell you it is a waste of time. Recently people started promoting a way people can mine bitcoin with a laptop, phone, or tablet indirectly by mining BFG at Betfury.io.
I have been mining BFG for about 2 months on my laptop and wanted to give an update on how it has been going.
What is BFG?
BFG is a token you can mine at Betfury.io when you gamble on their site. BFG pays a daily dividend in bitcoin, tron, bittorent, and USDT. The more you gamble, the more you earn in BFG.
Now I'm not a gambler and I'm not suggesting you go gamble at Betfury.io either - at least not with your own money. The BFG mining technique I have been using is to take the free bitcoin they give out from their free bitcoin faucet and use that to make microbets that mine the BFG. You can read more about the technique here if you hadn't seen it yet.
Results After Two Months
I've been using the technique for the last two months and wanted to give you all an update on how I've progressed.
I'm not going to lie to you, the first two months have been a grind. I have done so many CAPTCHAs it is not funny. I used my smart speaker to remind me when the faucet was ready to claim and managed to claim a good percent of the faucets during the waking hours.
After seeing the results of the mining on the free bitcoin, I decided to use some of the free crypto I had gotten from Coinbase Learn to feed the miner so that I could mine the BFG faster and grow my dividend to the point I would not have to rely on the faucet. I looked at it as a "get out of jail early" card.
Ok enough chit chat. Lets get to some numbers. I'm not going to bore you with the full two months, but to give you and idea of how the mining process is going over the last several days.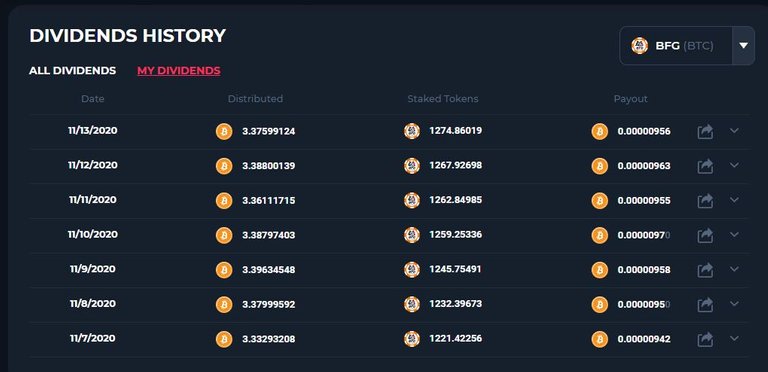 The last few days are most representative because Betfury.io was having a birthday party and had tripled the free bitcoin faucet to 75 satoshi for several days. Collecting those free drips let me bet a little higher.
So on a normal day I'm mining about 7 to 8 BFG and have increase my daily bitcoin dividend to 956 satoshi ($0.15/day). That will increase over time as I mine more and am able to make 2, then 3, then 4 stachio
bets.
I Just Hit Level 2

Betfury.io has a ranking system based on how much you have wagered. Just today I hit level 2. That opens up daily tasks and increases my cash back from 2% to 4% of Betfury.io's edge. That will help a bit at keeping the miner running on 2 satoshi bets. I should be able to mine 14 to 15 BFG per day with 2 satoshi bets.
I was a day late and a dollar short for the Betfury.io birthday party. Level 2 players were getting a "free spin" every three hours that looked to be rewarding a lot of BFG. Would have been nice to get some easy BFG.
I Purchased A Box
I had been seeing the boxes that you can buy on Betfury but they really didn't explain how they worked very well. As it turns out, what you are buying is a faucet that will pay out the purchase price of the box plus interest over the term of the box (either a 7 day or 30 day term).

One of the confusing parts to me was the listed interest rates they pay. It seemed ok, 5%, but nothing to write home (or maybe Hive?) about. But then I realized the interest rate was not an APY but was based on a 30 day period. So that 10% yield is actually a 120% annual yield! What?!?
After buying it I learned that the box starts filling immediately and you can withdraw the filled portion from the box before the end of the term at no penalty.
Entering Phase Two
I am very happy to say I have reached the point where using the free faucet is optional. Using it still helps fuel the miner and allows me to mine on 2 satoshi bets. But I'm can just ignore the faucet and let it run on 1 satoshi bets all day long.
Plans for The Next Month
Now that the hard part is over, I can just leave the browser tab with the dice game in it running. I do need to check on it from time to time as the dice game seems to jam up some times and needs to be restarted.
I'm hoping that by the end of this month I will be mining on 2 satoshi all day round just using the daily dividend.
I hope you enjoyed my update. If you want to try this technique please consider using my referral code - https://betfury.io/?r=5f6db008b2d9b230565a461e
Posted Using LeoFinance Beta