Before touching on the issue of the delegation of this account, I want to introduce you to a project that tomorrow may be another currency that takes off to the Moon.
What is Ctptalk
It is a platform this is a project where you can share your publications, comments, read the publications of others, learn about this new system with the experiences of others also in relation to business issues and conduct business online, if you are a person who likes to learn or start your business? Or if you want to know more about the affiliate market, learn more about the ctptalk platform, the best place to learn.
But if you want to keep up-to-date there is also the clicktrackprofit project, this is a page that helps its users learn at their own pace by providing video learning where every day you add something new to learn.
Apart from this project @jongolson has made it grow every day in a way that attracts more people to Hive, among these projects we have:
Token Ctp
It is the native currency of this great project, where your rewards are paid with the CTP token, this can bet them and vote the content to obtain curation rewards. Currently this coin can be found in Hiveengine and leodex. This in recent days has had a large significant increase, just look at your market.
Hivepay.io
This is a great project to grow the Hive market, on the Hive platform there are many users who make posts, comments and curations every day, earning hive and Hbd currency, but what happens with this currency in most cases they are changed for other currencies, for the reason that there is no market to be able to purchase products directly with this currency. But thanks to @jongolson this is about to change due to his great project Hivepay.io where this platform allows merchants to accept Hive and Hive-Engine tokens as a form of payment, people who obtain this currency from their posts can purchase products without exchanging your native Hive currency.
As you can contribute to this great project by delegating your hive to the @ctpsb account where you can earn weekly CTP tokens, the last report issued by this account obtained an APR of 35%, Wow these impressive.
My homework
100 Hivepower delegation for @ctpsb
As I did:
Login to my Hive walle

I clicked on Hivepower Delegate


Enter the account and the amount to delegate ...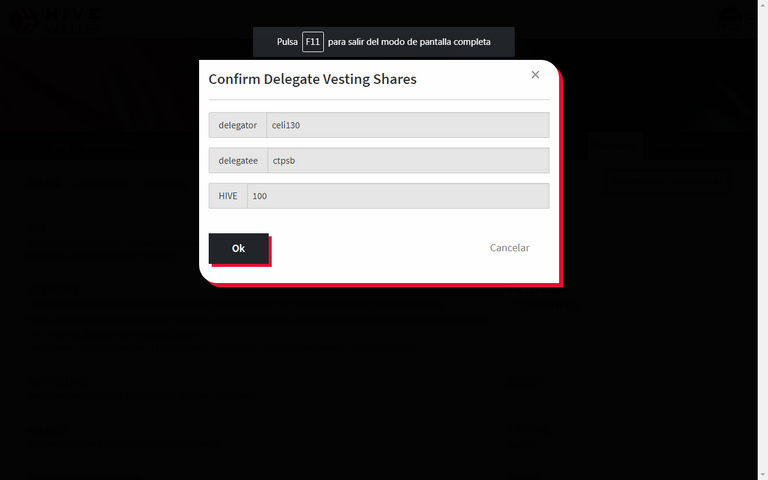 Now await my rewards for this small delegation.
What are you waiting for to join and support this platform to grow ...
Posted Using LeoFinance Beta