The buzz around LEO is rife at the moment, it's x3 pump over the last month has had plenty of users bullish about the token becoming more than just a platform. LEO is expanding its wings and this lions pride is starting to venture outside its current home of hive. The launch of wLEO will allow the token to work on ETH and give it access to all sorts of exchanges and dapps which could lead to all sorts of opportunities.
As LEO will have demand outside the HIVE ecosystem it puts pressure on the chain that produces the asset and for those who are collecting it through various means, it could turn into a steady additional income in the future.
We assume as new exchanges come online and demand gets pulled from the platform, or so we assume it's given me added incentive to start creating cash flow through LEO.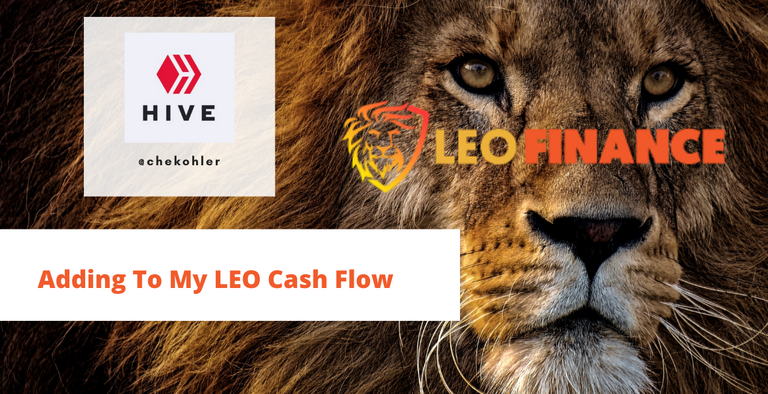 Blogging, commenting and curating
So I stick to the usual blogging, commenting and curating, I will probably be using the LEO finance front end a lot more as it becomes more polished and hopefully we get post scheduling since that's the key reason I use Peakd.
I'm netting a daily return of around 15 - 20 LEO per post. I'm netting around $86.21 per month in LEO from posting and commenting while my curaiton sits at around $8.54.
$90 bucks from just what I normally do, not too shabby.
Delgating
I delegate to LEO voter and it sends me around 0.075 LEO every week or so which I continue to stake and improve my staking rewards.
Mining
I recently purchased 8 LEOminers, which I will keep an eye on and see what kind of returns I get, if it looks good I'll continue to grab some more as I look to capture more of that 15% inflation pool dedicated to miner token holders.
Staking
I've only got around 5250 LEO so staking isn't a big part of it but it brings me drips and drabs, around 0.07 LEO per month, while it's not much it all ads to the cause right?
Market making
I've yet to go into market making since we did not launch wLEO yet, but I am looking to set one up on dSwap and see how that performs. The token now already has 6 ways I am earning more of it and I am sure that there will be more ways to earn it the future.
Once the wLEO is minted, I really hope to see the ERC-20 token reminted on TRON. I know we're not the biggest fans of the chain, but it's yield farming and DE-FI are so much cheaper than ETH and I'd totally get into it if we had a TRX-20 version of LEO.
My lofty LEO goals
My short term goal is to turn LEO into a $100 a month earning tool for me and then reinvest those earnings to try and compound it over time. Since I don't need the money I can always use it inside the platform or to experiment on other DE-FI platforms in the future.
Have your say
What do you good people of HIVE/LEO think?
So have at it my Jessies! If you don't have something to comment, comment "I am a Jessie."
Let's connect
If you liked this post, sprinkle it with an upvote or esteem and if you don't already, consider following me @chekohler and subscribe to my fanbase
| Browse & Earn Crypto | Stack Sats For Free | Earn Interest On Crypto |
| --- | --- | --- |
| | | |
---

Posted Using LeoFinance Beta