Hey Jessatoshis
I wouldn't say I am a Bitcoin maxi, but I am pretty big on Bitcoin, bullish to say the least and pretty bearish on the altcoin and digital asset space for all the promise it has shown. There is just too much noise at the moment, and it's hard to see which technologies apart from Ethereum are really breaking new ground and who is just, well, copying Ethereum.
As people fall into their crypto of choice, be it an altcoin or Bitcoin, they tend to be protective of their selection as they have a financial incentive to do so, and debates and tribalism have become the order in the chaos.
Just as Bitcoin has helped fund and grows the alternative digital asset sector, I too think all these tokens have also helped Bitcoin. I know Maxi's will say everything else is a shit coin, and I get the argument, many tokens have not painted themselves in a good light but hear me out for a second.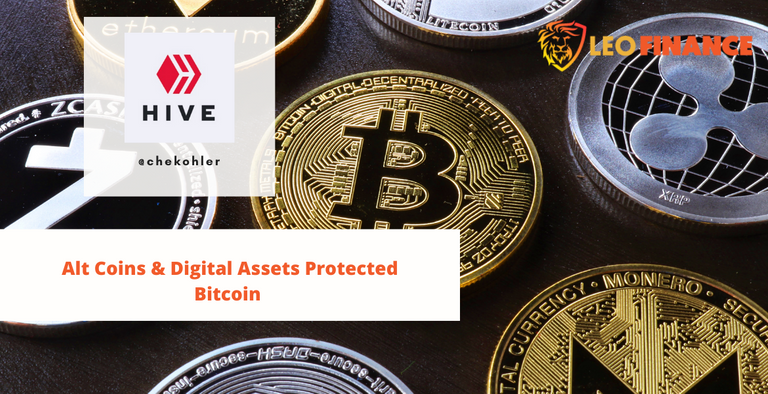 Protection through obfuscation
Since Bitcoin and Ethereum launched, we've seen an avalanche of new tokens created, all looking to grab their piece of this newly created market. Bitcoin has been lumped in with what is fair to say a MAJORITY of it being vapourware that does nothing.
To some, that may seem like a generalisation, but I think it's a feature, not a bug. Having Bitcoin lumped in with every shitcoin and scam coin means governments did not take it seriously.
They thought it would blow itself up as many of these shitcoins or exit scam coins did and didn't put resources behind learning or, worse, attacking it.
Bitcoin used shitcoins as a shield to make it seem less threatening to the global established fiat money order. While it was building itself to the behemoth, we see today with the game theory firmly playing out at a macro level.
Reducing returns
Bitcoin has been the best performing asset of the last decade, moving up 9 million %. That is no small return, and it continues to compound to this day. If we did not have other digital assets, all that money would have flooded into Bitcoin.
Shooting the price up even higher even faster, altcoins help taper Bitcoin growth in the early years, so it seems less threatening. If Bitcoin were to hit a Trillion dollars 5 years ago when it was majority retail traded, I am pretty sure governments would have come after it.
Also, the chain would not be able to cope with all the transfers, and alts have been a way to keep on-chain transfers going as value moved across alternative chains instead. Giving
Bitcoin breathing room to continue distributing its currency and looking at scaling solutions without rushing an implementation.
A massive Bitcoin testnet
Bitcoin has a testnet but honestly how many people are going to use it? How many developers are going to try and build on a test net? I see altcoins as a massive test net for Bitcoin, trying out new codebases, new features, new applications and more.
You don't want too much experimentation on something trying to be global money and you don't want something so rigid to hold back innovation. As you know alts are a make or break play, they either go big or go into the dumps.
I see alts as a way for us to see all the possible options for blockchain tech and digital assets, many of which won't see much use but there will be a few, like DE-FI that I think will be a winner, as well as NFT's just not in the way they are used today.
Have your say
What do you good people of HIVE think?
So have at it, my Jessies! If you don't have something to comment, "I am a Jessie."
Let's connect
If you liked this post, sprinkle it with an upvote or esteem, and if you don't already, consider following me @chekohler and subscribe to my fanbase
| Safely Store Your Crypto | Deposit $100 & Earn $10 | Earn Interest On Crypto |
| --- | --- | --- |
| | | |
---

Posted Using LeoFinance Beta