Hey Jessieconomists
I often rant and rave about bubbles in the economy, and do I think there are bubbles? Yes, I think there is a gross misallocation of resources in plenty of sectors of the world economy. What I didn't account for, however, is that with the debasement of the currency, there's also a new floor price for everything.
Even if the air deflates out of these bubbles, there is so much currency creation that the nominal price of something will be more than what it was priced at in the past. Yes, I know it seems like a pretty basic conclusion, but it's hard to understand when we think of currency.
Many of us see real terms and nominal terms as the same thing, when in fact, they continue to drift apart.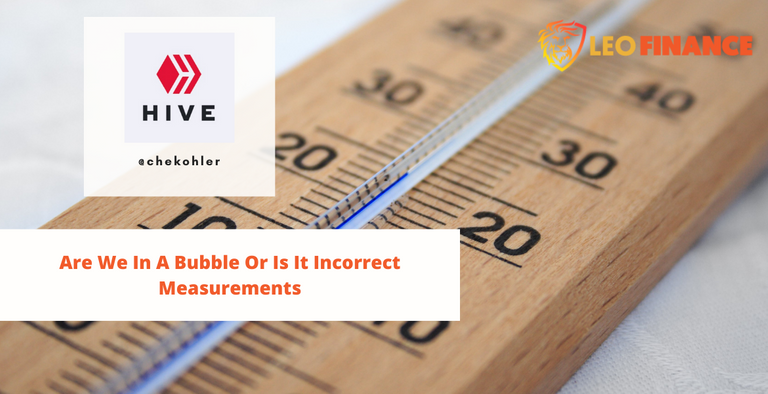 Keeping the public bullish
In times of economic uncertainty, I feel like narratives count more than fundamentals, and as long as the sound of the story is bullish, that's all that matters.
I recently read an article about Sweden housing market being as hot as it's ever been with a 17% rise in home prices over the last year. Now I got nothing against the Swedes, but who is overpaying to live in that icebox is my first thought. On the off, it sounds super bullish for the country, but then I started thinking.
A country with a tiny ass population of 11 million and a pretty mature economy shouldn't have a housing boom short of having a population boom.
My next thought was, well, Sweden is a European country with currency sovereignty, so I thought, let's see what their central bank is doing with the SEK. Looking at the chart below, I wasn't surprised to see that the money supply over the same time has inflated by over 20%, which makes total sense.
So that headline is misleading; Swedish house prices are the same; how you measure it just got a whole lot weaker in one year.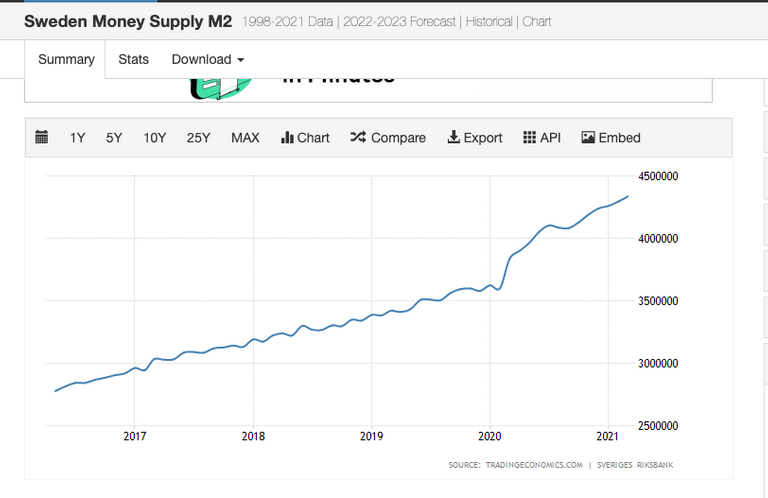 Source: Sweden M2 money supply - tradingeconomics
Same same but different
I applied the same calculations to my own country and a few G7 nations, and it's all pretty much the same. It's harder to see with nations using the Euro since none of these countries has financial sovereignty. Yes, the ECB is printing like never before, but it's harder to find the allocations to which countries bonds and where that capital tends to flow once the local banks accept the new reserves.
Making it harder to find value
All this money printing happens at such a rapid rate, yet the effects are slow and insidious for the rest of us. Those who get the money first get to react, first, acquire assets and consolidate cash flow through debt finance. Once that currency filters through to wages, it's lost so much value than the assets that it pushes wage earners further down the pecking order.
We all live in a fiat money world; our assets are priced in fiat, we trade in fait, we exchange time and labour for fiat, but as it's debased, we "feel" richer by acquiring more when in fact, we could either be marginally better off, we could be breaking even, or making a loss.
This all depends on the debasement rate in your country, but you can see the problem I'm edging towards. The more units of fiat, the more everything else around it needs to be repriced.
Even if we have deflation, even if we have a debt jubilee, even if we have a recession, there are so many currency inits in the system that using the fiat price as a indicator of value will tend to mislead you.
Have your say
What do you good people of HIVE think?
So have at it, my Jessies! If you don't have something to comment, "I am a Jessie."
Let's connect
If you liked this post, sprinkle it with an upvote or esteem, and if you don't already, consider following me @chekohler and subscribe to my fanbase
| Safely Store Your Crypto | Deposit $100 & Earn $10 | Earn Interest On Crypto |
| --- | --- | --- |
| | | |
---

Posted Using LeoFinance Beta