Could Migrant Workers in Russian Force An El Salvador Moment
The amount of pressure placed on economies in the last week has been devasting not only for Russia but around the world. If you think COVID lockdowns were going to impact the economy, and we would have to rebuild, then this setback is going to cripple us even further.
Supply chains are still clogged up, inflation is raging, commodity markets are in a bull market and I'm pretty sure most countries will be in recession even with the inflated data we get these days.
While we all are going to get hit hard, there are obviously going to be countries that are hit relatively harder, like Russia and the countries most dependent on it.
The Russian sphere of influence
The financial sanctions on Russia are not only hurting Russian citizens but those who have moved to Russia for financial opportunities. Russia is the 11th biggest economy in the world and it's surrounded by countries filled with citizens who would give their left nut to get a better opportunity.
Working in another country to generate funds to send home is nothing new, it's a tale as old as time. So how do Russia's financial restrictions impact those who are tied to their economy but have no direct affiliation to the country?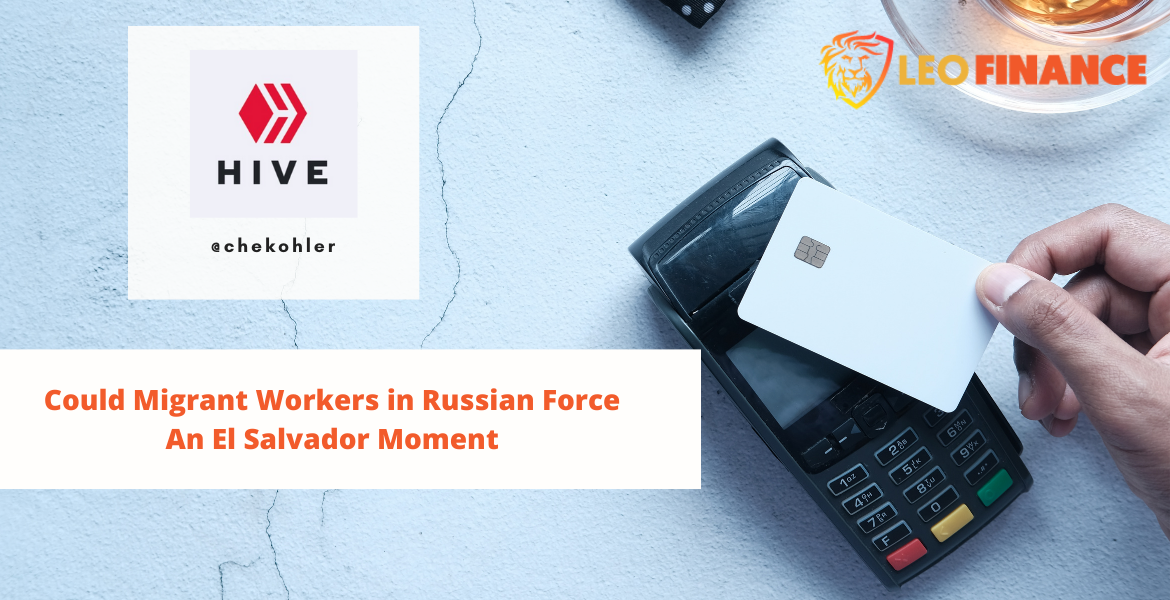 There are around 10.13 million foreigners living and working in Russia, mainly from former soviet states,
Ukraine
Tajikistan
Kazakhstan
Armenia
Uzbekistan
Kyrgyzstan
Azerbaijan
Moldova
Belarus
Turkmenistan
Now like many who jump ship to the US from Latin America or the UK from commonwealth nations, they send money back to family back home in poorer nations.
If we look at the nations with the biggest relative impact from remittance it would be
Tajikistan - 30%
Kyrgyzstan - 28%
Uzbekistan - 13%
Of the countries, GDP comes from the remittance. If we look at El Salvador according to the World Bank data remittance makes up 25% of their GDP, and switching over to Bitcoin has saved them millions. If these countries want to maintain capital outflows from Russia to their countries, they'll need to consider alternative payment rails not restricted by the West.
This is what bitcoin was made for, a blunt instrument that knows no political affiliation, if you're caught up in drama like this and you need to send money back to grandmummy in the old country, bitcoin will be there for you.
If we consider how quickly El Salvador was able to switch over then these countries could be a breeding ground for bitcoin adoption. The motivation should be there for these countries if the numbers are true according to Salvadorian President Bukele, who claims the switch to bitcoin will save their country $400 million per year
If I were to do some back-of-the-napkin math, we can assume that Bukele is referring to a 6.78% saving on the $5.9 billion that rolled into El Salvador in 2020.
So applying that to:
Tajikistan - 30% - 8.194 billion USD in total GDP (2020)
Kyrgyzstan - 28% - 7.736 billion USD in total GDP (2020)
Uzbekistan - 13% - 57.71 billion USD in total GDP (2020)
Remittance income
Tajikistan - 2.458 billion USD
Kyrgyzstan - 2.166 billion USD
Uzbekistan - 7.502 billion USD
Savings from switching to bitcoin
Then if we apply the average 6.78% savings claimed by El Salvador,
Tajikistan - $166 million
Kyrgyzstan - $146 million
Uzbekistan - $508 million
Having an extra $150 million in the pockets of your citizens each year can only do wonders for your local economy. Is it only a matter of time before these incentives become far too lucrative for these countries to ignore? Perhaps, but with so many sanctions, it could become more of a necessity than anything else.
Have your say
What do you good people of HIVE think?
So have at it my Jessies! If you don't have something to comment, "I am a Jessie."
Let's connect
If you liked this post, sprinkle it with an upvote or esteem and if you don't already, consider following me @chekohler and subscribe to my fanbase
| Safely Store Your Crypto | Deposit $100 & Earn $10 | Earn Interest On Crypto |
| --- | --- | --- |
| | | |
---

Posted Using LeoFinance Beta
---
---