Hey Jessinvestors
The bull market is sucking in more capital each day, and while most institutional money is still fully focused on Bitcoin, Ethereum and company equity looking to beat the traditional market returns. The retail investor is looking for a far more aggressive ROI on their capital. Not simply content on trading your positions or HODL'ing, many investors are moving into DE-FI.
Crypto markets are still trying to establish a yield curve for Bitcoin and other tokens, and in this competitive race, platforms are spinning up almost weekly to tack additional supply to the need for yield.
Uniswap was the first to popularise DEX's, yield farming and DE-FI on-chain, and since then, we've seen several clones roll out on ETH and now onto Binance Smart Chain, TRON and other chains.
The ease of spinning up a DE-FI platform and tweaking the tokenomics to get liquidity has become the new ICO, and while rug pulls are still a considerable problem for DE-FI, another scourge continues to make the rounds in hacks. As DE-Fi smart contracts grow in value with investors dumping millions into these half baked protocols, they become a honeypot for hackers.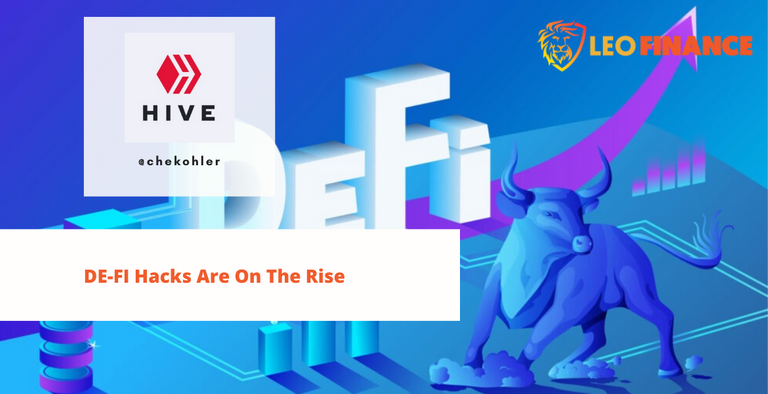 Hundreds of millions hacked
In 2020 it was reported that around $120 million was stolen in DE-FI hacks, and the trend continues in 2021. EasyFI that was built on Polycon/MATIC the ETH side chain was recently hacked for $80 million, Spartan on BSC was hacked for 30 million while BSC based Uranium Finance loses $50M in a recent hack. The year is not over, and we've already beat last years numbers with a total of $160 million lost in hacks.
DEFI is an awesome innovation, but we have to look at what cost it comes at, why education in the space is so low, and greed in the space is so high. People are falling for unsustainable yield curves only to be suckered into filling hackers accounts.
I also think the frequency of hacks make me feel as if there is collusion in this space and spinning up contracts with vulnerabilities is an easy way to make money for a few weeks work.
In the decentralised space, there are no regulatory bodies to step in and save you; on, you can save yourself. DEFI coins sucker you in with high yields and illiquidity to keep you holding their coins long enough to either rug pull or end up being hacked.
DE-FI at your own risk
If you are going to participate in DE-FI, be sure you either have direct contact with the founders and community, that contracts have been audited (not that this is a guarantee of security), that they have a track record of products before this, that the DE-Fi protocol's code is open source and can be audited if needed.
I believe DE-FI has a future, and there will be many variations of it as we find the best way to bridge chains and move capital more efficiently. I have experimented with DE-FI, but I am not yet totally convinced that this is a good use of my capital yet.
I would much rather focus on staking coins or borrowing out for a return. However, in the future, I think my portfolio will become more diversified as these protocols mature and we see a yield curve established that actually has some merit.
Have your say
What do you good people of HIVE think?
So have at it, my Jessies! If you don't have something to comment, "I am a Jessie."
Let's connect
If you liked this post, sprinkle it with an upvote or esteem, and if you don't already, consider following me @chekohler and subscribe to my fanbase
| Safely Store Your Crypto | Deposit $100 & Earn $10 | Earn Interest On Crypto |
| --- | --- | --- |
| | | |
---

Posted Using LeoFinance Beta