Hey Jessiethereum fans
When I first got into cryptocurrency investment, Ethereum was the second coin I ever purchased. I didn't know much about it at the time, all I saw was a cheaper unit priced Bitcoin, and I purchased a few. The longer I held onto these digital assets, the more I wanted to learn about them.
At first, I was amazed at all you could do with Ethreurems, EVM and its turning complete blockchain. It held a lot of promise, but Bitcoin suffered from the scalability Trilemma, as do all blockchains.
You can't make improvements in:
Security
Scalability
Decentralisation
On the base layer as we know it today, without introducing risk factors as you marginalise one of the 3 in favour of the others. If you want more scalability, you sacrifice decentralisation, as a simple example.
It's a problem we've yet to solve and don't let these snake oil altcoin pitches fool you. If someone had solved this problem, money would be flocking to that chain at an insane rate, but no one has; perhaps in the future, it could be different, but for now, it remains a firm issue with blockchain.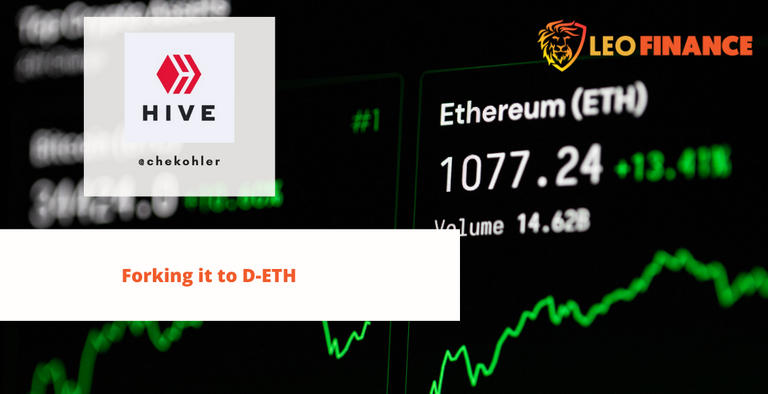 The depths of ETH
As Ethereum searched for its use case, it's gone through several phases. First, it was ICO's, then it was DE-FI, and now it's NFT's; each use case has also been copied by other blockchains as copy cats try to steal its thunder.
What a lot of chains have found is that the first-mover advantage counts for a lot and the network effects that ETH has achieved is hard to replicate. We can look at chains like EOS and TRON as examples; these are Billion-dollar projects that have not exactly made a dent in Ethereums growth.
Ethereum is the market leader in the smart contract space, and they cannot afford to make a mistake; if they do, any of these projects will pounce on it.
Open sauce everyone loves the taste
So the verdict is out; Eth has won the smart contract play. I think other chains need to accept that. However, it's not over for Eth,
it's been forked by Binance to start Binance Smart Chain(BSC),
it's been forked by Bitcoin Cash to start Smart BCH
Richart Hart of Hex is forking it to create Pulse
Let's not forget Quorum, Etheruem Classic and Expanse; there's are the most public/popular ones, and I am sure there are private ones. JP Morgan has even forked Ethereum to create a private version of the chain.
The amount of ETH clones are on the rise, and they're all promising you the world.
ETH complexity
Then we get into second layer chains on ETH, like MATIC and Ox, it's all a play to distribute the load, but without a uniform protocol, I doubt these chains will want to play with one another nicely.
They have an economic incentive not to and try and go for the TAM that ETH spits off to side chains; this fragments the ETH ecosystem even further. The entire point of getting blockchains to go mainstream is to abstract all the complexity away, and yet it feels like the ETH ecosystem is all about making it more complex.
Complexity theatre
Having looked at the various side-chain solutions and even ETH's idea of sharding, moving to proof of stake and ZK rollups, I am not convinced that these solutions work to build a new trustless environment.
I think it only becomes a federation state of chains that keeps many people out due to complexity. To me, the complexity of ETH is only there to obfuscate the clear issue that scalability has not been solved.
The more I read into ETH, the more I lose faith in what they are trying to achieve. I will tackle my individual issue with ETH eating itself in another post, but for now, I wanted to review the growing landscape around ETH.
As all these chains and side chains form, they have their own native asset, own economics, own balance of assets moving in and out of it, and this makes me wonder what need will there be for ETH with all this fragmentation.
I do think most people have not reached these conclusions, and ETH will continue on a hell of a lot higher in the future until this all unravels. I have great respect for Vitalik and what he has attempted to build, but I'm not convinced it can really do much more and only proves Bitcoins use case and scaling options are the better ideas.
Have your say
What do you good people of HIVE think?
So have at it, my Jessies! If you don't have something to comment, "I am a Jessie."
Let's connect
If you liked this post, sprinkle it with an upvote or esteem, and if you don't already, consider following me @chekohler and subscribe to my fanbase
| Safely Store Your Crypto | Deposit $100 & Earn $10 | Earn Interest On Crypto |
| --- | --- | --- |
| | | |
---

Posted Using LeoFinance Beta