Is Russia Trying To Hedge Against Sanctions?
As the pandemic hysteria comes to an end it seems as if it's left countries with a gaping hole and a realization that their economies are fucked. Whenever economies start to wobble and stimulus is not enough, opportunists seek to galvanize support with populous movements. We're seeing it happen all over Africa, the Middle East, and even in Europe with the likes of Russia and Ukraine, Belarus, Turkey, Bosnia, and Kazakstan.
Traditional peace enforcers like the US and the UK and other English anglo countries have their hands full with their issues at home so they're not about to step in anytime soon. We've seen the country with the biggest stick actively pull out of countries like Afghanistan, and it seems like the US isn't interested in being the world police force any longer.
I always said shit was finna pop off after the covid crisis and that we'd see economic and political instability afterward.
The beast of the East
Now that the US seems to think Europe can look after itself, it's up to NATO to protect it, basically France and Germany and with Putin's popularity fading, he's looking to make a big statement. Nato and the threat of the West have always been an issue for Putin and honestly its all a big dick competition with the rest of us caught in the middle.
Ukraine seems like the ground for a proxy war, Russia wants its Finlandisation of Ukraine, while NATO wants it to join them and gain autonomy. The issue here is trade routes, not only for energy but food in the area are heavy dependant on the overlap between Russia and Ukraine and Russia don't want to risk those routes or reduce their buffer with the west.
It all gets complicated since we've had the time of "peace" for so long countries have made many agreements to work together despite incidents of unrest. Europe relies a lot on natural gas from Russia and with their greener mandates it puts even more strain on that relationship. A relationship Germany would not be quick to sever, as it powers their industrial economy.
I can't say if this will turn into a hot war situation, but it's clearly a game of chicken at the moment, and if Nato were to back off, what message does that send to other former Soviet states?
As the situation intensifies, you can be sure that financial warfare is on the cards first, and sanctions have been threatened. This is not barking, and can pose serious dangers, we saw what happened when sanctions were placed on Iran and Venezuela, their economies have never recovered, and Russia doesn't want to make the same mistake and is trying to reduce the surface area of attack.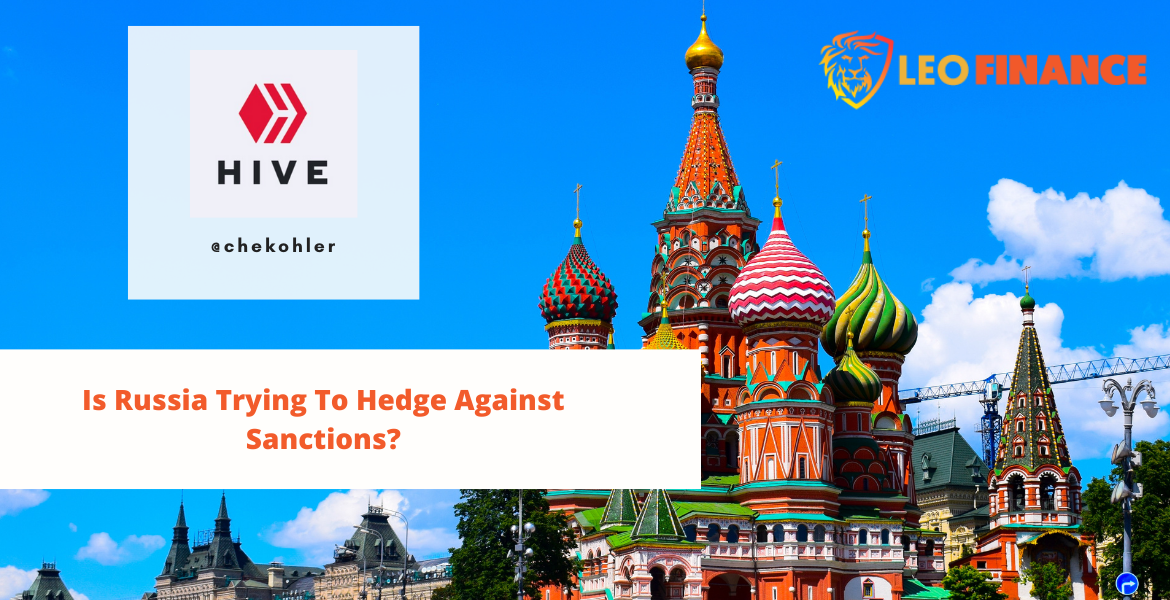 Russia has been getting its finances in order
Elvira Nabiullina the head of the Russian central bank diversified from third-party risk such as European and US bonds and has been stockpiling gold like it's in a race against time. While normies don't see the need to hold gold and everyone loves their fiat currencies and paper claims, gold in its physical custody is not a popular means of diversifying one's balance sheet.
Having gold uncontested and the price suppressed through the paper gold market, allowed Russia to increase its reserves. Russia has even overtaken China to become the world's fifth-largest official sector holder of gold. The central bank bought 8.8 million troy ounces of bullion in 2018, beating a record 7.2 million ounces set in 2017, and data proves it hasn't stopped.
Russia holds around $739.5 worth of gold for every citizen in their country with 2298.53 Tonnes of gold.
We've also had word that the Kremlin are working on a bill to recognize bitcoin as a currency and start to actively support bitcoin operations within the country.
They've also started to agree energy contracts settled in Euros instead so they can reduce their dependence on the dollar and I think all these actions are an attempt to limit the impact of US sanctions on their economy.
The spoils of war is always hard money
As a bitcoiner I hate to see it made political, but bitcoin is money for everyone, friends and enemies, and in times of war, the hard money is what people are after. If we look at World War 2, every time the Nazis took over a country, they pillaged gold reserves to keep their army growing, and if it wasn't for nations offshoring their gold to the US who knows how long the war would have lasted.
War is indeed the last thing we need right now, even if it ends up being a little scrimmage. Supply chains are cocked up, labour force participation rates aren't great the world over, and yes in the past war has been used as the "great reset" but I think or rather hope our reset won't be as painful as the last.
Have your say
What do you good people of HIVE think?
So have at it my Jessies! If you don't have something to comment, "I am a Jessie."
Let's connect
If you liked this post, sprinkle it with an upvote or esteem and if you don't already, consider following me @chekohler and subscribe to my fanbase
| Safely Store Your Crypto | Deposit $100 & Earn $10 | Earn Interest On Crypto |
| --- | --- | --- |
| | | |
---

Posted Using LeoFinance Beta
---
---