Hey Jessenior citizens
After the last year and a bit, I am sure all of us have pondered our own mortality, why we're doing what we do, our plans for the future and what kind of world we will live in. As jobs are obliterated at the rampant rate in the worlds greatest economic recession in recent history, many older people have been forced to retire early or have chosen to retire.
Additionally, the fear of being a high-risk individual has also encouraged older generations to shelter in place and call time on their working career. Both my parents have retired now; they've got a few stocks, bonds, index funds and property that need to hold them over for the rest of their lives.
They did the prudent thing and saved, acquired a few assets through debt instruments and feel they have enough to retire.
Something doesn't add up
I've run the math on their projections, and something they fail to take into account is the exponential growth of inflation which is breaking pension models across the world.
Most corporate and public pensions are grossly underfunded. It's one of the many reasons we have the financial markets we have today as governments try to close the gap on their unfunded liabilities.
Retiring is about scaling down, about living within your means, enjoying the nest egg you worked decades to acquire but to be honest, I think that's just a dream for a few. Something investment managers sell people so they can pocket 2 and 20 managing your money.
I've mentioned this to them several times, but what do I know? Im just a shit head moron who rambles on like a lunatic.
Aside: Hence my blog lol so I can document my lunacy each day and have it time-stamped on a blockchain, and we will see who was right or wrong.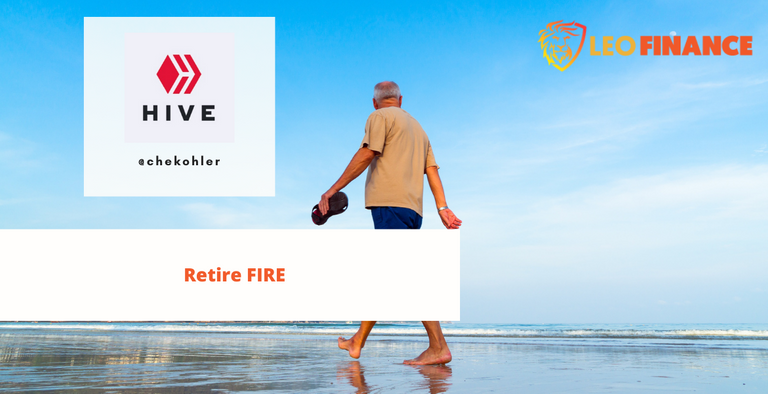 I want to retire early
I've never enjoyed work; I thought the concept was so stupid, the modern working world of bullshit jobs is such a waste of time, but because money circulates within these elements, it's perceived to have value. I think that's a story for another day, but the bottom line is I don't find value in work.
I think humans inherently know the difference between work and productivity, and we can feel when the work we do isn't real, but we accept it for the sake of a paycheque because, well, we don't want to be poor.
I've always had the goal of retiring early, hence my prudent and my affinity for investing. I realised long ago my shitty ass pay packet wasn't going to get me two turds to rub together in my 60s, so I had to do something about it.
I've taken on as much risk as I am willing to stomach and continue to monitor my portfolio to optimise it as best I can with the additional income I have.
Naturally, my countries current economic state and the debasement rate of our currency isn't helping me much and in a country with the highest Gini coefficient in the world.
I'm playing this game on hard mode for sure.
Fire'd up
I don't see myself having the courage to slave away into my 50s and 60s. I refuse to take the shit sandwich given to us and saying that's how life is; surely there has to be a better way.
If Im going to live the FIRE life, be it the lean fire of FAT fire, it will be a monumental task. This bull run and the next bull runs will make or break my goals, so I hope I don't fuck it up.
My goal right now would be semi-retirement, where I have enough where I don't need to bust my chops every week but have the time to work on the passion projects I really enjoy working on.
I don't see myself as the type to stop working when I retire; I'm not the sit around and laze around. When I mean, retire I don't mean sit on the beach sucking down Piña colada. I mean not having to be beholden to paycheque and working on things I CHOOSE to work on.
That, to me, is the retirement I want.
Have your say
What do you good people of HIVE think?
So have at it, my Jessies! If you don't have something to comment, "I am a Jessie."
Let's connect
If you liked this post, sprinkle it with an upvote or esteem, and if you don't already, consider following me @chekohler and subscribe to my fanbase
| Safely Store Your Crypto | Deposit $100 & Earn $10 | Earn Interest On Crypto |
| --- | --- | --- |
| | | |
---

Posted Using LeoFinance Beta