Hey Jesscarcity
Tokenomics has brought forth new ideas of how we measure wealth and distribute value worldwide via the internet. Bitcoin is the first with its 21 million hard cap, and many of us who believe in the coin stand behind its scarcity as the reason it's increasing in value. I do agree that having a limited supply does help in driving up the value of an asset, but it's only one part of the equation.
If 21 million were some magical number, then, in theory, Bitcoin Cash (BCH) and Bitcoin Satoshis vision (BSV) would be close to the value of Bitcoin, but it's not.
This is the reason why all tokens aren't created equal, even if they do have a similar supply or a distribution curve. You have to factor in demand too.
Demand comes from branding, trust, utility, integration, on-ramps and off-ramps, network effects, adoption curves, and this is where many other digital assets fall flat.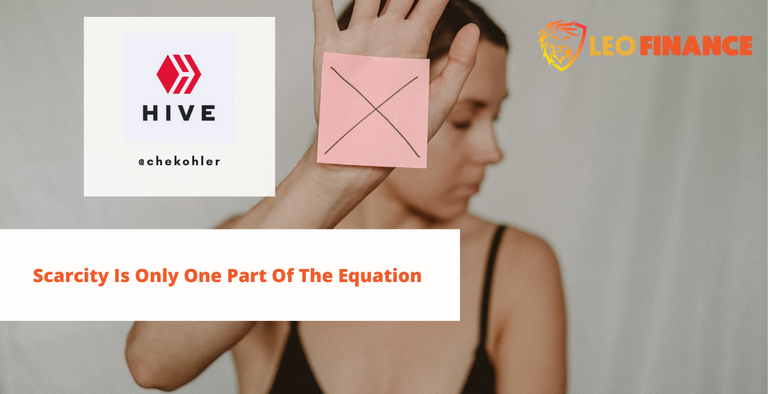 Quality of demand
Even if you have demand on on-ramps, there is a distinct difference between the quality of demand. If you've only got speculators demanding your token, you're going to see more volatility. If you have larger whales holding your coin, you could see more stability, but you could also see massive drawdowns overnight.
Demand also depends on the market you're going after; if you're token is meant for a niche community like the gaming community or vegan community, it will be a lot smaller in market cap versus something more general like Bitcoin.
There is no right or wrong way to drive demand, but networks require utility if they survive. Bitcoin is going after the TAM of money and provides utility in the form of a store of value and moving a bearer asset.
Scarcity being bastardised
As people desperately do not want to fall behind due to the debasement of money, we're seeing scarcity being the speculative play. Scarcity in stocks, scarcity in collectables, scarcity in crypto, especially in NFT's have seen people bid up prices of anything that can retain its value better than fiat.
Not all scarcity has value; my autograph is scarce. Does it have value? Probably not.
This is a concept that many will have to learn the hard way as they overpay for things like real estate, collectables, alt coins and stocks. When assets move up at a price, it's easy to think it can only move up, and you're going to sell it to the greater fool.
No buyer goes into a deal thinking they are going to be the patsy at the table.
Have your say
What do you good people of HIVE think?
So have at it, my Jessies! If you don't have something to comment, "I am a Jessie."
Let's connect
If you liked this post, sprinkle it with an upvote or esteem, and if you don't already, consider following me @chekohler and subscribe to my fanbase
| Safely Store Your Crypto | Deposit $100 & Earn $10 | Earn Interest On Crypto |
| --- | --- | --- |
| | | |
---

Posted Using LeoFinance Beta