The Next Alt Coin Crash Will Be Brutal
Hey Jesspeculators
I hate to sound like the wet blanket and pissing on everyone's parade, but corrections, let's talk about it, shall we?
I know we're all flying high and will probably continue for a few more months. It's easy to get swept up in the hype and think these times are normal, but we have to remember that bull runs are the expectation, not the rule of crypto. I actually prefer bear markets, but bull runs have their own charm, don't they?
I tend to look to the future to prepare for what comes next instead of getting wrapped up in the now. I used the last 4 years to stack positions and prepare for the bull run, and I'm using this time to prepare for the possible bear market we may see once all these froths over the top.
As Bitcoin makes new highs as it tends to do every halving cycle, it drags everything tethered to it up too. You see, as Bitcoiners get rich, they look further out of the risk curve for more opportunity.

As normies think they're priced out of Bitcoin, they move towards things that they can afford a whole one of, falling for unit bias.

As it takes more money to move Bitcoin up in value, speculators go down the list looking for illiquid coins to move.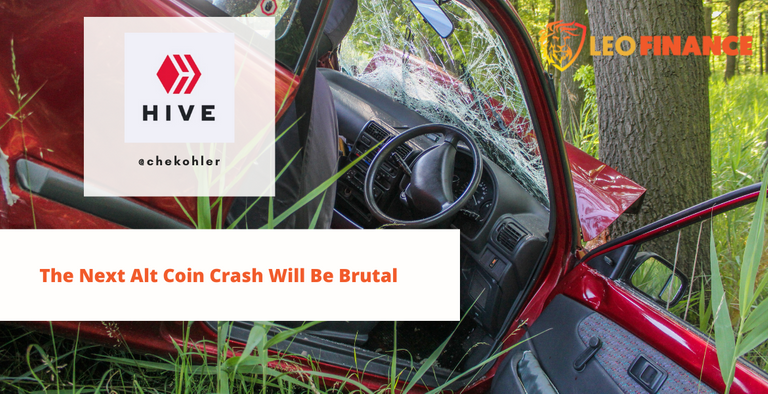 Lack of liquidity
The reasons alt's pop is because of a lack of liquidity, it only takes a few million dollars or a few 100 BTC to flow into an alt, and we see price pumps that suck in more people as they watch a coin go on the run. The thing is, those who gobble up the liquidity early on have an issue where they could be stuck holding the bag and have to divest as the price moves up to lower their risk.
If everyone moving up begins to sell and sell too hard, you quickly see them exhaust the buying, and prices drop like a stone.
Lack of short-sellers
Since altcoins aren't as established as BTC the financial markets, there aren't very many short sellers around. People are shorting BTC as we speak, and if it were to correct, they'd be the ones providing a floor to exit their positions.
In alts, no short-sellers are providing a floor. The floor is 0.
Margin calls
As I mentioned earlier, alts can move at wider spreads; 10 - 15% in a day is normal. But crypto traders aren't happy with just bagging a 10% gain, especially when markets are hot, so they lay on the leverage. Leverage is great when the markets are going up, but as soon as they reverse, the margin calls will liquidate many traders in a matter of days, forcing alts down faster.
Collateral calls
The lending markets have also become popular. While BTC has been the primary lending asset, especially to capture the contango trade going on now, alts are also establishing lending markets. As these are new products, there will be ALOT of inexperienced people using them. They'll lock up their alts to try and get a loan, and when the correction comes, they would need to post additional collateral to maintain the loan.
As the coin keeps falling, they need to keep buying to maintain the collateral position. Many will give up and have their positions liquidated, putting further pressure on that coin.
Fund rebalancing
Since there are now institutions getting into Bitcoin, they've already decided on an allocation, be that 1%. If BTC falls, some of them will be forced to buy more to maintain that 1%. Alts don't have that luxury of fund rebalancing floors forced to catch the falling knife.
Weak hands in retail and corporate
Many people talk about diamond hands now, but it's easy to hold on when the price keeps moving up when the price crashes are when diamond hands are forged. Their amount of new retail investors coming in for the first time with paper hands is far larger than before, especially in the alt market.
Let's also not assume that corporate investors holding altcoins are there to hold for the future or have diamond hands to make money for their LP's. They'll get scared and dump their alts way before they start dumping their BTC.
Rug pulls, exit scams and NFT's
Then we get to the good old scams and rug pulls plaguing DE-FI; it can and will happen, OVER AND OVER. People never learn; there's always a new band of suckers willing to fall for the 1000% APR marketing before getting the rug pulled.
Then with NFT's, I know the market seems hot now, but wait till liquidity draws out of ETH or WAX, and we'll see who is providing a floor to buy these so-called NFT's. This is a speculation and tax play, and it won't take much for this market to dry up, and people will sell their NFT's for next to nothing to get out.
Bitcoin may fall, but alts will fall harder
Many people getting into the space now have never seen an 80-90% drawdown in value; they've never seen the bottom. So these bullish posts and narratives I tend to smirk at, these people have no idea what's in store.
The higher alts go, it only means the harder they tend to crash, and there are very few people with the conviction to hold onto alts so that the dips will be seriously violent. It can and will put projects out of business; as we saw in the ICO phase of 2017, how many of those ICO's are still around?
Once the market pulls the rug, we will be Wile Cayote and think we're still on solid ground before the drop.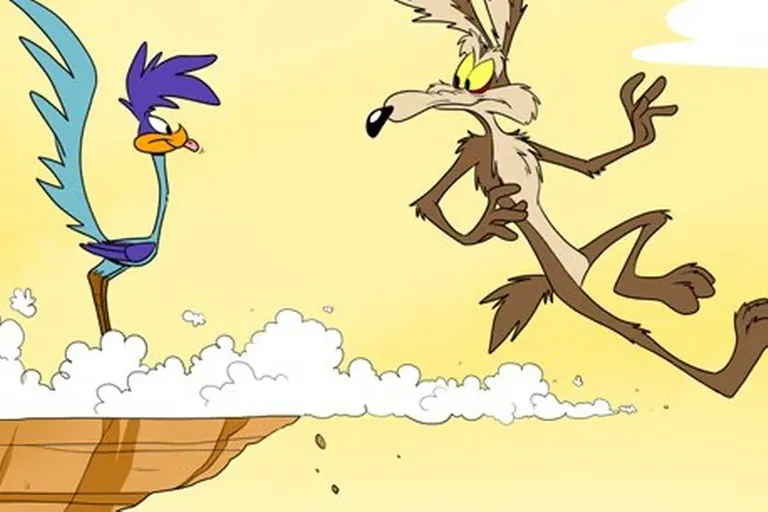 Image source: vox.com
I'll be here watching it all unfold, and man, is it going to be a fun ride? I hope many of you would have taken profits by then.
Have your say
What do you good people of HIVE think?
So have at it, my Jessies! If you don't have something to comment, "I am a Jessie."
Let's connect
If you liked this post, sprinkle it with an upvote or esteem, and if you don't already, consider following me @chekohler and subscribe to my fanbase
| Safely Store Your Crypto | Deposit $100 & Earn $10 | Earn Interest On Crypto |
| --- | --- | --- |
| | | |
---

Posted Using LeoFinance Beta
---
---