Hey Jessinvestors
We come from a world where we've been programmed to understand the price of something going up means it's increasing in value. However, as the unit of account, we use to measure value is constantly changing, it becomes harder to discern what is valuable and what is rubbish.
Our centralised monetary policy also means certain asset classes get more capital than others as policy makers in government and banks decide where the bulk of the money is allocated.
Price is the be-all and end-all for many
I still make the mistake of getting baited into arguments about assets like shares and cryptocurrency. Often, the argument on why the asset is valuable is its increase in fiat price. Honestly, what doesn't increase in nominal rates?
No one is thinking in real terms these days as they are so conditioned to accept the fiat currency as the barometer of value. Price is a very misleading measurement, especially in these times, and when you look deeper or those to tend to look deeper can see the difference.
There are many reasons why the price of something increases and they are not equal.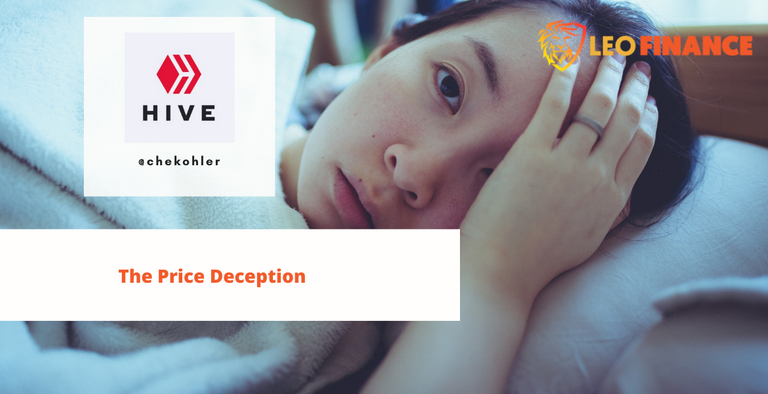 Click-bait culture
We're all guilty of not doing our own research; it's become the cultural norm to spread ignorance. As they say, a lie can make its way around the world faster than the truth can get out of bed. Who among us is not guilty of reading a headline and sharing it with others way before reading the context of an article.
It's the same way a lot of people treat investing; we can see this by seeing how people react to a simple tweet from Elon Musk or an article from a reputable publication, or a sound bite from a famous investor or CEO.
Taking the time to DYOR
No one bothers to take a deeper look and acts on the whims of face value.
Companys, cryptocurrency, de-fi projects and more can sucker investment because they can make the price go up. Companies do this by borrowing or using cash flow for stock buybacks; cryptos do that by tweaking their tokenomics, Defi projects do it with wash trading.
If there is an ability to manipulate the price, you can be damn sure people will do it. Central bankers are not the ONLY ones who cannot resist the urge to manipulate markets; they manipulate the larger market.
It would be not very smart to think that CEOs, Crypto founders and DE-FI project owners aren't going to do the same thing when there's a financial incentive involved.
Why hard money is so important
Bitcoin is trying to become that measuring stick, but it's not there yet; At the same time, it shows the deflationary collapse of other asset classes; it's not large enough in liquidity or market cap to be the measurement for the value we need. Still, I believe it will reach that point eventually.
For now, it's still tough to avoid the seduction of price, and even those who have fallen into crypto still cannot break the fiat mindset of value. They are suckered into less than desirable crypto projects because they are fooled by the price.
Price should be one indication of value but not the be-all and end-all of your investment decision.
Have your say
What do you good people of HIVE think?
So have at it, my Jessies! If you don't have something to comment, "I am a Jessie."
Let's connect
If you liked this post, sprinkle it with an upvote or esteem, and if you don't already, consider following me @chekohler and subscribe to my fanbase
| Safely Store Your Crypto | Deposit $100 & Earn $10 | Earn Interest On Crypto |
| --- | --- | --- |
| | | |
---

Posted Using LeoFinance Beta