DeFi And MANTRA DAO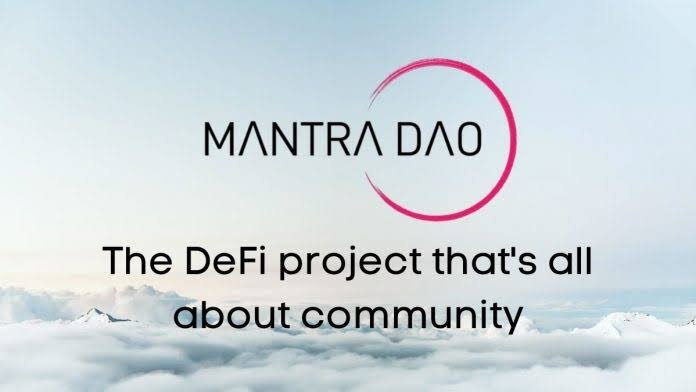 Decentralized system is a system where you have access to your account and have the capacity to transact at anytime without have someone questioning you. This shows that you are the alpha and Omaha of your account. That is the Lord that controls the universe of your ecosystem of every cryptocurrency you have or acquired. There is a system where the government has access to your account. They control every bit of your account and have full access in terms of questioning how transactions are been made or carried out in your account. So, this system is called the centralized system. This is just the opposite of decentralized system. In decentralized system, the government has no right into you account. This is the major reason the government wants by all means to have access to the Crypto account which most of them want to ban the use of cryptocurrencies in their countries.
MANTRA DAO is a decentralized finance which have the capacity of leveraging the wisdom of the crowd which create a community-governed, transparency and decentralized ecosystem.
MANTRA DAO leverages the wisdom of the crowd to create a community-governed, transparent, and decentralized ecosystem. It focuses on staking, lending and governance. When you stake, you have the ability to make profit which comes in form of rewards. This is why is it good if you stake your $OM token in other to acquire rewards. Stake in MANTRA DAO and I bet you, you will never have course to regret your staking and also will not regret because you will not bee able to loose your token.
MANTRA DAO has also the ability to accept those who are ready to borrow. This shows that one can lend to users who want to borrow. This comes with a reward. To every$OM token you lend out, has a reward and so, since this platform gives room to lend, it is the best ecosystem which encouraged the crowd to save and to become owners of $OM token. In as far that you have $OM token or you are a holder of $OM, then you have right to vote in the ecosystem. We all know that MANTRA DAO is a DeFi and so, every holders has the right to govern their token and to stake.
Recently, MANTRA DAO has launched Zendit but initially launched ZENTEREST. ZENTEREST allows users to borrow because it is a lending protocol and also users can user their cruptoovercollateralized, money market, lending assets as collateral in one on one decentralizedprotocol that fashion. This means, ZENTEREST is a over-collaterarized money market lending protocol which allows users to borrow.
There are some who are early investors in MANTRA DAO called GAINS. Since MANTRA DAO is done with the launching of ZENDIT, there is every possiblity of MANTRA DAO launching GAINS into the ecosystem.
GAINS stands for Group Action Is Never Small. GAINS is one of th biggest and respected Crypto communities who have raised several millions of dollars for the ICOs.
Their aim is to organize fun events with companies to learn more about the Crypto world. There are several opportunities to win some prizes during these events and also members get the opportunity to invest in the latest and the best crypto projects.
GAINS has three major changes in the way they exchange values are which are:
Barter
Money
Digital Cash.
Read more about GAINS TOKEN HERE
SO, MANTRA DAO is going a long way to bring people to the world of CRYPTOs.
Please, there is a team which is just concluded about SOMA.finance. watch the video
Everything about the crypto ecosystem was discussed. Do not delay it but watch every single bit of the video and you will have reasons to say YES to the environment of cryptocurrencies.
@MANTRA DAO, $OM token...
---
---