Hello Friends,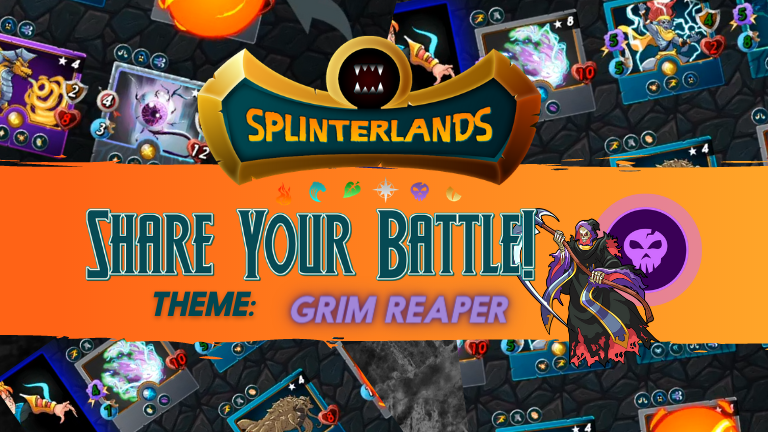 https://peakd.com/splinterlands/@splinterlands/share-your-battle-weekly-challenge-grim-reaper
How are you all doing? Taking profit from the Crypto boom? Well, I am sure you did, just like me :)
Here I am with this blog for this week's SHARE YOUR BATTLE Challenge which features another rewards edition card which is one of the most popular monsters from the rewards edition and it's none other than Grim Reaper.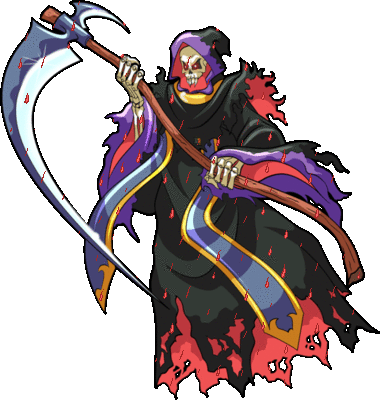 Grim Reaper is a Rare Death Splinter monster belonging to Rewards edition and is of type ranged attack monster.
Like many of the Untamed and Rewards edition cards, gives a solid 3 ranged attack from level One and boasts of some of the awesome abilities including a newly introduced one as part of the last rewards edition cards introduction, let's see the details below in stats: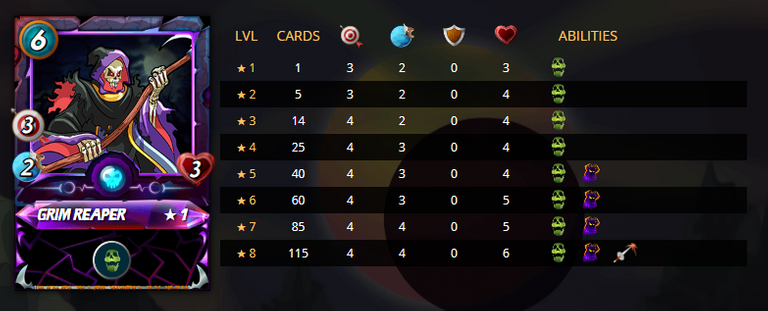 As we can see clearly in above screenshot, this monster starts of with 3 ranged attack and increases to 4 from level 3 itself and that's the max it can attain as for as it's attack is concerned.
The speed starts a bit on lower side with 2 and increases to from level 4 and subsequently ends at 4 in the last 2 levels i.e. 7 and 8.
Life is on medium range starting with 3 and can increase up to 6 in final level.
As with many monsters, the abilities are the big bonus for this monster with 3 awesome abilities this monster provides.
It has abilities viz. affliction, Oppress and good old Pierce.
Affliction as we know, gives it a chance to take out the healing ability from the monster it attacks.
Oppress, the newly introduced ability makes it more powerful against the monsters with no attack like Lord Arianthus as it attacks with double power(2 times normal attack) against the no attack monsters.
Lastly, Pierce is something we all know from the days of alpha/beta editions which increase the attack by piercing thru armors and reduces excess of armors from the total attack it can give.

Battle and Lineup: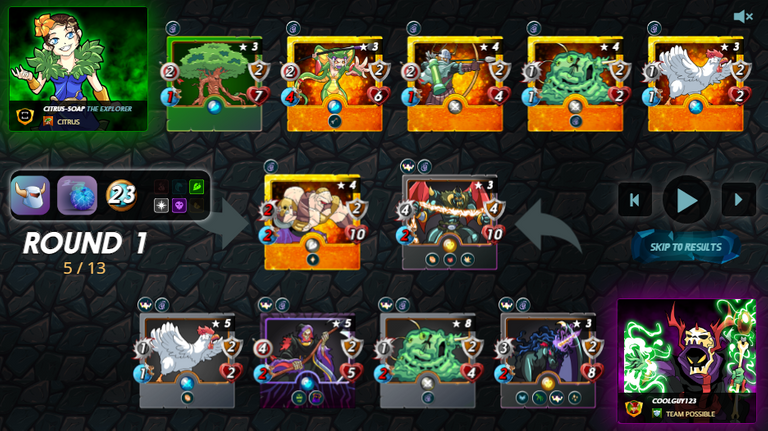 https://splinterlands.com/?p=battle&id=f01f8864285090bc6558cba5968665febec9761e
Well, the battle was for a 23 MANA cap with couple of rule sets like Armored up and Lost magic.
Armored Up gives 2 armors which protects the monsters from getting exposed early to the attack and Lost Magic makes the magic monsters unavailable for the battle!!!
Here is my lineup covering those 23 MANA cost provided:
Lineup:
1. Lord of Darkness: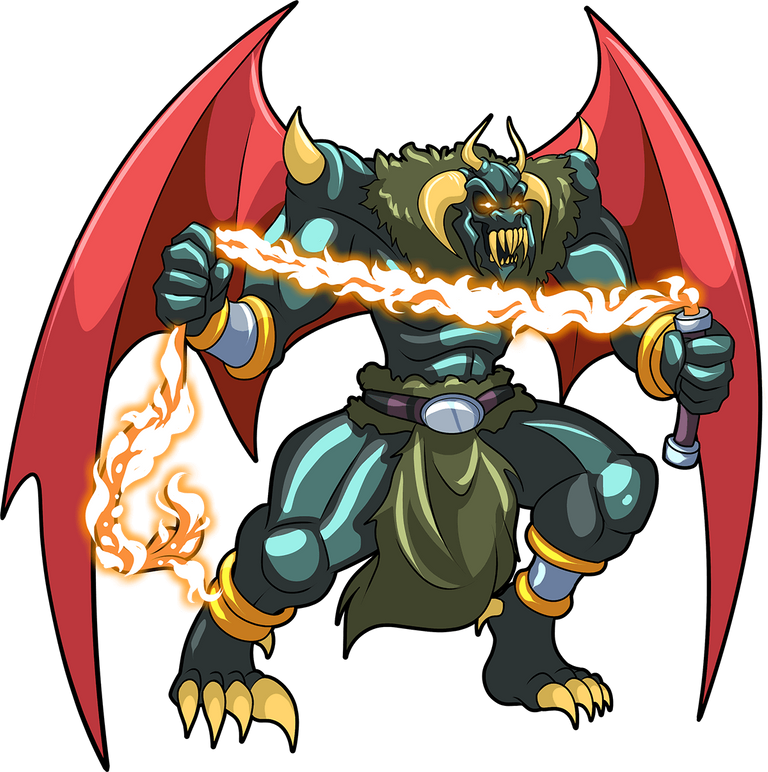 My first choice monster on most occasions when I use Death splinter as it has those armors, shield, enrage and stun abilities and when there is no magic, this is the best monster with all those abilities mentioned above.
It gives 4 melee attack for the level 3 monster I have and when enraged, it increases to 6 and that will make it fearsome!!
---
2. Corrupted Pegasus: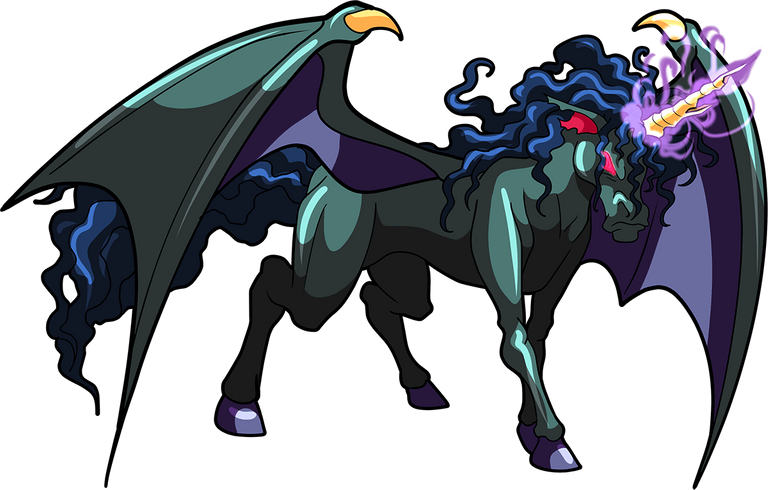 Used this for it's tank heal ability along with it's useful 3 melee Attack and also other abilities like strengthen and flying and like Lord of Darkness this has been a great companion to the Lord of Darkness since the day I purchased it.
---
3. Creeping Ooze: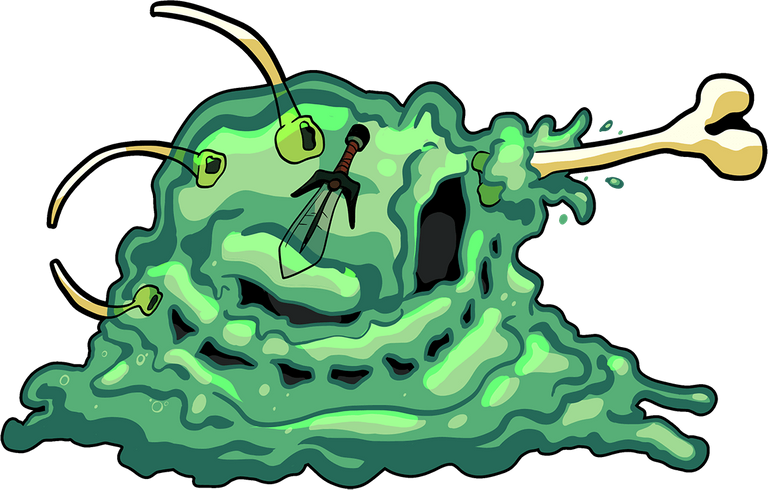 Used this to reduce the speed of the monsters used by opponent and also give little more space for Grim Reaper had I lost the Lord of Darkness and Corrupted Pegasus early.
---
4. Grim Reaper: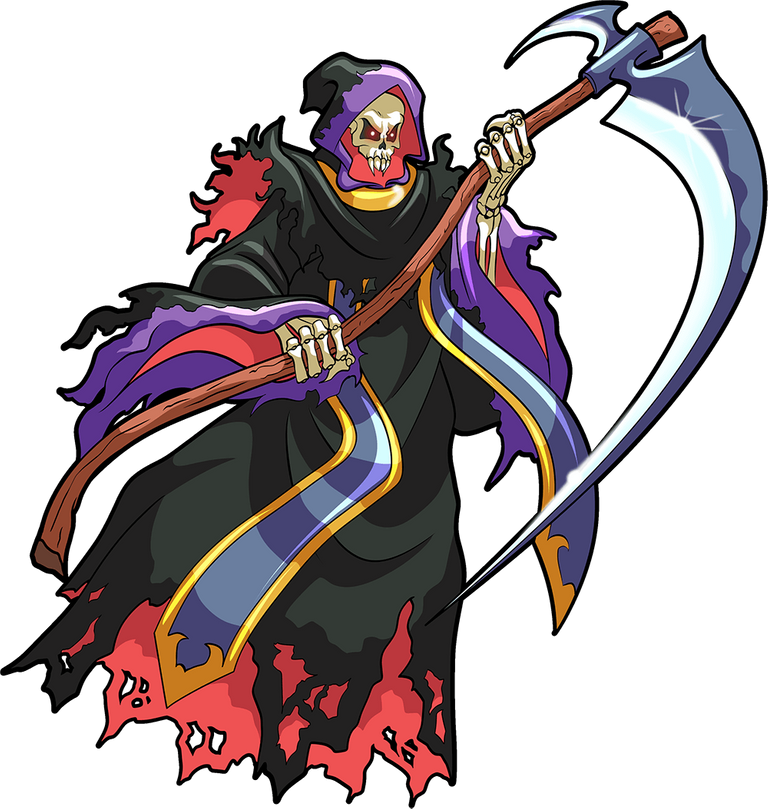 Theme monster for this week, this is by far, another most used monsters from the Death Splinter for the attack it gives along with abilities it induces.
---
5. Furious Chicken: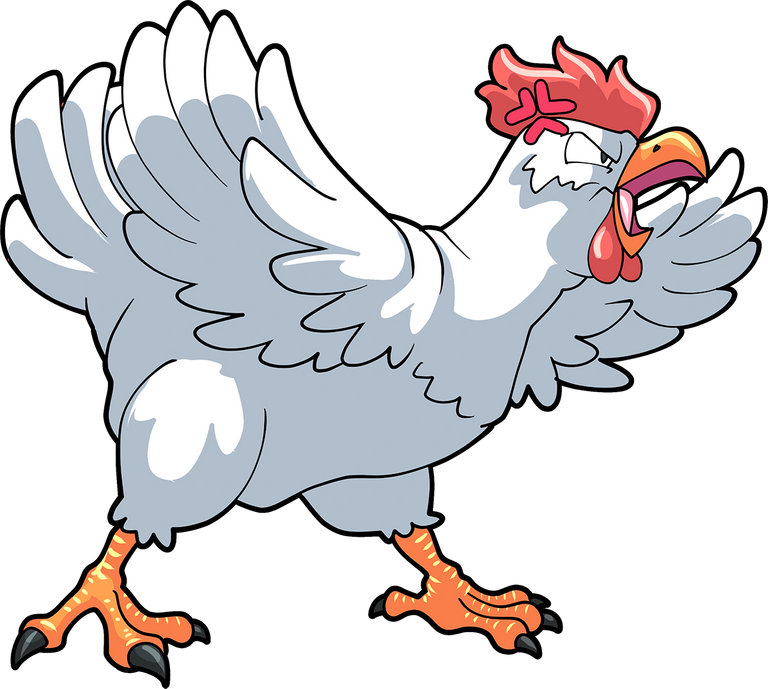 Lastly, used this zero cost monster to cover the back end for protecting the Grim Reaper and other monster getting exposed early to any sneak attack,
---
Opponent used Earth Splinter with his monsters being Flesh Golem, Earth Elemental, Javelin Thrower, Highland Archer, Creeping Ooze and Furious Chicken.

Battle:
This was a nice battle with both teams having a healing monster at the front in Flesh Golem and Lord of Darkness being healed by Corrupted Pegasus.
Let's see the round by round battle details as below:
Round 1:
There were no casualties in this round as both front monsters got healed and kept themselves alive for another round.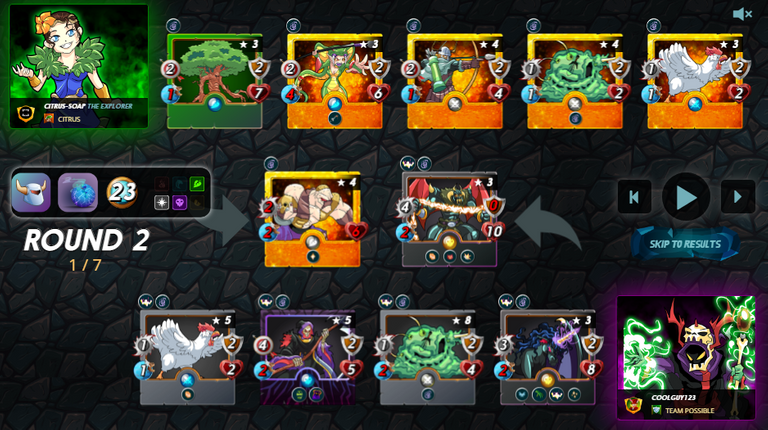 ---
Round 2:
Round 2 saw the first monster getting removed with Flesh Golem bowing out after much resistance in round 1 and that brought Earth Elemental into the front position from where, it can't attack being a ranged attack monster.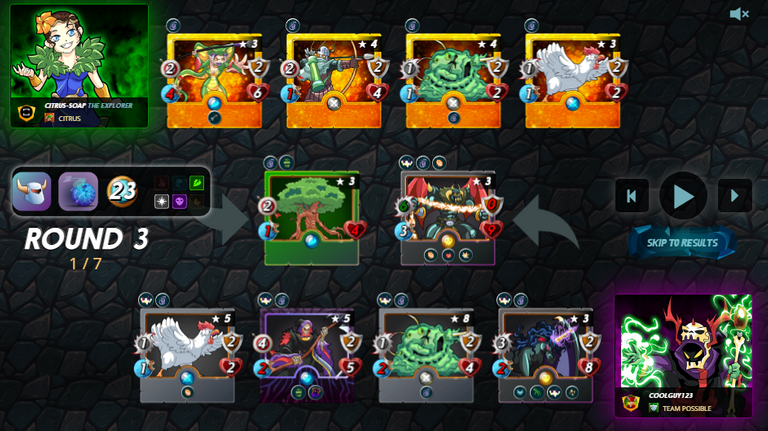 ---
Round 3:
Earth Elemental was the next to go with no attack from it from the front position and that brought another ranged attack monster to the front in Javelin Thrower.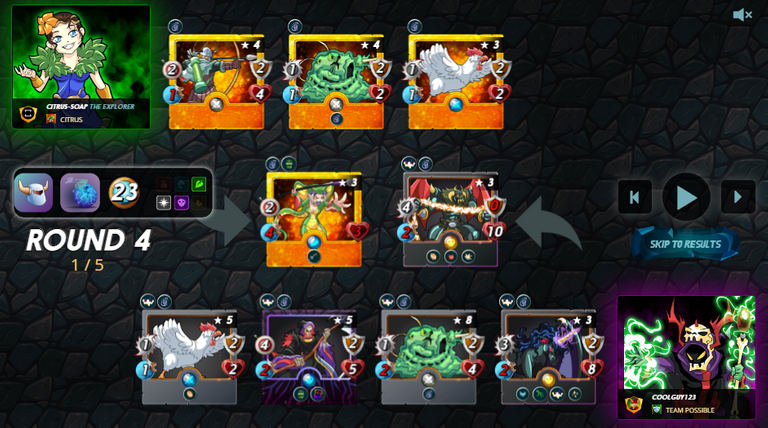 ---
Round 4:
Lord of Darkness, Corrupted Pegasus and Grim Reaper combined to get rid of Javelin Thrower in this round and that almost ended the attack from opponent's monsters as the last ranged attack monster in Highland Archer came to the front and remaining 2 melee attack monsters in Creeping Ooze and Furious Chicken can't attack the Lord of Darkness with just 1 attack each.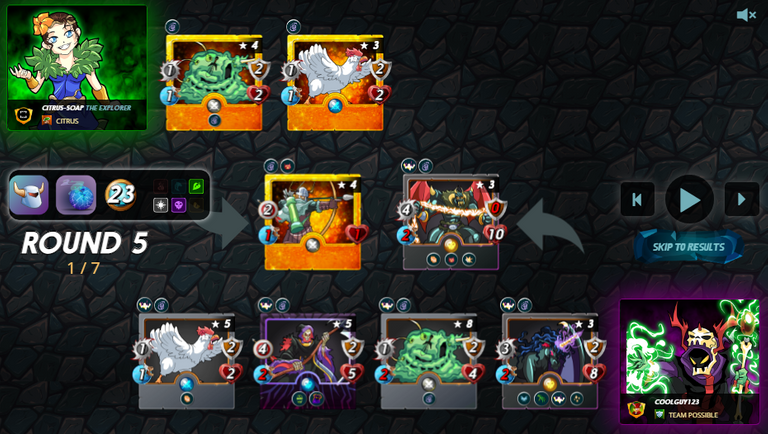 ---
Round 5 and 6:
Highland Archer and Creeping Ooze got removed from the opponent's lineup in this round and Furious Chicken breathed last in the Sixth round to finish the battle.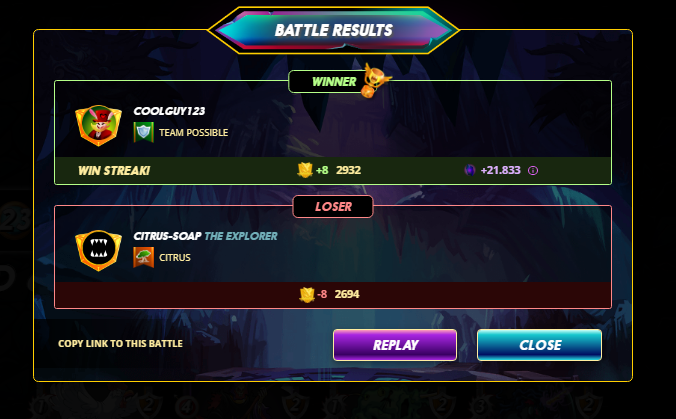 Questions and Answers:
Did my strategy work? What will I try differently next time?
All the monsters I used survived till the end and that means, the lineup I used with the strategy was good.
What can I try differently next time? May be, nothing better than this for this MANA cap as the monsters used by me served their usage and hence, I feel this was a good lineup.
---
Do you like the GRIM REAPER? Why or why not?
I like it a lot and it's an integral part of the lineups I use for all the battles with Death Splinter.
I like it more for the affliction ability and now with a leveled up card, I even have Oppress ability which is a cool one when opponent uses any no attack monsters.

Did you enjoy going thru this battle details? Well, I did enjoy writing it and bringing it to you.
Do let me know, what you feel about my blog.
Have a good day and keep battling :)

Join the new Official Telegram for Splinterlands via link given below to participate in contests and have fun.
---
Not yet signed up for Splinterlands?
You can join using my referral link: splinterlands.io and get some monsters from me :)
Also, try monstermarket.io if you haven't already for your steemmonsters cards and packs purchase and get instant cashback with every card purchase.

Thanks for the votes, comments and resteems.
I am a proud member and supporter of below communities: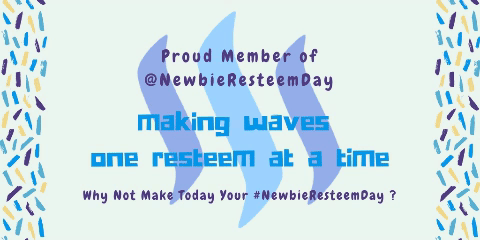 Posted Using LeoFinance Beta