This post can also be read in Portuguese
Throughout my crypto journey one of the things I always liked was the airdrops. Depending on how much you manage your investments, those coins that you have earned for free can be worth tens or even hundreds of dollars and all without much effort. Usually this type of strategy is used to promote a currency or a project and it is at this point that airdrops hunters get along very well.
I remember very well, for example, when I won 80 Waves at the time of your ICO for just following Facebook. Today those same 80 Waves are worth $1,251.20 and of course ... many do not hold such coins for long and only those who believe in the projects become faithful in the community.
But it is not wrong to think about being able to enjoy some profits along the way, because the money is yours and you won so do the best for yourself. We recently had some airdrops on the Hive blockchain and one of the most exciting ones came from CUB because it is a native token for CubFinance that has its own DeFi platform and CINE for the community that likes the niche of movies, series and all the things that involve the seventh art.
But taking advantage of talking about the topic "airdrop", I brought here a campaign for those who still want to participate despite the fact that the weather is a little tight but anyone can do it without difficulties. This is the "Duck Hunter Campaign" that takes place in the Waves ecosystem. Anyone who does all three steps may be eligible for the $EGG token airdrop.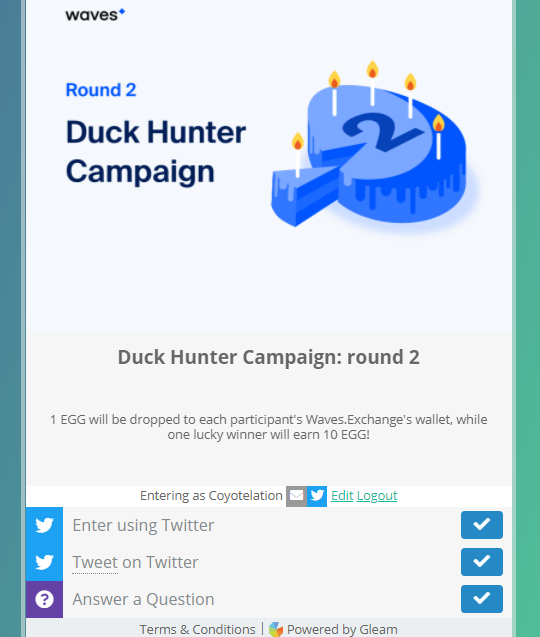 Source


To participate in this second round you need to do only 3 things ...
1 - Log in with your Twitter account;
2 - Tweet this link in your account;
3 - Place your Waves wallet.
And that's it, you'll be eligible for the second airdrop. Remembering that there are only a few hours to close, but it is not known if we will have other similar rounds and if it happens I will let you know in advance.


Yes, as you can see, this is a second round, but anyone can still participate. In the first round there were 3,835 participants and all received EGG. It is important to understand that this is not the EGG token from GooseFinance, but the native token for Duck Hunter, which will be a kind of game where we can hatch our eggs and have beautiful ducks.
As far as I know it will be something like what happens with the ETH platform game, CryptoKitties. The Duck Hunter team promises to be even better and I am hopeful that this will really happen. After the airdrop of the first round the EGG was sold for up to 10 Waves, it is currently costing 2.01 Waves and probably that value may decrease after the second airdrop, but this can be a good opportunity for those who want to accumulate more EGG.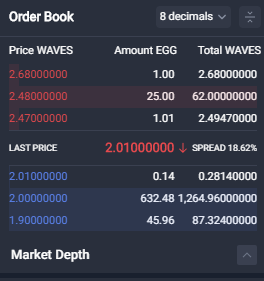 Source
All because each duck that will be raised when the eggs are hatched will become NFT and taking advantage of this boom that is happening in the crypto market because of NFTs, we may have a great chance of having rare ducks and remembering that tokens will be limited to 1 million. EGG tokens.
Well, as I said before, there are only a few hours left, but as the steps are very simple, I believe that anyone can do it quickly. I hope this EGG can give us a very rare duck in the future hahaha ... Good luck to everyone!

Versão em português
Em toda minha jornada crypto uma das coisas que sempre gostei foram os airdrops. Dependendo do quanto você gerencia seus investimentos, aquelas moedas que ganhou de graça podem valer dezenas ou até centenas de dólares e tudo sem muito esforço. Geralmente esse tipo de estratégia são usados para promover uma moeda ou um projeto e é nesse momento em que os caçadores de airdrops se dão muito bem.
Lembro muito bem por exemplo quando ganhei 80 Waves na época de sua ICO por apenas seguir o Facebook. Hoje esses mesmos 80 Waves valem $1,251.20 e claro... muitos não ficam segurando por muito tempo tais moedas e somente aqueles que acreditam nos projetos se tornam fiéis na comunidade.
Mas não é errado em pensar em poder usufruir de alguns lucros ao longo do caminho, pois o dinheiro é seu e ganhou por isso então faça o melhor para si. Recentemente tivemos alguns airdrops no Hive blockchain e um dos mais agitados foram do CUB por se tratar de um token nativo para o CubFinance que possui uma plataforma DeFi própria e o CINE para a comunidade que gosta do nicho de filmes, séries e todas as coisas que envolvem a sétima arte.
Mas aproveitando em falar sobre o tema "airdrop", trouxe aqui uma campanha para quem deseja ainda participar apesar de que o tempo está um pouco apertado mas qualquer pessoa pode fazer sem dificuldades. Se trata do "Duck Hunter Campaign" que acontece no ecossistema Waves. Todos que fizerem as três etapas poderão está elegíveis para o airdrop do token $EGG.
Para participar dessa segunda rodada precisa fazer apenas 3 coisas...
1 - Entre com sua conta do Twitter;
2 - Tweet esse link em sua conta;
3 - Coloque sua Waves wallet.
E pronto, você estará elegível para o segundo airdrop. Lembrando que falta poucas horas para encerrar, mas não se sabe se teremos outras rodadas similares e caso aconteça eu avisarei com mais antecedência.
Sim, como percebem se trata de uma segunda rodada, mas qualquer um pode ainda participar. Na primeira rodada tiveram 3835 participantes e todos receberam EGG. É importante entender que não se trata do token EGG do GooseFinance e sim do token nativo para Duck Hunter que será uma espécie de jogo onde poderemos chocar nossos ovos e ter lindos patos.
Pelo que soube será algo parecido com o que acontece com o jogo da plataforma ETH, o CryptoKitties. A equipe Duck Hunter promete ser ainda melhor e eu estou esperançoso para que isso realmente aconteça. Após o airdrop da primeira rodada o EGG chegou a ser vendido por até 10 Waves, atualmente está custando 2.01 Waves e provavelmente esse valor poderá diminuir após o segundo airdrop, mas isso pode ser uma boa oportunidade para quem deseja acumular mais EGG.
Tudo porque cada pato que será criado ao ser chocado os ovos irão se tornar NFT e aproveitando esse boom que está acontecendo no mercado crypto por causa das NFTs, poderemos ter grande chance de ter patos raros e lembrando que os tokens serão limitados a 1 milhão de EGG tokens.
Bem, como eu disse antes, falta poucas horas mas como as etapas são bem simples, acredito que qualquer pessoa possa fazer rapidamente. Espero que esse EGG possa nos dar um pato bem raro no futuro hahaha... Boa sorte a todos!

Thanks for reading so far. If you liked it, give that strength with your upvote and rate me. Feel free to leave a comment .Thanks guys!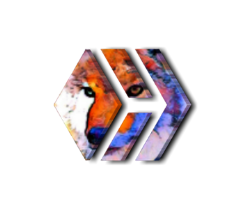 Posted Using LeoFinance Beta