Today is the 5th day as I use this build in Alien Worlds. This means that there are already 4 days of use on the basis of which it is already possible to draw some conclusions. I will tell about these conclusions today. The screenshot is taken from this site - https://alienworlds.tools/, where you can easily check the combinations of certain tools.
---
---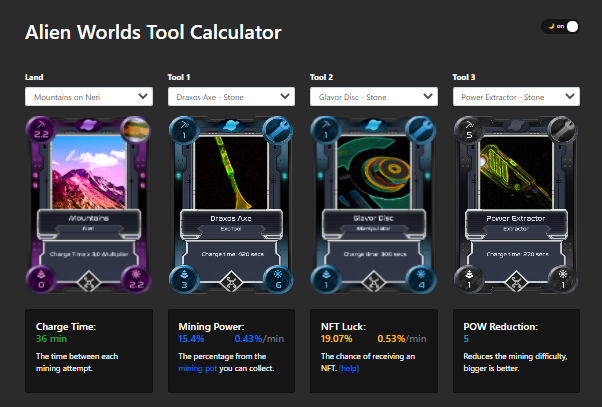 ---
Let me remind you that this toolkit cost me 1193 WAX. Power Extractor 188 WAX + Draxos Ax 572 WAX + Glavor Disc 433 WAX (as of 08.05.2021).
---
The main purpose of forming such a combination was to obtain new NFT cards. In 4 days, it's almost 100 mining attempts, I managed to get these 2 NFT cards. It is very easy to calculate that 2 out of 100 is only 2%. Why so little, because the first image in the message is about 19%? As it turned out, the calculation of the chance to get new NFT is quite unique. For example, 19% is the probability of getting NFT, but even when there is a chance to get NFT, there is a chance to get oil of some rarity. If it is simpler, the real chance can be roughly calculated by dividing the chance from the cards by 8. I found this information in one of the telegrams of the channels, so I can not say that it is 100% true. But if you take my example and divide 19% by 8, you get about the same chance 2.375% that I got in my experiment - 2%.
---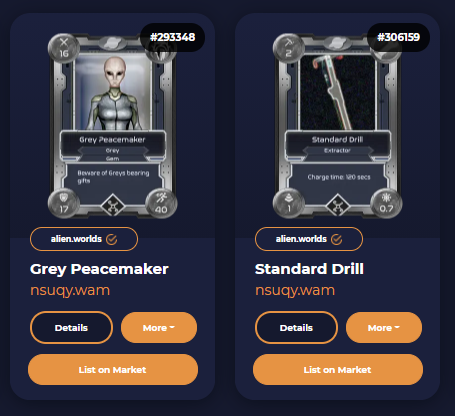 ---
As for TLM mining, here I lost about 30% of my first combination of 3 standard drills. Thus, an average of 20-25 mines per day give 6-7 TLM. Thank you all for your attention, I am waiting for questions in the comments.
---

---
Useful link
---
Exchanges
Binance | Poloniex | Huobi | Cryptex24 | Ionomi | Okex | Bitwired | Qtrade | Kuna | WhiteBIT
Cryptogames
Doctor Who | Oceanplanet | c24 games | Splinterlands | Cryptobrewmaster | Exodegame | Rabona
Cryptoblogs
HIVE | STEEM | lbry.tv | noise.cash
---

---
Posted Using LeoFinance Beta