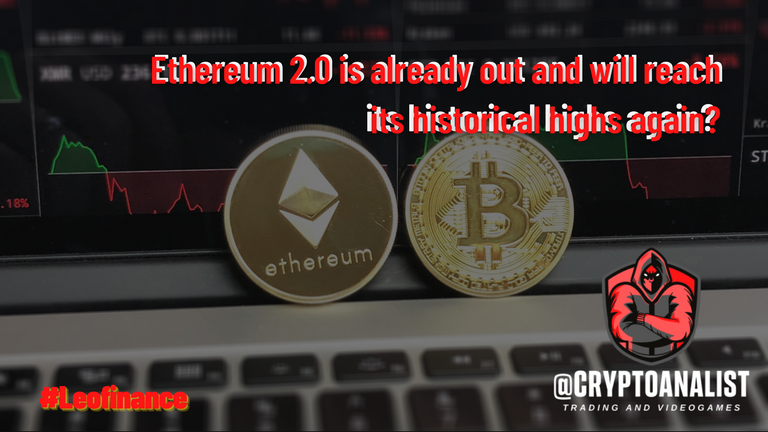 Image created and edited in CANVA
Ethereum has finally launched the "Deposit Contract" of ETH 2.0, this is really positive for the chain since it initiates and launches the "MainNet", this, in order to change the protocol from "Proof of Work (PoW)" to "Proof of Participation (PoS)". However, despite the change of protocol there are still many doubts about whether it will definitely stop mining normally as it was done with the "PoW" or if on the contrary will handle both intelligent contracts, is a question that I ask myself and could not answer right now, until further research.
So in this post I will share the official ETH 2.0 platform and the official intelligent contract where certain specific number of cryptom currencies can be placed in the "Stake" that I will mention later. On the other hand, in the same order of ideas I wonder if thanks to this successful launch the price of ETH could reach $1500 again, in that sense I will analyze in the medium and long term technically speaking the price of Ethereum.
Ethereum ha lanzado por fin el "Contrato de Deposito" de ETH 2.0, esto es realmente positivo para la cadena ya que, inicia y se pone en marcha dicho contrato para depositar y lanzar el "MainNet", esto, con el fin de cambiar el protocolo de "Prueba de Trabajo (PoW)" a "Prueba de Participación (PoS)". Sin embargo, a pesar del cambio de protocolo aún existen muchas dudas sobre si definitivamente se dejara de minar normalmente como se venía haciendo con el "PoW" o si por el contrario se manejarán ambos contratos inteligentes, es una pregunta que me hago y que no pudiera responder ahora mismo, hasta seguir investigando más.
De esta manera en este post compartiré la plataforma oficial de ETH 2.0 y el contrato inteligente oficial donde se podrán colocar en "Stake" ciertos numero especifico de criptomonedas que les mencionare mas adelante. Por otro lado, en el mismo orden de ideas me pregunto si gracias a este lanzamiento exitoso podría el precio de ETH alcanzar nuevamente los $1500, en tal sentido analizare a mediano y largo plazo técnicamente hablando el precio de Ethereum.
ETH 2.0 launch of the Deposit contract.| ETH 2.0 lanzamiento del contrato de Deposito.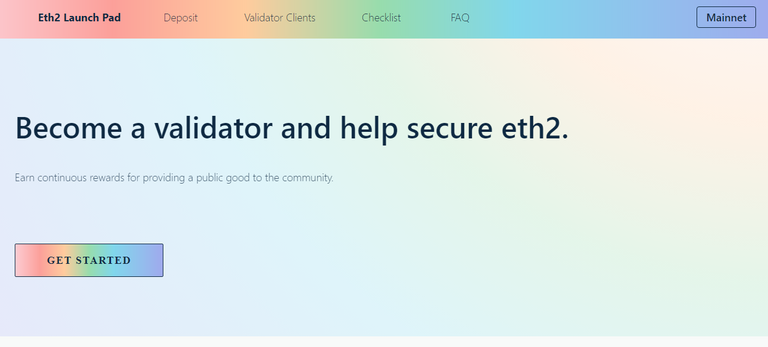 Capture of ETH 2.0 Launch Pad
Ethereum 2.0 has successfully launched the "Deposit Contract", in this sense we can now access the launch platform by clicking Here. In this platform we will be able to learn about the process to become a "Validator", this is how they have called for people to help the network to be maintained and be able to make it more secure and reliable by placing at least 32 ETH in "Stake", so that the transition from work test to participation test can be carried out successfully, ETH 2. 0 needs active validators in the platform that will bring to the network a minimum of 16384 validators, which means at the time of writing about 524,288 ETH bets. When this is achieved, the MainNet can finally be launched and the transition will be definitive.
Here you can see the official "Intelligent Contract" launched by ETH 2.0, I will leave you the link so you can check yourself how the deposit process is going and have it at hand if you decide to become a Validator, however, I recommend that you go to the launch platform and read each and every detail to be aware of all the implications that come with becoming a Validator.
Launch Pad Link
Intelligent Contract Link
Ethereum 2.0 ya lanzo exitosamente el "Contrato de Deposito", en tal sentido ahora podemos acceder a la plataforma de lanzamiento haciendo Click Aquí. En esta plataforma podremos informarnos de como es el proceso para poder ser un "Validador", es así como han llamado a las personas que ayuden a la red a mantenerse y poder hacerla más segura y confiable colocando en "Stake", como mínimo 32 ETH, por lo que para que la transición de prueba de trabajo a prueba de participación se puede llevar a cabo exitosamente, ETH 2.0 necesita validadores activos en la plataforma que lleven a la red a un mínimo de 16384 validadores, que suponen al momento de escribir este articulo unos 524.288 ETH apostados. Cuando esto se logre se podrá lanzar el MainNet finalmente y la transición será definitiva.
Acá pueden observar el "Contrato Inteligente" oficial lanzado por ETH 2.0, les dejare el link para que puedan chequear ustedes mismos como va el proceso de deposito y lo tengan a la mano si deciden convertirse en Validadores, sin embargo, recomiendo que vayan a la plataforma de lanzamiento y lean cada uno de los detalles para estar al tanto de todas las implicaciones que conllevan el convertirse en Validador.
Link de la plataforma de lanzamiento
Link del Contrato Inteligente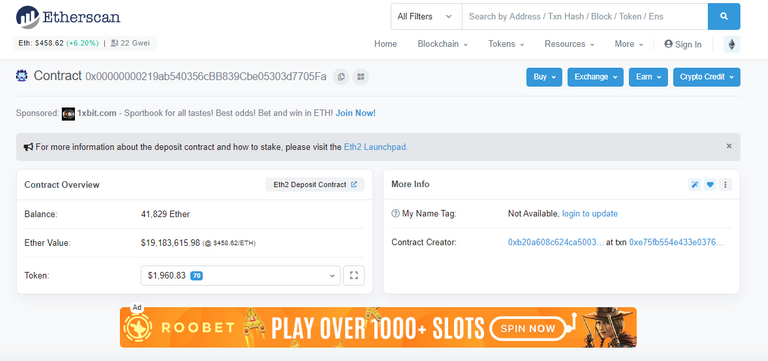 Capture of Etherscan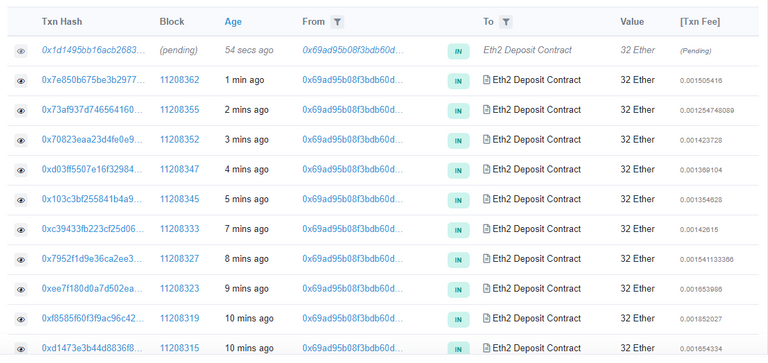 Capture of Etherscan
Ethereum Price Analysis : 1 Day Chart | Análisis del Precio del Ethereum | Grafico de 1 Dia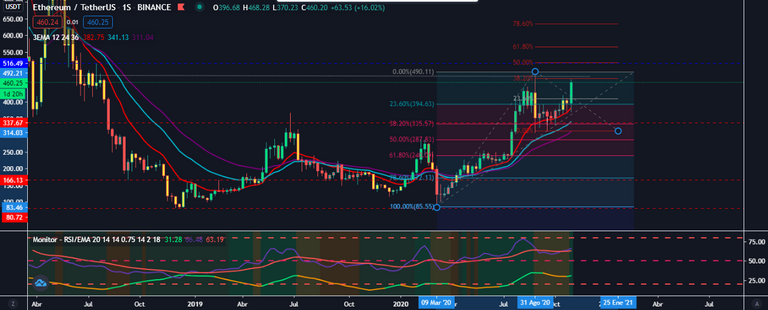 Capture of TradingView
The Ethereum graph in 1 week, I observe that the panorama or rather the probabilities that are put on the table are bullish, this is due to several reasons, in principle the RSI or relative strength index, is still in positive territory, so there may still be a way to go up, since the level of 75 or 80 in the RSI does not reach overbought, so I estimate that it could still rise.
On the other hand, there are the EMAS that I usually use which are the 12, 24 and 36 periods, which are perfectly aligned and with a perfect angle, so it ratifies that the upward trend continues, in this sense to support the EMAS, there are the "Fibonacci Retracements" the price has had a correction up to 38. 2% and with the "Fibonacci Extension" the price has reached the first target that I also put at 38.2%, giving space for the price to probably continue to the next resistance at $516.49.
El grafico de Ethereum en 1 semana, observo que el panorama o mejor dicho las probabilidades que están puestas sobre la mesa son alcistas, esto es debido a varias razones, en principio el RSI o índice de fuerza relativa, se encuentra aun en territorio positivo, por lo que pueda que exista todavía camino por recorrer al alza, ya que, el nivel de los 75 ni 80 en el RSI no llega a sobrecompra, por lo que estimo que pudiera todavía subir.
Por otro lado, están las EMAS que suelo utilizar que son la de los periodos 12,24 y 36, las cuales se encuentran perfectamente alineadas y con un ángulo perfecto, por lo que ratifica que la tendencia alcista continua, en este sentido para apoyar a las EMAS, están los "Retrocesos Fibonacci" el precio a tenido una corrección hasta el 38.2% y con la "Extensión de Fibonacci" a llegado justamente al primer target que puse también en los 38.2%, dando espacio para que probablemente el precio continúe hasta la siguiente resistencia en los $516.49.
Final Aspects | Aspectos Finales

The current outlook is bullish, the Bitcoin continues with a clear upward trend and the only resistance that the Bitcoin could have is its last historical high at $2000, so we could be about to touch new highs and with this we could see a really bullish ETH following the Bitcoin path and reaching $1500.
El panorama, actual es alcista, el Bitcoin sigue con una clara tendencia hacia alza y la única resistencia que pudiera tener el Bitcoin es su ultimo máximo histórico en los $20000, por lo que podemos estar a punto de tocar nuevos máximos y con esto podríamos ver a un ETH realmente alcista siguiendo el camino de Bitcoin y alcance los $1500.

Join our **"Social Networks", it is very important because through them we will be publishing many surprises, raffles and much more...
Únete a nuestras "Redes Sociales", es muy importante ya que mediante ellas estaremos publicando muchas sorpresas, sorteos y mucho mas..
---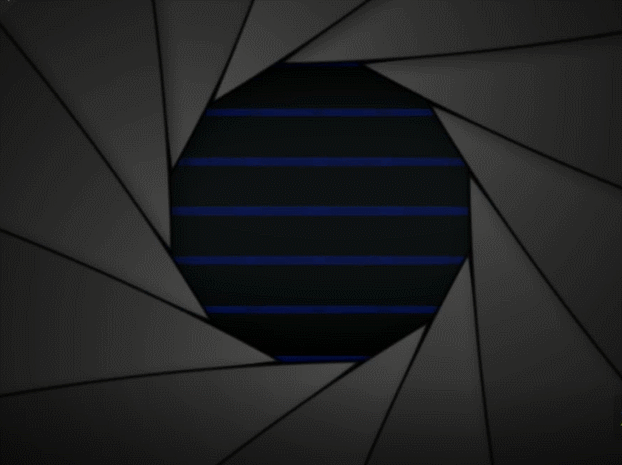 ---
Posted Using LeoFinance Beta