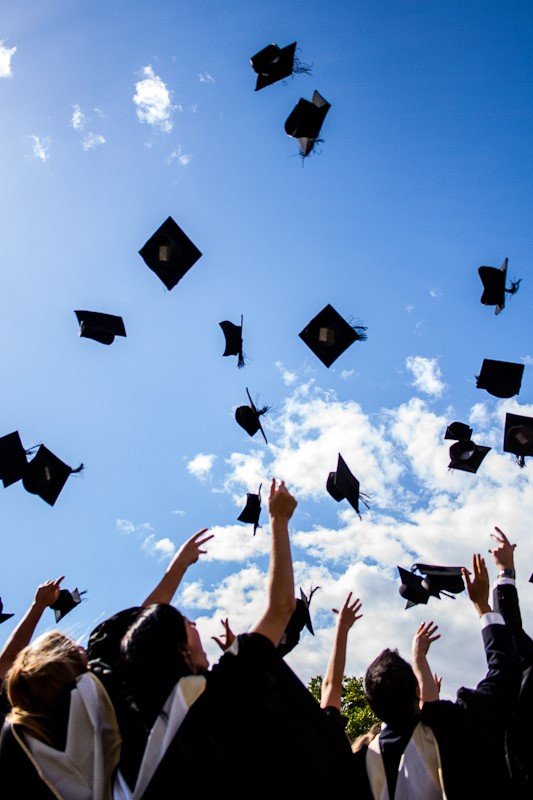 source
**How many students qualify with a degree only to find there is now work. This is what we are seeing every year and these graduates are working in fields that they will most likely be over qualified for earning way less than expected.
Three years ago when I joined Hive I was given some advice and that advice I have never forgotten. A wise old owl by the name of @tarazkp suggested I look at Hive in the same way one would do a degree and give the blockchain 5 years in order to learn and grow. 5 years may sound like a long time, but not really if you are building something tangible for the future with more than relevant life skills. Earning via a blockchain is still rare as everyone here is still very early and why it is important to keep on growing.
If someone told you that if you worked hard in your spare time for 1800 days that it could possibly set you up financially for lie you would think there is some kind of catch. Surely this is a too good to be true scenario yet it really is true.
I must admit I an nowhere near the set for life financially scenario, but then again there is still two years to run and it is looking more and more possible as every day ticks by. Obviously staying consistently busy not wasting time like a student normally would is paying dividends.
This is a different type of degree when it comes to learning as you are building something from the ground up that will be relevant in the future. A degree will leave you debt ridden and who knows if there is even a job to go to at the end of it. I have seen lawyers working on shop fitting crews or selling hot dogs as there was no openings once they finished their degrees.
The way I see it I am tracking for !00 000 Hive Power or give and take but in that ball park region at least. What would that cost if someone was going to invest in two years time? Possibly $500 000 giving Hive a $5 value or maybe even more and how many people could afford that type of investment.
A $5 Hive would then give you a minimum of $4500 in curation returns as that is what the latest hardfork is going to do making your vote worth the stake you have behind your name. One could throw on top the interest earned daily which many tend to forget and you have another $40 daily of $1200 monthly giving you a grand total of $5700 per month. If one was even more active posting then surely $10 000 is feasible as there are no limits on here.
This is earnings that you have earned by doing nothing more than just curating without anything else. Not only that but you have given out $4500 in vote rewards to fellow community members along the way.
At some point in the future these scenarios will play out and why places like Hive and Leo will play key roles in the future. When I first joined it was with the intention of one day possibly earning a passive income of a couple hundred dollars a month and possibly having some fun along the way. My thought process has changed considerably from the first few years as now I can see how those figures are just way out.
Who knows where Bitcoin by achieving all time highs will drag the altcoins but it has to be on an upward trend. The more value pouring into the crypto space has to filter through to the likes of Hive at some point and why a $5 is comfortable to imagine. Yes it could go a lot higher which is making these figures look rather pointless, but one gets the picture of where this is slowly heading.
There are two more years to carry on building until my 5 year Hive degree is completed yet that doesn't mean that is it as this journey has just started meaning that dwarfing professional salaries by being active on Hive is more than a possibility. Having stake in Hive means you will always have a guaranteed position which in the real world is looking more and more precarious.
Posted Using LeoFinance Beta