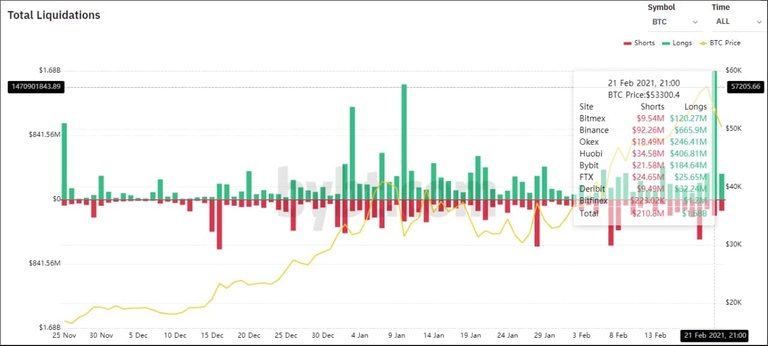 The market yesterday presented a surprise in the form of a spill of all coins. Many agree that coin sales have increased due to statements by Elon Musk on Saturday about overvalued rates. The Chicago Stock Exchange is closed on the weekend, so the sale of cue ball and ether futures resumed with the market open. Then the negativist was added by the Kraken exchange. She posted an ad on her site that she was receiving messages from users experiencing problems connecting to the site and Kraken Terminal. Eth fell by 57% in 4 minutes, to $ 700. The price recovered, but sediment remained. Binance also froze and stopped withdrawing Eth.
As a result, for yesterday, the cue ball was hit by $ 1.68 billion in longs and $ 210.8 million in shorts. Liquidated on all exchanges in the main tops for 4 billion dollars (longs and shorts)
After a good rebound upwards, the ethereum has renewed its minimum today. It is poured in full steam. On Binance, bitcoin is worth 48,200. Also close to updating the low. The crowd listened to Musk and got scared of the exchange's order execution problems.
Yesterday closed well on the cue ball. If today the day closes below 52 thousand, then we will have to forget about the continuation of the rally for a while. The dollar is falling in price on forex, but factors (fear of losing money or not fixing profits in a timely manner) joined the crypto market, which blocked other factors. With this attitude, it is easy to see 40 thousand in 2 days.
According to my calculations, the cue ball is now growing until 20 hours UTC. If the market calms down within 2-3 hours, then yes, you can count on the price recovery to 52.0 -52.5 thousand.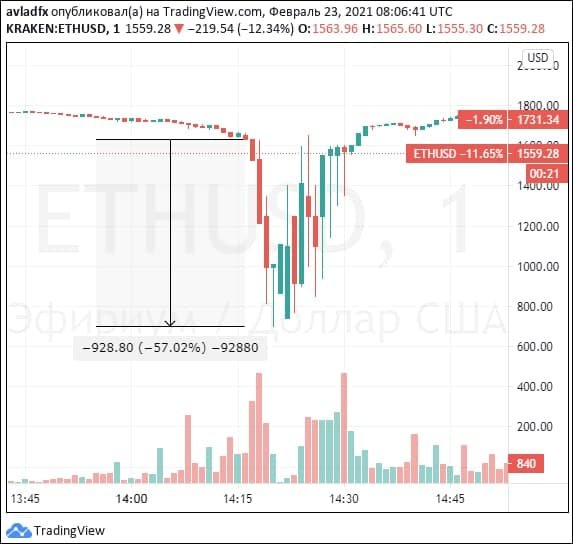 Ethereum drop to $ 700 on the Kraken exchange
Today, the focus of attention of participants in the currency and stock markets is the speech of the head of the US FRS J. Powell. He will address the US Senate Banking Committee with a semi-annual statement, and on Wednesday before the House of Representatives Financial Services Committee. It is expected to continue to adhere to the emergency monetary stimulus scheme. Sharp price fluctuations in the dollar index (DXY) and the S & P500 index can affect the dynamics of bitcoin.
Posted Using LeoFinance Beta