Ellipsis is specialized defi platform for stablecoins build on the Binance smart chain BSC.
If you are familiar with Curve CRV on the Ethereum network, it is similar to it but not exactly the same. Let's take a look at it.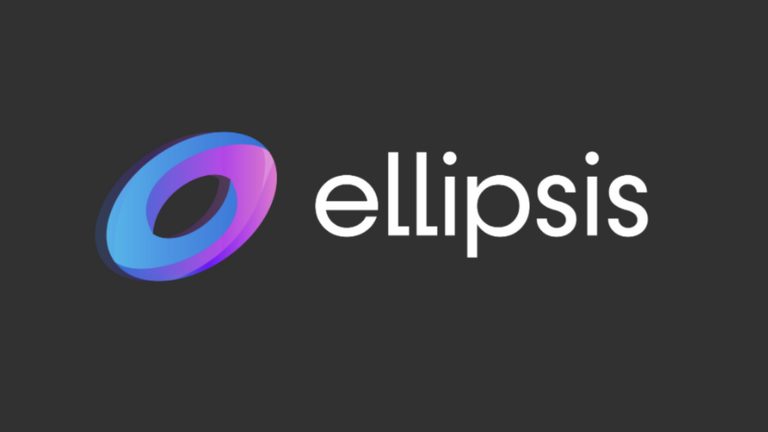 I find pooling with stablecoins a very interesting topic in the crypto world and probably the easiest way for a newbie to start with DeFi. In theory one doesn't have anything to lose. This off course is not a 100% certain, as there are always risks of hacks, rug pools etc.
As already mentioned, Ellipsis is similar to Curve but not exactly the same. From the official docs:
Ellipsis Finance is an authorized fork of Curve Finance; as such those that are familiar with Curve Finance will understand the functionality of Ellipsis Finance. As a result of this agreement, veCRV holders receive 25% of the token supply airdropped weekly over 1 year.
So, its an authorized fork of Curve and the veCRV holders will receive and airdrop of the 25% of supply.
What is the function of these specialized stablecoins platform?
The main function behind these platforms is to provide big liquidity on stablecoins. It should allow big swaps between two different stablecoins without a big slippage. You see stablecoins, although stable, if there is not enough liquidity in the pools big swaps can move the price.
These specialized platforms are aiming to provide big without big slippage. Doing so, they will allow other platforms to use their platform as a service when big swaps are made or just simply arbitrage between DEXs.
How Does Ellipse Finance Works
The main product of the platform is the 3pool for stables that includes BUSD+USDC+USDT.

At the moment of writing this there the stable reserves in the pool looks like this
BUSD: 693,276,088.52 (27.34%)
USDC: 637,377,942.21 (25.14%)
USDT: 1,205,006,482.60 (47.52%)
BUSD+USDC+USDT: 2,535,660,513.34

A total of 2.5B in stable coins just a few weeks after the start. The platform started just recently and having 2.5B in stablecoins in a weeks time is amazing.
Apart from the 3pool, there is a EPS/BNB pool where users can provide liquidity for the EPS token and earn EPS for it.
Tokenomics
The EPS token will have a supply of one billion tokens that will be released over a period of five years.
The distribution will look like this:
55% (550M tokens) to liquidity providers over a five years
25% (250M tokens) to veCRV holders distributed weekly for a period of one year (250M tokens)
20% (200M tokens) to team and dev fund vested for one year
Liquidity Provider Rewards
The distribution to LPs (55% of the supply) will go as follows:
Year 1 - 30%
Year 2 – 12.5%
Year 3 – 6.25%
Year 4 – 3.125%
Year 5 – 3.125%
In the first year the first three months will have the highest reward ration (5%, 4%, 3%) then 2% then 2% the next months.
Ok How Can I Earn?
You can earn by providing liquidity with any of the tokens from the 3pool, BUSD, USDC or USDT, or by providing liquidity for the EPS-BNB pair. For the second option you will need to buy/earn some EPS first, and it's the option with more risk.
The APY for the two pools at the moment looks like this:

2367% for the EPS/BNB pool and 138% for the 3pool. You can notice the stake EPS option on the left.
This is where the interesting EPS tokenomics comes in place.
All the rewards for providing liquidity are locked up to three months.
Three months (13 weeks) is something that Hivers are well aware of, as it is the same vesting period for Hive 😊.
In case of EPS you don't get the gradual release of the tokens each week, but you get everything after the vesting period is over.
But, you can get your tokens immediately for a 50% penalty!
Yes you can claim your rewards instantly with 50% penalty. 50% looks quite a lot. I remember there was proposals for instant power down options on Hive with a 5% fee. Compare that to 50% 😊.
The penalty for the instant tokens release goes to the holders who have staked their tokens. Nice. In a way this is rewarding the ones with more patience against the ones with less patience. Some say this is in general how the market works.
Ones you have liquid EPS tokens, you can choose to sell them or you can then lock them for a three months period and received rewards from the impatient ones who have decided to cash out in instant. The thing with the locked tokens, unlike vested rewards is that you cant unlock them in instant. So chose wise.
Here is an example of the two positions with vested tokens from the rewards and the locked tokens.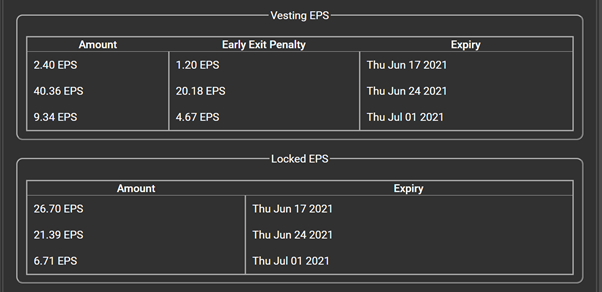 Apart from the EPS rewards described above you also get a small amount of stablecoins as a reward from the fees.
Price And Market Cap
At the moment of writing this the EPS token price is around 7$ with a 30M tokens in circulation and around 200M market cap. In a year time, 250M more tokens will be airdropped to veCRV holders, 200M tokens will be released for the team and around 150M will be rewarded to LPs. Meaning more than 600M EPS tokens in supply after the first year, from the current 30M (20X the supply). A high inflation in year one, so be careful with the token, as it will most likely go under a price roller-coaster. After year one, the inflation should be reasonable.
Note that from the 30M in circulation at the moment around 15M or 50% is locked.
---
Note on the UI: The interface and UI can be very confusing for the first time users. If you have used Curve you might find it familiar but for a first-time user, its confusing. A step by step guide to use the platform will be to long for this post, but I will just give a short instruction.
To deposit stables, go to the top left hamburger menu, choose 3pool. It will change the top menu headers (this is weird form most users), then you will find the deposit option in the top menu, and there you can deposit your stables. No need to have a pair, just one of the three options BUSD, USDC, USDT. After you deposited, this is equivalent to providing liquidity, then you need to stake this.
To stake your deposited stables, go on the home, scroll down a bit and choose stake LP tokens. Then you will have a deposit option one more time, this time for your pooled tokens 😊.
---
@khaleelkazi has tweeted a few days ago that the exit strategy for crypto in 2021 is providing liquidity not selling. There is a lot of truth in this. Why would you sell, even stables if you can earn a high fees on them with some patience. Platforms like this one are providing the option for the stablecoins.
Now we have seen that some development that is happening like the Uniswap concentrated liquidity will go for the stablecoins market as well. This is expected, as crypto is moving fast and you need to always stay in touch with all the development.
All the best
@dalz
Posted Using LeoFinance Beta